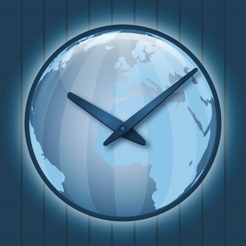 Description
Journey is a traveler's best friend. This all-in-one app provides everything you need while away from home. Convert currency; check the weather, your flight status or even your stocks, right from your iPhone, iPod Touch or iPad. There's lots more this app can do for you, too. Click "…More" to learn why you should download this App today!

You're traveling to a strange city for a very important meeting. Arriving at the airport, you consult Journey to find out that your flight is right on time and prepared for boarding as you hurry to check your baggage.

On board the plane, you prepare for the rest of your visit. Journey lets you know that it will be 4 p.m. local time and raining when you arrive in that unfamiliar place, so you'll want to get your umbrella out before leaving the airport.

At the hotel, you check your stocks, get directions to the meeting and set the alarm before turning. You did all this in minutes, right from the chair in your hotel room. You're completely ready for your big day, thanks to the comprehensive Journey app.

Journey is a traveler's best friend. No matter where you're going, this app is the perfect companion helper, supplying you will all the information you need for any trip.

In a foreign country and want to know how much something costs? No problem. Journey's currency calculator will handle that for in just a second or two. Yes, this little app does it all. If it's important to traveling, it's in here.

All of your information is securely password protected, too. Journey won't let anyone in without the secret code, so you don't have to worry about prying eyes.

Look at some of the major features you get with Journey:
* Currency conversion
* Weather forecasting
* Flight status checking
* Clock with alarm
* Time zone calculation – always know the local time
* Stock and finance information – stay informed while you're away
* Maps for walking, bus and subway routes provided by Navteq
* Password protection
* Everything right at your fingertips on your iPhone, iPod Touch or iPad

Download Journey now so you're ready for your next trip. Once you use it, you'll wonder how you ever got along without it.

Happy travels!

Post your feedback on our forum:
http://www.bitween.com/forum
Ratings and Reviews
Mostly Working
Looks like the currency part of the app isn't working anymore, would be nice if this could be fixed.

Most of the other features that I've tried appear to work.

This app has the makings of being really useful, hope the author continues with it.

Many thanks.
Would be nice
If it worked. It crashed every time and I can't even set home currency. Update please? iPhone 4s
Ad-Supported, Free, Seems To Work
I've only played with it a little on an iPhone 4, but v1.2 seems to work fine.

It looks like the developer took a fair amount of time making the app look nice. My only suggestion would be make a window that lets the user set any app settings. My big fingers inadvertently set the wrong default currency, so I had to figure out how to change that setting. Then, when I added my city to find the weather, it displayed the temperature in C! Ouch! I wasn't sure whether the number meant it was hot or cold outside. I looked out the window and saw it was snowing. So I figured it must be cold outside. I confirmed this by finding the settings for the weather and changing it to Fahrenheit. Yep! It WAS cold out! How 'bout if someone selects default currency of US$, the app automagically loads "dumb bass" settings and doesn't display any metric data?

I'm not sure how important stock info is to most travelers, but hey, if that's you, then it's there.

The map function was accurate. I could tell that I was in KFC, but maybe not the exact seat.

Flight information looked correct, but I'm lazy and didn't take the time to verify it.
Information
Seller

BITWEEN S.R.L.

Size

9.1 MB

Category

Compatibility

Requires iOS 4.0 or later. Compatible with iPhone, iPad, and iPod touch.

Age Rating

Rated 4+

Copyright

© BITWEEN S.R.L.

Price

Free
Supports
Family Sharing

With Family Sharing set up, up to six family members can use this app.