Jules Verne's Return to Mysterious Island - Deluxe Edition
By Microids
This app is only available on the App Store for iOS devices.
Description
VOICES AND TEXTS IN ENGLISH.

Over 80,000 downloads on iPhone and iPad.
____________

PRESS REVIEWS

* PocketGamer - SILVER AWARD *
"Almost a new experience entirely on the iPhone, Return to Mysterious Island is a tough task even for seasoned adventurers, offering a level of indulgence rarely seen outside of the PC"

* Slide to Play - 4/4 Must Have *
"Fans of the adventure genre need to scoop RTMI up."

* AppGamer.net : 8/10 Great ! *
"... the game is a fantastic experience; deep, rewarding and immersive."

* GameZone – 9.0/10 *
"One of the best looking games for the iPhone - a great entry to this genre that definably needs to be explored more."

* Geek.com *
"The best adventure game available for the iPhone and iPod touch. Beautiful graphics, an engaging storyline, and challenging puzzles easily draw you into the game world."
_________

STORYLINE
Plunge into the heart of one of the greatest adventures by Jules Verne!

While participating in the famous solo round-the-world sailing expedition - the Jules Verne Trophy - the navigator, Mina, strands on a island without any way to contact the emergency services. Therefore the courageous young woman will only rely on her senses and her ability to recuperate, before trying to escape the island. However, a mysterious shadow hovers over this land, cut off from the world, which does not appear so uninhabited as it seemed at first sight...
Freely adapted from the "Mysterious Island" by Jules Verne, "Return to Mysterious Island" is the sequel to the novel. In the role of Mina, explore the mythical locations of the original work (Granite House, Volcano, Nautilus, etc.) and solve many puzzles hidden in the mysterious island.

FEATURES
- Splendid photorealistic pre-rendered graphics that show nature left to itself where the lush tropical vegetation is queen.
- Original interactive inventory that allows to combine and create many new items and tools.
- Scoring system to reward your creativity.
- A scenario that offers freedom in solving the puzzles and in progressing in the adventure.
- A good way to discover the novel and to give players the desire to read or reread it.
- A Sound ambience that perfectly illustrates the paradise though disturbing atmosphere of the island.
- Voices and text in 5 languages (English, French, German, Italian, Spanish)

IPAD EXCLUSIVE: English Walkthrough included
_______________________________________________

DON'T MISS OUR OTHERS ADVENTURE EXCITING GAMES!

On iPad:
Dracula The Path of the Dragon – Part 1
Dracula The Path of the Dragon – Part 2
Dracula The Path of the Dragon – Part 3

On iPhone:
Jules Verne's Secrets Of The Mysterious Island
Dracula: The Path Of The Dragon – Part 1
Dracula: The Path Of The Dragon – Part 2
Dracula: The Path Of The Dragon – Part 3
Egypt The Prophecy – Part 1
Egypt The Prophecy – Part 2
Egypt The Prophecy – Part 3
_______________________________________________

FOLLOW MICROIDS on twitter.com/microids_off
FOLLOW MICROIDS on www.facebook.com/microids
VISIT MICROIDS on www.microids.com/en

FOLLOW ANUMAN INTERACTIVE on twitter.com/anumani
FOLLOW ANUMAN INTERACTIVE on www.facebook.com/anuman.fr
VISIT ANUMAN INTERACTIVE on www.anuman-interactive.com
iPad Screenshots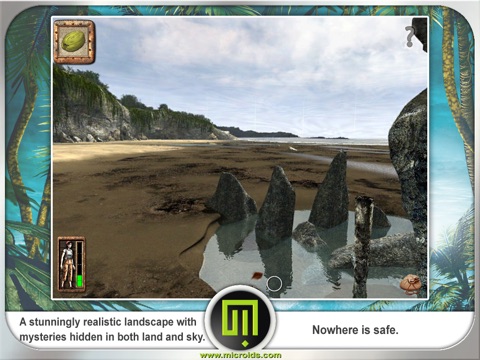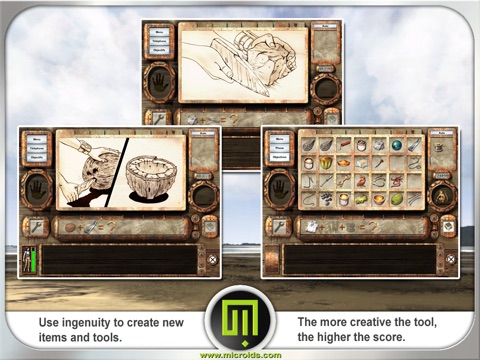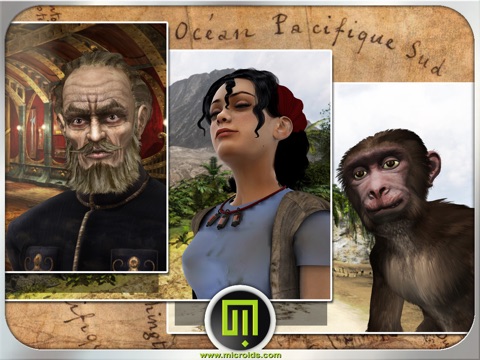 Customer Reviews
No Problems Here - A Beautiful Puzzle Adventure!!
So, I must say that I rebooted my iPad before I ever even tried to play this game based on the previous reviews. I don't know if that's the issue with the other reviewers, or maybe they aren't using iOS 4.2 or higher which is required. In any case, the game loaded up beautifully and QUICKLY (much more quickly than many other less graphically intensive games). I'm impressed. The graphics are simply stunning. The story is interesting. I find the game challenging. Thank goodness there is a link to a walkthrough (which you can enter while playing and you can return to the game at the exact point you left when you exit the walkthrough). Highly recommended!
Love this game!
This a really fun hidden object game. I played along with my two daughters (ages 8 & 10) and we all thoroughly enjoyed it. We've finished the game, but when I have time, I'll play it again. I think it will be a different experience every time. I love this type of game, and this was a good one. Graphics were good, story was good...just really enjoyable. I also appreciate that the app tells me right up front when I open it when there is not enough memory, recommending that I reboot my iPad. Many other apps just let you go and then crash. I totally recommend this app.
Loving this game!
This is one Myst fan who has been waiting for something in that genre for iPad. I am really enjoying this game and agree with others that we need more like this! It does need a lot of memory: plan to shut down other apps and reboot before playing. But it's worth it. Graphics are beautiful, puzzles are reasonably challenging, pace is relaxing. I look forward to more from the developers.
View in iTunes
$3.99

Category:

Games

Released:

Dec 08, 2010

Version:

1.2

Size:

786 MB

Languages:

English, French, German, Italian, Spanish

Seller:

microids
Compatibility: Requires iOS 4.2 or later. Compatible with iPad.