Jump Desktop (RDP, VNC, Fluid)
By Phase Five Systems
Open the Mac App Store to buy and download apps.
Description
Enjoy the freedom to work from anywhere. Jump Desktop is a remote desktop application that lets you securely connect to any computer in the world. Compatible with both RDP and VNC, Jump Desktop is secure, reliable and very easy to set up.

* Easy setup and reliable:
Jump Desktop is very easy to configure; anyone can do it! Just visit: https://www.jumpdesktop.com on your PC or Mac, click the 'Automatic Setup' link and follow step-by-step instructions. You'll be up and running in no time.

* Secure:
Jump encrypts the connection between computers to ensure privacy and security. Automatic connections are always encrypted by default. Supports NLA, TLS/SSL encryption for RDP. SSH Tunnelling and SSL/TLS encryption for VNC.

* Supercharged Productivity:
Use Mac keyboard shortcuts in Windows. Seamlessly switch between computers without changing the way you use the keyboard. Vastly improves productivity. Fully customizable: Configure your own shortcuts or use the built-in defaults. No other app comes close.

* Integrated into macOS
Quickly search and launch computers directly from Spotlight. Tightly integrated into macOS's power saving technology to give you the best battery life on the go. Tabbing support.

* Super fast and beautiful:
Powered by one of the fastest VNC and RDP engines on the planet. Multi-core, hardware accelerated rendering for zippy performance. Optimized for MacBook Pros and iMacs with Retina display

Features:
* Multi-protocol: supports RDP, VNC and Fluid Remote Desktop
* Full international keyboard support for RDP, VNC and ARD
* Dictation support (Mountain Lion and later)
* Tabs (macOS Sierra and later)
* 3 different ways to zoom and pan the remote screen (really useful when controlling multi-monitor remote systems from laptops)
* Easy and secure setup: Automatically configure your PC or Mac for remote access without worrying about your router settings. Set up as many computers as you like and manage them all using your Google account (optional)
* Built-in SSH tunneling for RDP and VNC connections

RDP features:
* Tested on: Windows 2000, XP, Vista, Windows 7, Windows 8, Server 2003, Server 2008, Server 2008 R2, Server 2012/R2/2016, SBS Server, Windows 10
* RD Broker and Load balancer support
* RD Gateway support
* Dynamic resolution updates (Win 8.1/2012 R2+)
* Desktop Scaling (Win 8.1/2012 R2+)
* Multi monitor support
* Secure: 128-bit RDP, TLS/SSL, FIPS and NLA authentication supported
* Printing redirection support (including a optional , super-fast server side-driver)
* Audio streaming
* Console sessions
* Folder sharing
* International keyboard layouts

VNC features:
* Tested with macOS 10.5+, TightVNC, RealVNC, UltraVNC, Linux (Ubuntu Remote Desktop)
* Secure: Supports SSH tunneling as well as SSL encryption (SSL only available when using automatic setup)
* Black and white, Grayscale, 8-bit and 16-bit color modes to help manage bandwidth
* Clipboard syncing
* Multiple monitor support
What's New in Version 7.1
7.1 adds macOS High Sierra compatibility and new features:

* Copy paste files and folders for RDP connections.
* New connection icons
* Customize default printers for RDP connections
* SHA256 fingerprints when identifying SSH servers
* Sidebar usability fixes
Screenshots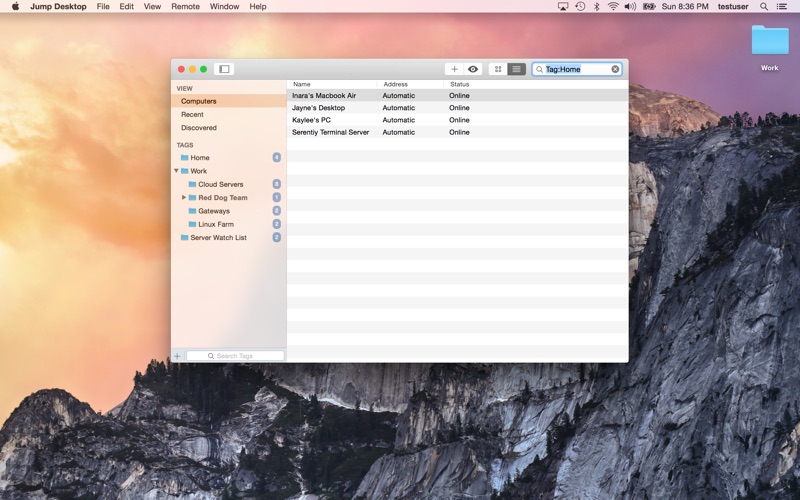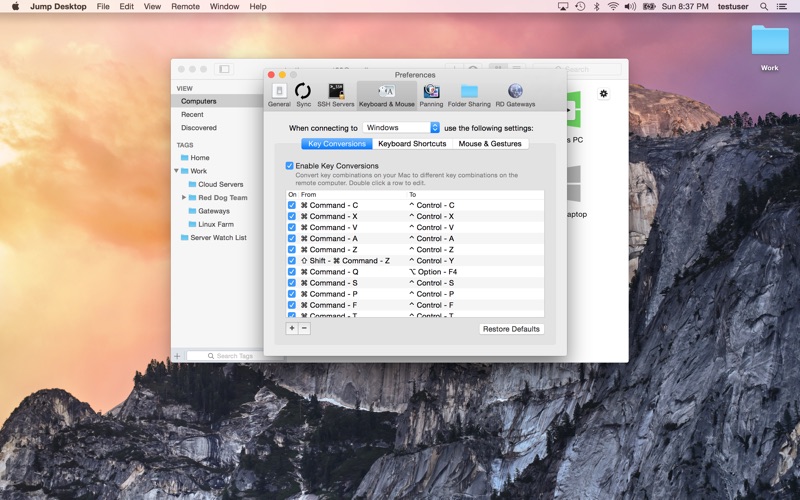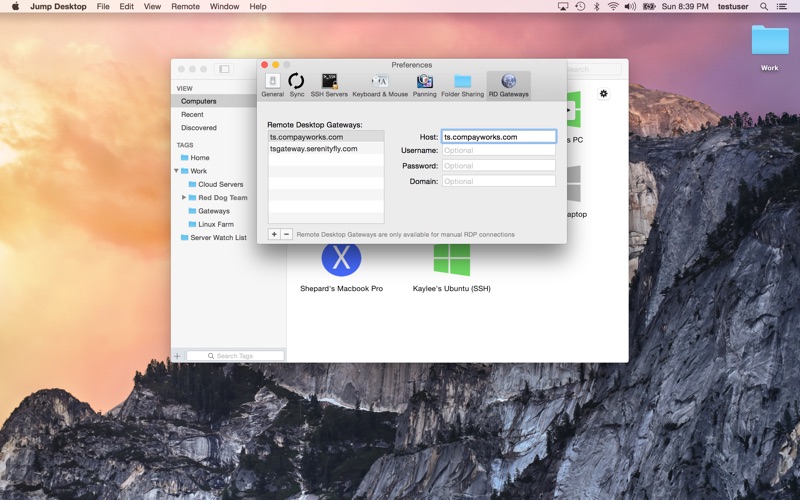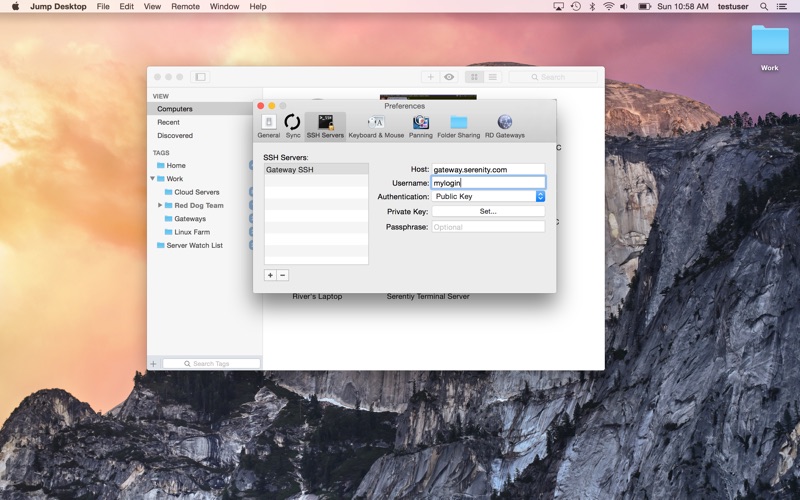 Customer Reviews
Easy to Use and Works
Although I personally had a hard time paying for something I could get for free from Microsoft, Remote Desktop, I've been a Jump user since 2014. Jump is extremely easy to use and works well. MS RD just never worked as smoothly or reliably. Note, this may have changed over the years, but I have no reason to go back and check.

I routinely use Jump to connect to Windows and Macs around the world, and more often than not the performace feels as if the computer is right next door. Little things such as printing, etc. just always seemed to work better in Jump than they did in MS RD. The iPad and iPhone versions of the software work just as well although admittedly I use them considerably less than I do the desktop software, but the are great for logging in and checking the status of certain services / projects.
Mac/iPad connection
When I switched laptops from a PC to a MacBook Pro and bought an iPad, I found that the VPN which I had used for years would not connect to my office servers. Fortunately, my office administrator had already been through this transition and downloaded Jump for me. I have used this approximately three years without one moment of trouble. It bridges the gap between Apple products and VPN connection software which is originally designed for use with Microsoft software. I do not think one can go wrong with this app.
I Love this easy to use RDC client - developer keeps making it better
I have dedicated physical MS Servers in my organization. It must be 5 years now that I have used and love Jump Desktop's RDC client on my Mac. It has worked beautifully with numerous MacOS's and MS Servrer OS's. Copy & paste works faster and better than ever. I specify a single local folder as accessible from the RDC screen for when I need to transfer large files or batches of files. No Parallels or Office on my Mac!!

Thanks for doing such a great job Jump Desktop! You are modeling good practice for business and technology.
View in Mac App Store
$29.99

Category:

Business

Updated:

Oct 30, 2017

Version:

7.1

Size:

20.9 MB

Language:

English

Seller:

PhaseFive Systems
Compatibility: OS X 10.8 or later, 64-bit processor