کافه شعر
By Hamid peirovedin
Open iTunes to buy and download apps.
Description
كافه شعر شبكه اجتماعي براي به اشتراك گذاري اشعار مورد علاقه ي شما با بقيه افراد است. شما مي توانيد اشعار مورد علاقه ي خود رو بين دوستان و بقيه كاربران عضو شده در كافه شعر به اشتراك بگذاريد.
همچنين قبل از ارسال هر شعر مي توانيد آن ها را با فونت هاي متنوع فارسي و ١٠ كاغذ شعر مختلف طراحي كنيد و از اشعار طراحي شده خود لذت ببريد.

همچنين در بخش آفلاين كافه شعر بعد از هر بار وارد شدن به برنامه اشعار جديد از اينترنت دريافت شده و به اپليكيشين اضافه ميشود. و ازين به بعد مي توانيد به تفكيك شاعر و آخرين اشعار در قسمت آفلاين به شعر ها دسترسي داشته باشيد. بخش آفلاين روزانه دائما آپديت مي شود و هميشه جديد ترين اشعار با طراحي بسيار زيبا در دستگاه شماست.

پروژه كافه شعر بدون هيچ پشتيبان مالي به صورت رايگان در اختيار كاربران قرار گرفته است. كافه شعر يك پروژه دانشجويي مي باشد ازين جهت ممكن است در اپليكيشن اشكال هايي مشاهده شود ، براي پيشرفت برنامه در نسخه هاي بعدي اشكالات و ايده ها براي بهتر شدن كافه شعر را با ما درميان بگذاريد.

اميدواريم ساعات خوشي را در كافه شعر سپري كنيد.
What's New in Version 1.8
بهبود های این نسخه:

افزایش سرعت شبکه اجتماعی
تنظیمات بیشتر برای عکس پروفایل
نمایش عکس پروفایل کاربران کنار پست ها
بهبود طراحی صفحه ارسال دیدگاه
بهبود عملکرد لایک کردن شعر ها
تغیرات در رابط کاربری اپلیکیشن
قابلیت بازیابی کلمه عبور
و بسیاری از بهبود های دیگر.

.در صورت مشاهده هرگونه باگ در نسخه جدید حتما با ما ارتباط برقرار کنید و گزارش دهید.
iPhone Screenshots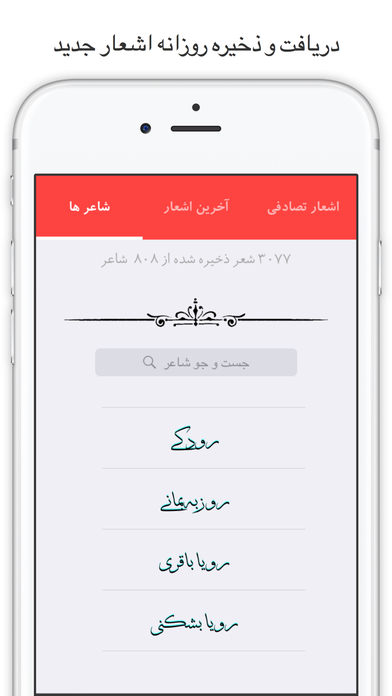 Customer Reviews
View in iTunes
Free

Category:

Social Networking

Updated:

Aug 01, 2016

Version:

1.8

Size:

44.5 MB

Language:

English

Seller:

Hamid peirovedin
Compatibility: Requires iOS 8.0 or later. Compatible with iPhone, iPad, and iPod touch.