Kill Switch
By Hubapps.com LLC
Open the Mac App Store to buy and download apps.
Description
✔ Force Quit, evolved.

Kill Switch takes every single aspect of the basic tool and rethinks it from the ground up, providing a more complete yet simpler experience.

Improved Control
• Fewer clicks to quit an app (6 vs 3 in Kill Switch)
• Force quit OR regular quit
• Select multiple or All - mass quit
• Lists all user processes, not just UI apps - yet conveniently groups them into sections
• No need to open Activity Monitor to find and terminate pesky background processes

Improved Interface
• Searchable list
• Drag off the standard popover menu to make it a stand-alone window
• Confirm before force quit - optional
• Pinning window as frontmost - optional

Improved Access
• Always visible menubar item, rather than hidden in a nested menu
• Always accessible - no switching to a stable app required
• Customizable hotkey combo

None of these features are available in the basic utility. Kill Switch does maintain the clean design aesthetic, however - it is minimal, direct, and stable.

Let's face it: despite advances in the technology behind our most beloved apps, things sometimes go wrong. When an app freezes up and you see the "Spinning Beach Ball of Death", it's time to flip the Kill Switch.

Yet Kill Switch is more than a last-resort measure of desperation. It is the perfect everyday task management assistant, allowing you to easily monitor and terminate all running apps, for example selecting multiple apps and pressing Quit to cleanly close down before a presentation or a restart.

If you're looking for the best way to quickly monitor and control your apps, you've found it!
Screenshots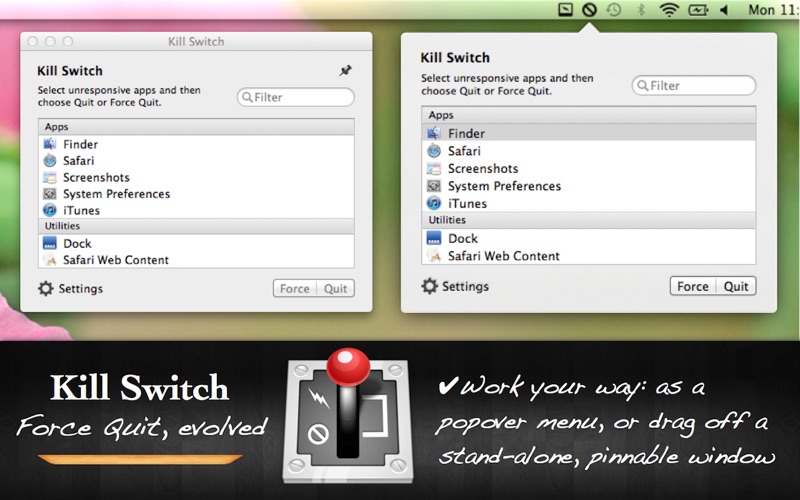 Customer Reviews
Does exactly what it's supposed to do
One of the annoying things about Lion is that an application-forced restart will also automatically restart all running apps. This makes the start-up time too long if I'm in the middle of doing something. Kill Switch allows for selective quitting of open apps. Those that I want to restart, or those that are part of my start-up list, can be ignored, while the ones I don't want running on restart can be quit. Very simple, very effective.

I haven't used the Force Quit function yet and will report back if it doesn't work as advertised. The application has the ability to have a dedicated hot key (CMD ESC by default) to call up the dialog box to allow an application to be selected.

Here are a couple criticisms, but not showstoppers. First, this app is expensive at $4.99. It would probably be far more appealing if it were a couple bucks less. It would also be very helpful if a user could predefine a group of applications to close rather than having to manually choose them each time. If an application wasn't running at the time of shutdown, it would be skipped.

Other than those quibbles, this app does exactly what it promises!
Cosmetic issues with Yosemite
There are some minor cosmetic issues when running under Yosemite but it appears to do exactly what is advertised.
About time, and awesome
THANK YOU APPLE!
View in Mac App Store
$4.99

Category:

Utilities

Released:

Oct 13, 2011

Version:

1.0

Size:

0.9 MB

Language:

English

Seller:

Hubapps.com LLC
Compatibility: OS X 10.7 or later