Kiwi for Gmail
By Zive, Inc.
Open the Mac App Store to buy and download apps.
Description
"It's shocking Google never created this software on its own." -- Inc.
"Can't miss app." -- Mashable

Kiwi for Gmail 2.0 integrates all of G Suite (formerly Google Apps) with Gmail as the centerpiece. We turn Gmail and the rest of G Suite into a full-powered desktop client that takes everything you know and love about Gmail and apps such as Docs, Sheets and Slides, and add great new features – including the ability to simplify your life by seamlessly managing multiple Gmail accounts. Finally a solution for office productivity that competes with Microsoft Office 365.

Kiwi for Gmail 2.0 with G Suite revolutionizes Gmail by transforming not only the functionality and interface of Gmail itself, but also how it works with Google Apps. By providing multiple windows, desktop integration, and a simple, intuitive interface that allows you to quickly access each application, open new documents, and get back to recent documents with a single click, Kiwi for Gmail 2.0 now gives you all the great functionality of G Suite apps in a better way.

One of the most anticipated apps on Kickstarter in 2015 and two years in the making, Kiwi for Gmail delivers a sophisticated app that thoroughly integrates Gmail into your desktop experience in ways that simply aren't possible in the browser. To do this, we rebuilt how Gmail functions on the desktop from the ground up to make it faster, easier to use, and more reliable.

Get started today and discover a whole new way to use Gmail and G Suite.

--

KEY FEATURES:

• Use Gmail as a desktop app, freed from the browser
• Reliable Multiple Accounts - Use up to 6 Gmail accounts simultaneously using an architecture that's more reliable than traditional Gmail
• Ability to use Google Docs, Sheets, and Slides as native, windowed desktop applications within Kiwi for Gmail
• Ability to open documents in their own windows so you can multi-task like never before using documents across applications and accounts
• Ability to open recent documents and quickly access Google Drive files across multiple accounts
• Intuitive new toolbar on the left side of the traditional Gmail interface provides quick access to all G Suite applications
• Saves all open document windows on exit and restores on relaunch, preserving window size, location, and account in the process
• Ability to open various file types directly within Kiwi for Gmail, including gsheet, gform, gdoc, gslides, gdraw, glink and gnote
• Offline access for Google Docs, Sheets, and Slides is in development
• Boomerang plugin fully supported
• Huge attachments - Send giant files using Google Drive, which is now so quick to do, it's even simpler than Dropbox.
• Powerful Keyboard Shortcuts - let you get to your email in a second.
• Important-Only Notifications - a desktop email first; use this optional feature and filter the noise right out of your email effortlessly.
• The Zen Switch(tm) - shut off all email notifications so you can focus, without shutting out the whole world.

• NOTE: Kiwi for Gmail does not have *offline support*, which is incompatible with serving all Gmail's features.
• NOTE: Kiwi for Gmail does not support Google's Inbox.

• Gmail as a Polished Desktop Experience - Windows for new messages, the calendar, Google Drive; Attach photos, documents, or whatever you want by just dragging them on; An inbox that works like a desktop application and not a strange menubar dropdown hybrid -- we've thought of everything.
• Gmail as your Default Email Client - It really works. Replace Mail and Outlook completely with Kiwi for Gmail - click an email in Contacts or the browser and it'll open one of our beautiful new email windows.
• Dock icon, Menubar dropdown, and full Inbox window.
• Gorgeous, simple New Message windows - Vastly improved over the browser.

COMING SOON:
• More Gmail plugins - We'll be integrating various third-party plugins in coming updates.
What's New in Version 2.0.6
Kiwi for Gmail is on sale! Get the full version of Kiwi for FREE for a limited time.
- Proper handling of middle click
- Restores boomerang respondable functionality
- Stabilizes compose in new window behavior
- Fixes three rare crash situations
- Resolves small number of memory issues
- Internal framework changes
Screenshots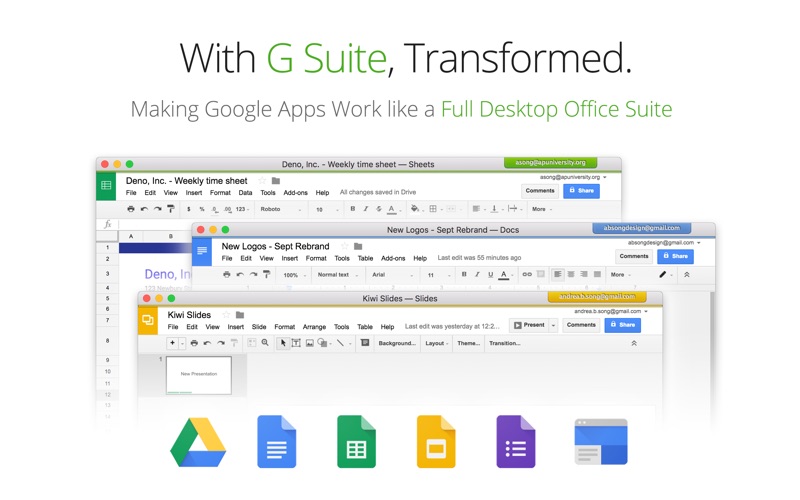 Customer Reviews
Essential, lots of room to grow!
As a heavy gsuite user, this app is critical to my day to day work. In fact, really don't know how I lived without it, and it gets better and better with every release.

However, as other reviewers point out, there are still many opportunities for improvement. Based off their work so far I'm really impressed by the Kiwi team and I'm really excited to see what the future holds for the app. For example, I'd love if the gsuite apps would only open one window per app - if I want to jump to my calendar and can't find quickly, I'll click the gcal button/icon in the kiwi menu - but it always opens a new window. Over the course of the day I end up with dozens of Kiwi windows open showing the same thing when what I really want is one window for each of the main apps (calendar, drive, contacts, or a particular document) and for kiwi to find the window that's already open and bring it to the front. I've also noticed that when downloading/saving attachments from emails, I can't create new folders in the expanded save panel and end up having to jump over to finder, add the folder there, then going back to Kiwi to save the attachment into it. It's a small bother, but adds up over time.

Overall this is an essential app that I couldn't live without, and I'm looking forward to seeing it continue to improve!
I love Kiwi and I recommend it to everyone I know using Google.
I work in an office that runs almost exclusively on gmail and other google products like Drive, Sheets, Docs, etc. I'm fastidious about keeping unused windows and applications closed on my computer and I hate the clutter of multiple tabs, so keeping all of these things open in my browser was a nightmare. Not to mention the hundreds of times I quit my web browser out of habit and then had to reopen everything.

But by far, the very best feature that Kiwi offers is the ease of checking multiple gmail accounts. I have 3 email accounts that I check several times a day, and I'm constantly needing to add things to my work, personal and family calendars. It's a NIGHTMARE having to constantly sign out and sign back in in a web browser was awful. Kiwi was SUPER affordable and offered SO MUCH VALUE. Considering how much I love Kiwi now, and how critical it is to my hour to hour needs, I would happily pay triple the price to continue using this product.

I do wish they would add the dropbox integration that gmail has now.
Unfulfilled Promises
I purchased this because I use Google Apps for my primary email and wanted to use it in a separate program instead of my browser. Sadly, the developer continues to promise that "other plugins" are coming soon. This has been the case for well over a year with ZERO other plugins added. Boomerang is a terrible plugin because they price Google Apps users like some large corporation. True, Kiwi for Gmail can't do anything about pricing for Boomerang. However, they could give us more plugins like Right Inbox, Rapportive, and Streak. However, each time I contact Kiwi for Gmail, they tell me it is coming soon. I am sorry, but telling customers the same thing for well over a year is not "soon" by any definition.

Because of this, the app is worthless for me. I need plugins for my workflow and have had to move on to other applications to help fill the void. While expensive, Mailplane 3 is the best in the market and have been around for a very long time. They offer plugin support for Boomerang, Right Inbox, Rapportive, and Streak.

If you need plugins, stay away from Kiwi for Gmail. Don't believe the promise that plugins are coming soon.
View in Mac App Store
Free

Category:

Productivity

Updated:

Aug 28, 2017

Version:

2.0.6

Size:

89.1 MB

Language:

English

Seller:

Zive, Inc.
Compatibility: OS X 10.10 or later, 64-bit processor