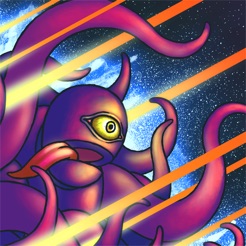 Description
"Have you ever wondered if there was an app out there with the soul purpose of nurturing your spirit in the most beautiful way possible? Kometen is a game for the iPhone and iPad that does just this with elegance and grace." – AppDiscover

"This is a remarkable addition to the app store that will separate itself from the crowded offerings of the same old same old with its own style and polish. Taking a seat next to Zen Bound, Kometen utilizes the unique aspects of the device perfectly and will be that app you want to share (show off perhaps?) with friends." — No dpad

- About -

A comet has been born, please take good care of it! Explore the universe and learn how to fly in a graceful way. A beautiful and memorable experience for everyone!

- Features -

‣ Super minimalistic controls: tap planets to gravitate towards them, swipe to let go
‣ Zoom through space at incredible speed!
‣ Explore a world filled with gorgeous watercolor art
‣ Use the map to find amazing paintings scattered throughout the universe
‣ Keep track of the mood of your comet by reading its thoughts
‣ Hypnotizing and awesome soundtrack

If you want to get the soundtrack: it's out on both iTunes and Bandcamp, just search for "To Stop you Must Die" by El Huervo

- About the creators -

Erik Svedäng (design & programming) is the creator of the PC game Blueberry Garden, winner of the Independent Games Festival Grand Prize 2009.

Niklas Åkerblad (art, animation, sound & music) is an artist based in Gothenburg, Sweden. When not making games he's painting huge paintings.


Follow twitter.com/e_svedang to get the latest news about Kometen updates, special offers, competitions and more!
- iPad support!
- Different regions to explore with new and unique music, backgrounds and objects
- Improved controls (quicker and smoother maneuvering of your comet)
- More food, debris and other fantastic things to see on your journey
- Killing your comet now requires confirmation (tap five times in the upper left corner on the comet info screen)
- Various small bug fixes and improvements
Ratings and Reviews
This game is so amazing.
Let me just say that this game is probably the best game of all. It doesn't get you too captivated with itself so you won't spend countless hours of wasting your life. This game is more of a "calming your mind game" or "enjoy your time game" if those examples make sense. It's perfect for places where your bored and want something for the time to pass by. The artwork and the soundtrack are a perfect combination for relaxation(did you see that rhyme?). The only thing that's wrong with itself is the fact that they stopped making updates for this game. It still looks like it was for the iPhone 4 or the older version of the iPod. Even though this game still has great potential for even being a better game if they start getting updates back up and maybe come with new ideas.
Engrossing and calming
I really enjoy this game. I wasn't sure I would, but it's calming and addictive. I would give it five stars if you could eat EVERYTHING in the universe that is floating around - not just the things orbiting planets. If you could eat everything and have different things happen when you eat them (not just the cold of the ice cream bar), it would be more interesting, especially as you go along in the game. After a while, you run out of unique things to see (other then the end giant planets of each level) and it's just routine - calming and engrossing routine, nonetheless. :) ALSO, I questioned why each of the end planets had such depressing themes. Why not let them be marginally uplifting? The art is GORGEOUS, the comet is so happy most of the time, and then we reach the end planets and it's all "DESPAIR, GLOOM AND DOOM". LOL!
Truly wonderful in every way
Alright people, I been playing video games for a hot minute, and this is THE COOLEST MOST BEAUTIFULLY ANIMATED GAME I HAVE EVER SEEN. Such a cool style. The gameplay itself is just carefree and mind-erasing. It's great. Very different from anything else
I've ever seen... Sometimes I wish I could just get a big screenshot of this game and put it on my wall. Play this please, and I hope you are reading this, guys who made this game, because you got something right.
Information
Seller

Erik Svedang AB

Size

48.1 MB

Category

Compatibility

Requires iOS 3.0 or later. Compatible with iPhone, iPad, and iPod touch.

Age Rating

Rated 4+

Copyright

© 2010 Erik Svedäng & Niklas Åkerblad

Price

$0.99
Supports
Family Sharing

With Family Sharing set up, up to six family members can use this app.