KORG iMS-20
By KORG INC.
This app is only available on the App Store for iOS devices.
Description
iMS-20 is an analog synth studio; a complete recreation of the Korg MS-20 synth, an analog sequencer, a drum machine, and even Korg's Kaoss Pad technology. Plus, you can share your songs online via the SoundCloud!

iMS-20 is a complete music production app for iPad. It consists of a complete recreation of the legendary Korg MS-20 analog synth with the patching capability, plus a 16-step analog sequencer based on the Korg SQ-10, a six-part drum machine which can create drum parts by simply tapping the buttons, and a seven-channel mixer with 14 types of effects.

In addition, iMS-20 offers dual Kaoss Pads allowing you to generate music by simply stroking the pad and moving your fingers over it. Experiment to come up with wild musical phrase! And with access to the SoundCloud audio platform*, you can publish your songs, or collaborate on ideas with people anywhere in the world from within the app!

[Specifications]
Components:
• MS-20 monophonic synthesizer : 1 unit
• Analog sequencer : 1 unit
• 6-part drum machine : 1 unit
• Mixer : 1 unit
• Song/Pattern composer : 1 unit

MS-20 monophonic synthesizer:
• Analog modeling synthesizer (MS-20 modeled by "CMT" Component Modeling Technology)
• 2VCO / 2VCF / 1VCA / 2EG / Patch Panel
• Additional functions : Modulation Key/Tempo Sync
• Insert effect (selectable from 14 effect types as below)

Analog sequencer:
• 16-step analog sequencer
• Control notes, volume, pan, parameters, and voltages via knobs
• Configurable steps (1-16) and sequence mode (6 types)
• Trigger out per channel or step position

6-part drum machine:
• 6-part/16-step drum machine
• Create sounds by sampling a single note from a built-in MS-20
• Controllable notes, volume and pan by knobs
• Configurable steps (1-16) and sequence mode (6 types) per a part

Mixer:
• 7-channel mixer
• Double needle meter indicates VU level
• Master effect (selectable from 14 effect types as below)

Song/Pattern composer:
• Compose a song or select a pattern, built-in mixer
• 16 patterns and 256 bars per a song
• Tempo setting (20-300 BPM) and Swing function

Effect type:
• 14 types : Short Delay, BPM Sync Delay, Reverb 1, Reverb 2, Chorus/Flanger, Equalizer, Compressor, Tube Simulator (Valve Force), Low-Pass Filter, High-Pass Filter, Band-Pass Filter, Talking Modulator, Decimator, Grain Shifter

Controllers:
• Keyboard : Variable width (22, 26, or 29 keys)
• Kaoss Pad : 2 units
- Performance pad : Key/Scale (31 types) settings
- Parameter control pad : X-Y axis parameter settings

Other:
• Audio export function (Bouncing a song or pattern, and Real-time recording a performance: 16-bit/44.1 kHz stereo WAV format)
• Publish and share songs online with the SoundCloud audio platform
• Various template patterns by music genre are included
• Various template sounds by sound category are included

* You will need to register for a SoundCloud account in order to use SoundCloud. Also, when using SoundCloud, you must observe SoundCloud Ltd.'s terms of use, such as the prohibition on uploading songs whose copyright is the property of a third party. For details, refer to the SoundCloud website : http://soundcloud.com

Follow us on:
● Facebook : http://www.facebook.com/korg.iapps
● Twitter : http://www.twitter.com/korg_iapps
What's New in Version 1.6.6
● Bug fixes and improvements
iPad Screenshots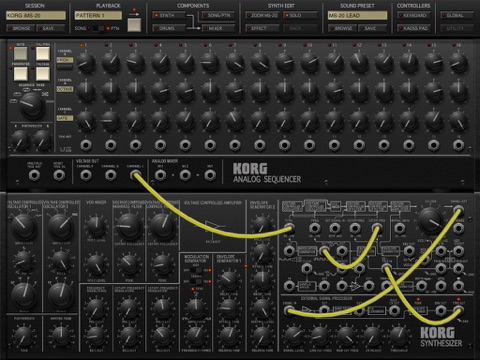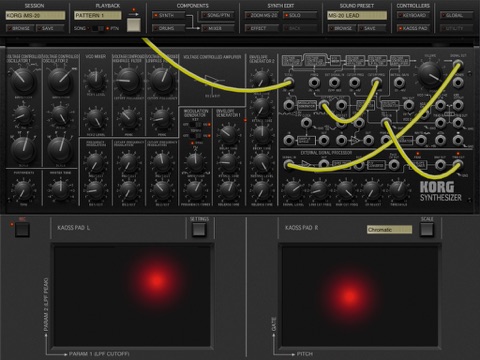 Customer Reviews
New Favorite Instrument!
I use the iMS-20 on my iPad 2. I have several other synth apps, but none I have found offer such a vast combination of sound generation possibilities. This app does it all, if you take the time to learn about this program. The info in the manual is great for beginners, too.
With enough knowledge, one can emulate virtually any musical instrument and produce an entire composition from rhythm to lead.
This app offers so much for so little, compared to prices of physical synth machines. You can even utilize dual kaossilator pads or a virtual keyboard for live performing or recording.
If you make music or are interested in learning how to create electronic beats, this app is a must have. As a newcomer to synthesis, the challenge of understanding, alone, is enough to occupy my focus for hours.
My favorite aspect to using this app, are the results I see while merely using the app. Becoming familiar with the array of variations and manipulations available will perhaps keep me entertained and learning for years to come!
The first real synth I owned in the mid 80's was a MS-20
Before I bought it I learned the basics with a modded Casio, a Roland string machine & TB drum machine topped off with a space echo. The MS-20 was a game changer. Exponential leap forward. Why did I sell it? A long trip to explore old sites in Mexico & Guatemala. It was worth it. I got this app right after it came out. Life got busy & I never dug into it. Then I got Gadget. Really intuitive & so many choices. After taking Gadget to most of the places I wanted to I've circled back to iMS-20. Wow. Just wow. Through big speakers the emulations are fat & gritty. It's the real deal. When I first got this app I got so obsessed with patching & tweaking in it I completely ignored the "drums" righteous step sequencer, & boss Kaos controllers. If you get this don't be a dope like me. Digging around in it's guts & corners there's solid gold. Korg nano key studio plays real nice with this app.
Pluses and minuses, but mostly good
Pluses:

• Beautiful GUI. This iOS version has a much better GUI compared to the desktop AU/VST version. Nice icon too :-)

• Compatible with the mini MS-20i USB controller keyboard (yes, you can do patching in this synth via the hardware controller).

• Great/classic sound ability, x2 synths, and drum sounds.

Minuses:

• No Korg Gadget integration.

• No IAA transport controls. This is a problem with ALL of Korg's apps.

• Poor MIDI support, making this more of a standalone audio source, rather than an interactive performance synth.

• Lousy sequencer for modern devices. It's fine to mimic old analog sequencers in software, for fun and certain sequencing styles, but not when that's the ONLY option on offer. iDS-10 makes iMS-20's sequencing look like childish, primitive, unusable garbage. iDS-10 and iMS-20 share so much in common that it might have been better for Korg to release an iDS-20 (merging the best of both worlds).

• No polyphonic mode. The desktop MS-20 plugin supports polyphony, so there's no reason not to have it here as an option.

• Fiddly controls. This is a problem with ALL of Korg's apps, especially Gadget.

• No data exchange via email.

• No data exchange at all (the Soundcloud integration is absolutely NOT acceptable for patch exchange).
View in iTunes
$29.99

Category:

Music

Updated:

Dec 22, 2015

Version:

1.6.6

Size:

47.1 MB

Languages:

English, Arabic, Catalan, Czech, Danish, Dutch, Finnish, French, German, Greek, Hebrew, Hungarian, Indonesian, Italian, Japanese, Korean, Malay, Norwegian Bokmål, Polish, Portuguese, Romanian, Russian, Simplified Chinese, Slovak, Spanish, Swedish, Thai, Traditional Chinese, Turkish, Ukrainian, Vietnamese

Seller:

KORG INC.
Compatibility: Requires iOS 7.0 or later. Compatible with iPad.
More iPad Apps by KORG INC.