Learn - Aperture Edition
By Swanson Digital, LLC
Open the Mac App Store to buy and download apps.
Description
** For tutorials on the new Photos App for Mac and iOS go to TheMacU.com! **

•Over 3 hours of 1080p HD video tutorials on how to use Aperture!
•36 individual video lessons guided by an Aperture expert.
•Simple interface that makes it easy to navigate through the videos.
•The videos guide the viewer with zooms, pans and highlights of what is being discussed.
•The keyboard shortcuts associated with each lesson are listed in the sidebar.
•Use the notes pane to jot down things to remember from each lesson, then output all your notes in a single PDF document!

Get the most out of Aperture with our "Learn - Aperture Edition" video training app!
Divided into four main sections (1.Import, 2.Organize, 3.Edit 4. Output) this course covers the entire process from importing, adding metadata, presets, editing and finally outputting your photos for the world to see. Organizational tools such as Projects, Faces, Places and Smart Albums are all discussed. In the Edit section of the course learn to make a photo look its absolute best with the tools available in Aperture's adjustments panel. In the output section discover all the ways to share your photos, from emailing just a couple images, using shared Photo Streams, uploading to Facebook and creating slideshows or books.

The voice and guide behind this training App is Drew Swanson. Drew is a 20+ year Mac user and has been using Macs professionally in the graphic design and photography fields for over 10 years. SInce 2007 Drew has been a member of The Apple Consultants Network, working in the Boise Idaho area to provide support and training to Mac users at their home and business. In 2009 Drew started TheMacU to provide video training courses to Mac users anywhere in the World.

Course Outline...

-Course Introduction
-Introduction to Aperture

A. Import (Approx 30 Minutes)
1. The Import Interface
2. Managed or Referenced files.
3. Import Settings
4. Import to Multiple Projects
5. Import from Photo Stream

B. Organize (Approx 50 Minutes)
1. Viewing Photos
2. Managing Projects
3. Creating Albums
4. The Inspector
5. View, Edit & Add Metadata
6. Ratings & Keywords
7. Faces & Places
8. Using the Filter
9. Creating Smart Albums

C. Edit (Approx 58 Minutes)
1. Versions & Stacks
2. Using the Adjustments Panel
3. Auto Enhance & Quick Fixes
4. Adjustments Part 1
5. Adjustments Part 2
6. Adjustments Part 3
7. Quick Brushes
8. Effects
9. Crop & Straighten
10. Light Tables and The Loupe
11. Using an External Editor

D. Output (Approx 40 Minutes)
1. Export
2. Email & Facebook
3. Shared Photo Streams
4. Web Journals & Pages
5. Printing
6. Slideshows
7. Books

E. Extras (Approx 12 Minutes)
1. Managing Libraries
2. Trash
3. Backup
4. Troubleshoot with Repair & Rebuild

-Conclusion
Screenshots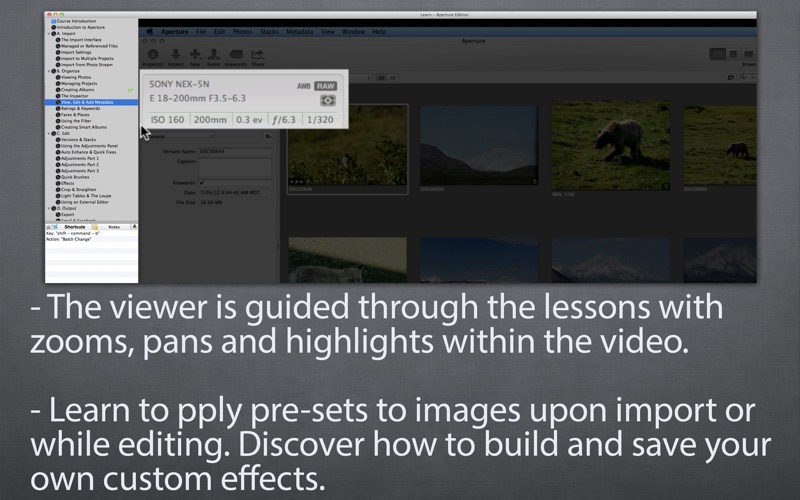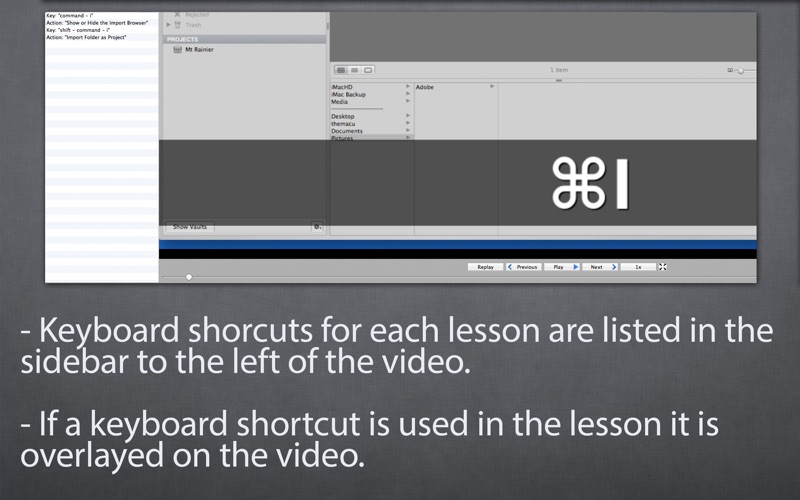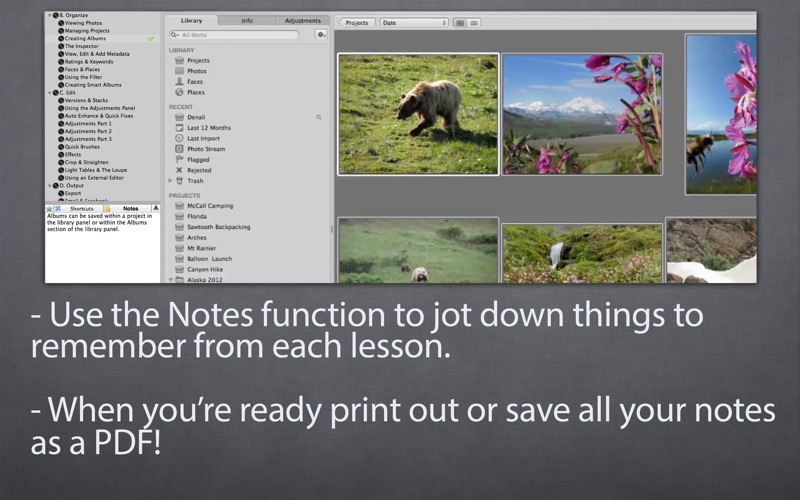 Customer Reviews
Solid Investment
I'm the kind of person who likes to learn by doing, so I don't often take training courses like this. I would consider myself at an intermediate level of photo editing (not a beginner, but not a pro either - I have been using iPhoto for 2 years now). Aperture has a lot of features that I wouldn't have found myself just "messing around" with it. I would have lost money by not using all the features that it comes with. It's really worth the few dollors you spend to get the most out of your Aperture investment. It also saved me a ton of time in the long run trying to figure things out for myself. The course itself is broken down into many sessions. You can skip right to editing or whatever without having to "fast forward" through the things you might already know. It also makes going back to review something you already learned, much easier as well. The voice over was easy to understand, spoke at a level that was neither over my head nor condescending, and at a speed that was just right. I only paused and rewound a couple times. It answered all the questions I had about the product and I will definitely be using TheMacU for future training.
Wish I would have had this years ago.
After a couple of years of playing with Aperture on my own I wondered if I was getting all thati could out of it. I got really excited when I saw Apple has a training class. Alas, its only offered in Philly, D.C. and Irvine, CA. I googled Aperture classes and BAM MAC U! I don't know if its as in depth as the Apple training would have been, but I can take these "classes" in my Pajamas so there is that!

So far I have only gone through the organizing courses and my picture library is now the envy of anyone fortunate enough to gaze upon it's glory. I'm looking forward to seeing what I get out of the editing portion. After that I am going to check on what other goodies Mac U offers.

I have had zero crashes\troubles so far. I would (and did) recommend this "Class" to anyone interested in Aperture.
Excellent, but...
We used this training as soon as we purchased Aperture. The tutorials were organized into 5 main topic areas and each topic was a comfortable length of time. There are several subtopics under each main topic area. We found this was usefull for going back and replaying a subtotpic that had a lot of content or if we missed an important idea. After each main topic, we would immediately put the skills to work in Aperture which was a successful way to reinforce the training. I gave the app only 4 starts instead of 5 because I think there was so much content available in the topic on editing and enhancing photos that I thought it deserved more time and description. Sometimes the trainer was modifying the photos without continuing to describe what he was doing and why. We would recommend this training app to any new Aperture user.
View in Mac App Store
$7.99

Category:

Photography

Released:

Oct 18, 2012

Version:

3.0

Size:

926 MB

Language:

English

Seller:

Swanson Digital, LLC
Compatibility: OS X 10.6 or later, 64-bit processor