LEGO Marvel Super Heroes
By Feral Interactive Ltd
Essentials
Open the Mac App Store to buy and download apps.
Description
LEGO. Marvel. 'Nuff said.

Before you buy, expand this description to check the system requirements below.

Fly, smash and swing your way through a side-splitting LEGO adventure as over 100 classic Marvel characters. The Avengers, X-Men, Spider-Man and the rest of the universe's heroes must fight together to stop Doctor Doom's evil alliance of villains.

You'll need all your super-skills to thwart their plan to build a devastating weapon from the magical Cosmic Bricks. Play as Iron Man, Wolverine, Spider-Man, the Hulk and many more in a hilariously chaotic battle for Earth all brought to life with LEGO's signature wit and visual flair.

Key features:

• Discover a Marvel Universe built of LEGO, starring a minifigure cast and block-based recreations of famed locations.

• Sling webs as Spider-Man, shrink down as Ant-Man, shoot lightning as Electro and master the incredible powers of over 100 other Marvel characters!

• Manhattan is your playground! Fly, swing and skydive through an open world filled with sidequests, minigames and secrets to find.

• Commandeer a fleet of blistering vehicles including jets, tanks and Ghost Rider's flaming motorcycle.

• Defeat an army of enemies in fierce brawls and epic boss fights.

• Deliver powerful combo moves and leave a path of destruction as super-strong Big Fig characters like the Hulk and Abomination.

• Create your own superhero and customize abilities, weapons and costumes with a dizzying number of options.

• Join forces with a friend and double-team your foes with drop-in/drop-out local co-op.

• Includes the Asgard and Super DLC packs! Play as the heroes and villains of Thor: The Dark World, reassemble your Marvel roster with eight classic characters, then speed to victory in ten additional races aboard the Spider Buggy and Hawkeye's Skycycle.


Important information regarding LEGO Marvel Super Heroes:

• If you require assistance, please contact our support team at support@feralinteractive.com

• Minimum System Requirements: Processor: 1.8GHz, RAM: 4GB, Graphics: 512MB, Free Space: 7GB.

• The following graphics cards are not supported: ATI X1xxx series, ATI HD2xxx series, Intel HD3000, Intel GMA series, NVIDIA 9400, NVIDIA 320M, NVIDIA 7xxx series and NVIDIA 8xxx series.

• This game is not currently supported on volumes formatted as Mac OS Extended (Case Sensitive).

• You can find out more about the game on the LEGO Marvel Super Heroes mini-site at feralinteractive.com/legomarvelsuperheroes


LEGO MARVEL SUPER HEROES software © 2014 TT Games Publishing Ltd. Produced by TT Games under license from the LEGO Group. LEGO, the LEGO logo, the Brick and Knob configurations and the Minifigure are trademarks of the LEGO Group. © 2014 The LEGO Group. © Marvel. Published on the Mac by Feral Interactive Ltd. Mac and the Mac logo are trademarks of Apple Inc., registered in the U.S. and other countries. Feral and the Feral logo are trademarks of Feral Interactive Ltd. All other trademarks and copyrights are the property of their respective owners. All rights reserved. WB GAMES LOGO, WB SHIELD: ™ & © Warner Bros. Entertainment Inc. (s14)
Screenshots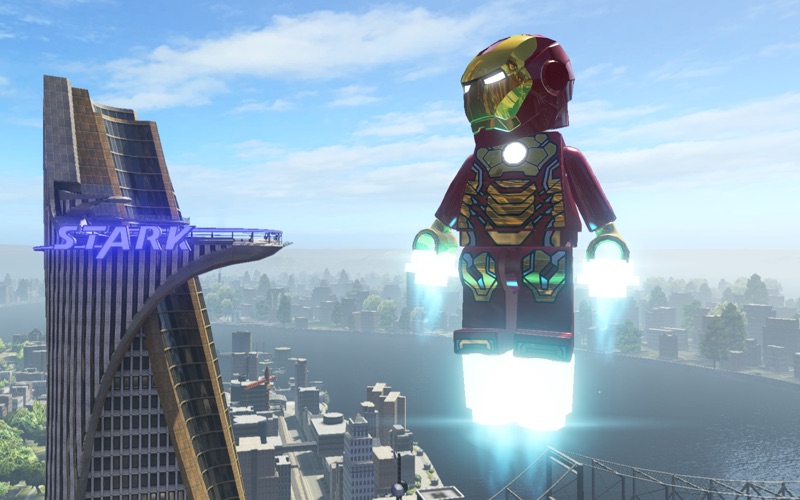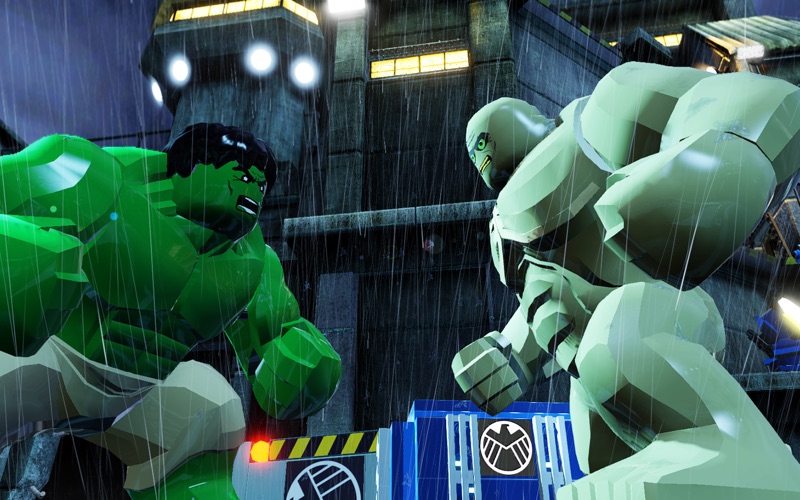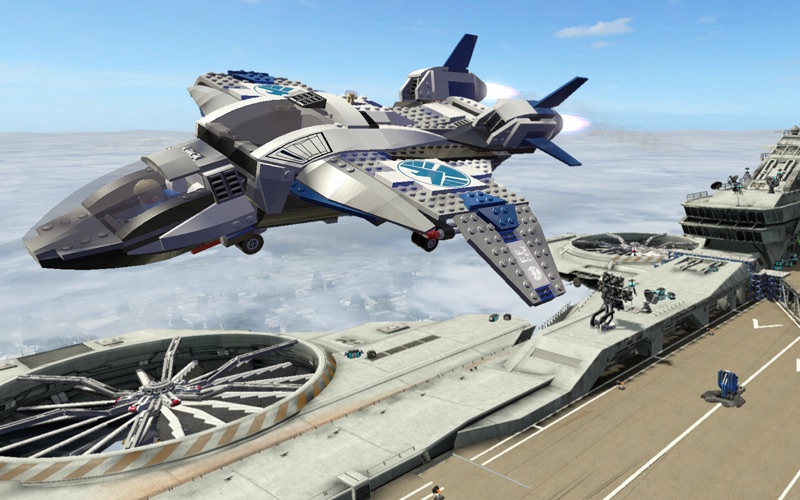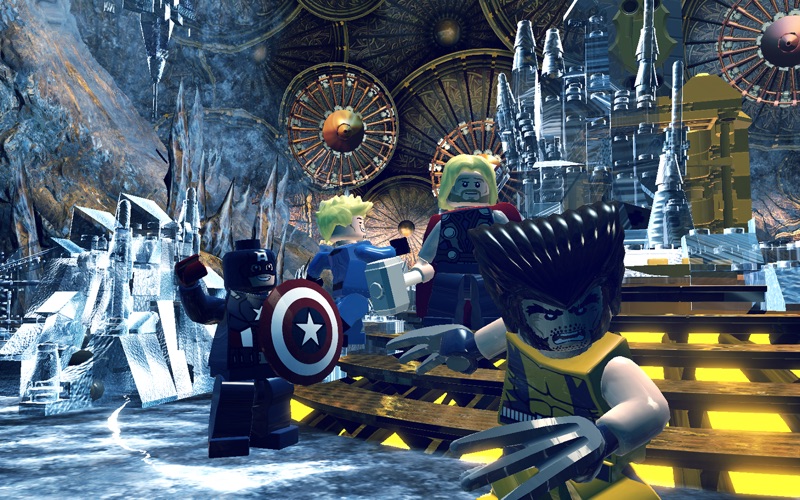 Customer Reviews
Great game!
Enjoying playing a less graphics-intense game with mostly solid game-play. The contols take some getting used to on a macbook pro (especially Iron Man), but overall its great! However, there are some weird glitches I've noticed in the game. I've often experienced a prolonged lag when changing characters here and there (game freezes anywhere between an estimated 2 and 20 seconds). Also, when on the character management screen, I'm not sure if its supposed to be this way, but the characters blink between their icon and a question mark. Oddly, this means I have to time it just right when changing to certain characters. However, in spite of what I consider minor glitches, I don't regret my purchase. It's still a fun game and I recommend you purchase it.

UPDATE: I am now using a late 2012 mac mini, and the graphics have shown some improvement over my mid-2012 macbook pro. Also, I have learned that the blinking selections on the character selection screen are for unpurchased versions of those characters; as such, they are not glitches. Enjoy the game!
Unsupported computer, working so far.
I have a 2011 MBP with unsupported (naturally) Intel HD3000 graphics card, but this game is working pretty well for me. There have been some graphical issues, but nothing serious yet. Also, some people have talked about seeing character icons flashing to question marks and back. I don't think this is a glitch, I'm pretty sure this is actually a version of that character that hasn't been unlocked yet. I may be wrong, but it's highly likely that the problem is a part of the game, not actually a glitch. Definitely worth the $30, especially because it's much more fun than DC Super Heroes. You definitely should buy this game. Although I should note that the controls will not change, even though you have the ability to change them. No matter how many times I have gone into the control configuration screen it will exit the screen when I hit "accept," but it will not change the controls. So watch out for that.
Could be a little better… but it's AWESOME!
I've played these lego games for awhile and and this one does not disappoint … I have enjoyed seeing a new game play from past ones… the maps have gotten much better and designs are amazing.. I've had issues but if you have a extra controller then you can get through it… I am playing on a Mac Mini OS X Yosemite … I'm using PS3 Controllers (USB connection seems to work the best) just make sure you see controller setting before the game starts… I'm looking forward seeing more with the new Avengers movie coming out and waiting for the last installment of LOTR HOBBIT the FIVE ARMIES… Nice work Feral Interactive Team!
View in Mac App Store
$29.99

Category:

Games

Released:

May 08, 2014

Version:

1.0

Size:

5.95 GB

Languages:

English, Danish, Dutch, French, German, Italian, Polish, Portuguese, Russian, Spanish

Seller:

Feral Interactive Ltd
Compatibility: OS X 10.8.5 or later