LEGO® The Hobbit™
By Feral Interactive Ltd
Open the Mac App Store to buy and download apps.
Description
Reclaim the Lost Kingdom brick by brick!

Before you buy, expand this description to check the system requirements below.

Play as the Hobbit, Bilbo Baggins, recruited to help a company of Dwarves retrieve their kingdom and their treasure from the terrifying dragon Smaug.

Harness the unique abilities of Bilbo, Gandalf, Thorin Oakenshield and over 90 other characters to conquer foes, solve environmental puzzles and beat hair-raising platforming challenges as you traverse Middle-earth on an epic journey to the Lonely Mountain, where Smaug awaits.

To reach your destination and outwit the dragon, you'll need to make superb use of everybody's talents, from Gandalf's white magic to the dwarves' epic teamwork in this, the most daring LEGO adventure yet.

Key features:

• Journey through a magical re-interpretation of An Unexpected Journey and The Desolation of Smaug, featuring a beautifully-realised LEGO version of Middle-earth and a huge cast of minifigures.

• Ride barrels down rapids as you escape from Bolg's Orcs, stalk monsters through Mirkwood and uncover the hidden entrance to the Lonely Mountain's cavernous halls.

• Wield the powers and abilities of over 90 characters! Turn Bilbo invisible with the One Ring, swing across chasms with Dori's grapple and bounce to new heights on Bombur's belly.

• Join forces with other characters to perform spectacular 'Buddy-up' moves! Swing them around in swordfights, boost them into the air or even build a 'Dwarf-stack', a climbable tower of Dwarves.

• Bring a friend or family member into Thorin's Company with drop-in/drop-out co-operative multiplayer.

• Master Dwarven smithing to build LEGO contraptions and forge unique gear, then put your handiwork to good use….

• Get even more items and characters in the Big Little Character, Battle and Side Quest Character DLC packs! Breathe fire as Baby Smaug, shrug off arrows in style with Jeweled Mithril Armour and bash some blocks as towering Troll Big Figs.


Important information regarding LEGO The Hobbit:

• Please note that we cannot reply to comments or questions left in Mac App Store reviews. If you require assistance, please contact our support team at support@feralinteractive.com

• Minimum System Requirements: Processor: 1.8GHz, RAM: 4GB, Graphics: 256MB, Free Space: 10GB.

• The following graphics cards are not supported: ATI X1xxx series, ATI HD2xxx series, Intel GMA Series, Intel HD3000, NVIDIA 7xxx series, NVIDIA 8xxx series, NVIDIA 9400 and NVIDIA 320M.

• This game is not currently supported on volumes formatted as Mac OS Extended (Case Sensitive).

• You can find out more about the game on the LEGO The Hobbit mini-site at feralinteractive.com/legohobbit


LEGO THE HOBBIT software © 2014 TT Games Ltd. In association with WingNut Films. Produced by TT Games under license from the LEGO Group. LEGO, the LEGO logo, the Brick and Knob configurations and the Minifigure are trademarks of the LEGO Group. © 2014 The LEGO Group. © 2014 New Line Productions, Inc. © The Saul Zaentz Company. THE HOBBIT and the names of the characters, items, events and places therein are trademarks of The Saul Zaentz Company d/b/a Middle-earth Enterprises under license to Warner Bros. Interactive Entertainment. Published on the Mac by Feral Interactive Ltd. Mac and the Mac logo are trademarks of Apple Inc., registered in the U.S. and other countries. Feral and the Feral logo are trademarks of Feral Interactive Ltd. All other trademarks and copyrights are the property of their respective owners. All rights reserved. WB GAMES LOGO, WB SHIELD: ™ & © Warner Bros. Entertainment Inc. (s14)
Screenshots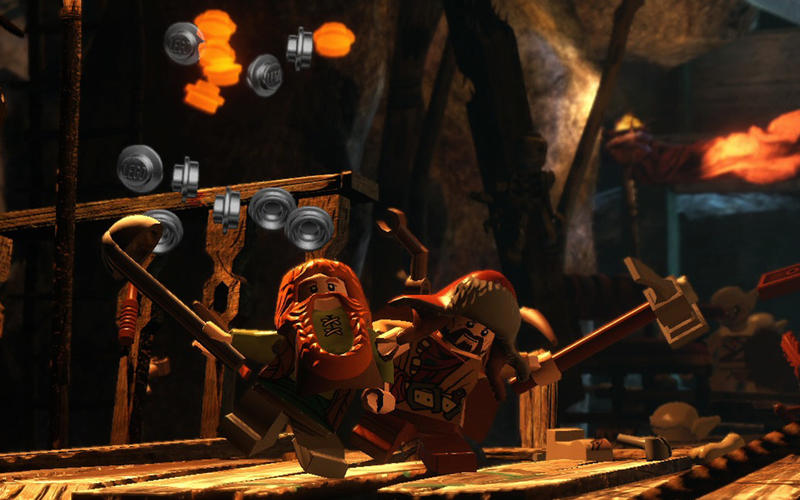 Customer Reviews
Good Game. Crashes sometimes on MacBook Air.
This is a great game for everyone who loves The Hobbit and Lego games. I am fairly disappointed that the last movie is not present in the game, as it leaves a huge hole in the plot. However, you will not get shortchanged by buying this game. The two movies this game does include are plenty of fun to play through. I was a little bit disappointed at how often this game crashes. Sometimes I will be playing through a level and when I try to switch characters, the game crashes and I have to completely force shut down my MacBook Air. This happens a lot specifically on the level "A Warm Welcome". In the end, it is a good game and definitely worth the money.
Magestic!
This game takes you into the world of The Hobbit, and captures all of the characters perfectly. It's worth all the money, and probably even more! The Shire is so complex and like the movie, as all the lands are in the game. The graphics are incredible, and you can almost ignore the fact that everything is legos, because everything else is so real! The characters act the same ways as they do in the movies and books, and they look the same way, even if they're built out of legos. I'd reccomend this game to anybody who's read the book and seen the movie, and I hope that you end up buying this!
its worth it.
I have been wanting for a long time for this game to be on mac. When i first played it i thought that the grafics were a little downgraed. I was right but i countenud to play it and i did start to think of the graphics. There is so much to do in this game. The movement is fulid and the abilitys for the dwarves are really cool because like in the book and movie they all have different weapons and abilitys. It has a hudge free roam map after you have completed the levels so you cant get bored. I really enjoy this game. worth the money.
View in Mac App Store
$19.99

Category:

Games

Released:

Dec 18, 2014

Version:

1.0

Size:

7.74 GB

Languages:

English, Danish, Dutch, French, German, Italian, Polish, Portuguese, Russian, Spanish

Seller:

Feral Interactive Ltd
Compatibility: OS X 10.9.5 or later
Top In-App Purchases
Side Quest Character Pack$1.99
The Battle Pack$1.99
The Big Little Character Pack$1.99