Les Princes de la Nuit
By アクセーラ株式会社
This app is only available on the App Store for iOS devices.
Description
Alors que tu menais une vie paisible, des meurtres inexpliqués viennent tout bouleverser et ton propre destin te mêle à ces événements qui te dépassent.
La rumeur au sujet des vampires est-elle fondée ?
Déterminée à faire la lumière sur les mystères qui t'entourent, tu croiseras sur ton chemin, des hommes aussi charmants que mystérieux…

Résisteras-tu aux Princes de la Nuit ?


■ Tes prétendants

○Klaus von Dracula
Race: Vampire

De nature stoïque, le Comte Dracula est dévoué à son peuple et son devoir.
La communication n'est pas son fort, ce qui lui vaut d'être souvent incompris.
Il semble que son héritage renferme de nombreux secrets...

« Je te protègerai... Je te l'ai déjà dit. »

Répondras-tu à l'appel de l'amour et du destin, envers et contre tout ?

○Gerald Van Helsing
Race: Humain

Professeur expert en théologie et en médecine
Il éprouve une haine profonde contre les vampires depuis le meurtre de sa sœur.
Intelligent, curieux mais borné, il est aussi un peu maladroit.

« On me dit souvent que je suis borné, mais je crois que tu es pire... »

Le détourner de sa chasse aux vampires ne semble pas être une mince affaire. En seras-tu capable ?


○Mateus
Race: Vampire

Mateus est quelqu'un de fier et arrogant.
Sadique, brutal... Cette cruauté semble toutefois n'être qu'une facette de sa personnalité.
Quel lien peut-il bien avoir avec Klaus ?

« Ferme les yeux, laisse-toi aller... Quand tu les rouvriras, tu seras mienne ! »

Sa colère cache peut-être quelque chose de plus profond... Et de meilleur.
Sauras-tu trouver le bon en lui et gagner son amour ?

○Ewan
Race: Démon

Ewan est un démon au service des Dracula depuis la première génération de la lignée.
Son apparence d'enfant innocent ne laisse aucunement transparaître son âge réel.

« Ewan, pour vous servir, Princesse. »

La personnalité de ce petit serviteur à l'air gentil et innocent te surprendra bien plus d'une fois.
Au fait, un démon peut-il seulement tomber amoureux ? À toi de le découvrir !
-------------

■L'histoire

« Europe centrale, dans une ville fortifiée...
Alors que régnait la paix, plusieurs femmes ont été retrouvées mortes...
Seules deux marques de crocs dans leur cou témoignent de ce qu'il s'est passé.
C'est là l'œuvre d'un être des ténèbres...
Et voilà que cette menace grandissante me guette, moi aussi. »

Découvre une histoire d'amour passionnante
dans laquelle hommes et vampires se battent pour conquérir ton cœur !


■Un jeu Otome, c'est quoi ?

– Une histoire interactive que tu peux lire grâce aux 5 tickets de scénario qui te sont offerts chaque jour !
– Fais les bons choix tout au long de l'aventure pour obtenir une fin heureuse aux côtés de ton prétendant !
– Personnalise ton avatar grâce à tout plein d'accessoires, de vêtements et autres objets !
– Jouable gratuitement du début à la fin. Des achats peuvent cependant être effectués pour améliorer ton expérience de jeu.


◆ En cas de problème◆
Contacte-nous via la rubrique « Nous contacter » dans le menu du jeu.
Si tu n'arrives pas à lancer l'application, merci de nous contacter par e-mail à l'adresse suivante :
【support@accela2.com】
iPhone Screenshots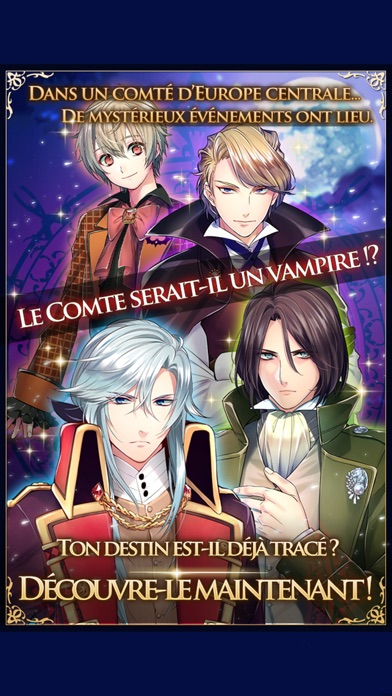 View in iTunes
Free

Category:

Games

Released:

Sep 02, 2016

Version:

1.0

Size:

9.2 MB

Language:

French

Seller:

Accela Co., Ltd.
Compatibility: Requires iOS 6.0 or later. Compatible with iPhone, iPad, and iPod touch.