Find My Family, Friends & iPhone - Life360 Locator
By Life360
Open iTunes to buy and download apps.
Description
Life360 is the world's leading realtime, location-sharing app, and is the best way to coordinate with family and friends. Get automatic notifications when your family comes and goes from home, work and school, and when they complete drives. As seen on FOX, NBC, CBS, and more!

Use Life360's Family & Friend Locator to:

* View the realtime location of friends or family members on a private map
* Receive realtime alerts when friends or family arrive or leave home, work, and school
* Share photos and text messages with our secure, private chat
* See past location history for your Circle
* See information after each drive to improve driving safety
* Protect your family while they're driving with our Crash Detection service
* Track a lost or stolen phone

"I have two new drivers. I feel more at ease when I can see info about their trips…Being able to not only know where my children are but also that they're driving safely is something I can't be thankful enough for." - Miranda Carter

Use GPS to find Friends and Family

Life360's Family & Friend Locator uses state-of-the-art GPS location data to report the realtime whereabouts of your friends and family. Simply install the Family & Friend Locator on everyone's phone. Once registered, each member appears as a unique icon on the map so you'll always know where your family members are.

No need to send text messages asking "When will you be home?" The Life360 Family & Friend Locator tells you! Create geofence zones around your home, work, school, or anywhere you visit regularly. Whenever someone in your Circle arrives or leaves those locations, you'll get a notification.

Different Circles for Friends and Family

Life360 Circles allows you to organize your friends and family into unique groups. You'll start with a Circle for your core family – mom, dad, kids – but the sky's the limit! Create Circles for your extended family, add a Circle for your nanny or babysitter, or create a temporary Circle for the Little League team's trip to the playoffs. You can pause location sharing to any Circle at any time, which is perfect for caregivers who don't need to share their location 24/7 (or for anyone who just needs a little "me" time).

Follow Your Family's Driving Behavior

With our latest features, you can see when your family is driving. Did your son just pass his driving test, and has taken to the road with the family car? Our premium driving features will let you see when your kids are speeding, driving irresponsibly, or texting while driving. Help them become better drivers and compare their driving to your own.

Keep Your Family Safe on the Road with Driver Protect

Protect the whole family with our premium Crash Detection service. Using the accelerometer on your phone, Life360 can automatically detect if a car crash has occurred while someone was driving. Our software has been tested in BMW's crash test facility, and we analyzed data from numerous real life car crashes. When we detect an crash, our trained emergency response agents can call the person involved in the crash within minutes and check if they're ok. If they need assistance, we can automatically dispatch emergency services directly to their location. We can also contact the driver's Circle and family immediately after the crash, to give you ultimate peace of mind while your family is on the road.

A reliable Cell Phone Tracker

Lost or stolen phone? Log into our web app at www.life360.com and you can track your phone in realtime to get it back. Just make sure to install the app on any iPhone, iPad, Android phone, or tablet that you want to keep track of, and you'll never lose it again!

Disclaimer: Continued usage of location services while the app is in the background can excessively drain battery.
But not to worry, we've spent 8 years developing our location technology and our algorithms always keep battery usage to a minimum, even while you drive!
What's New in Version 13.2.0
- Bug fixes & location improvements
- If Life360 gives you peace of mind, let us know by writing an app review. Your positive stories are really helpful to us and all the new families interested in Life360!
iPhone Screenshots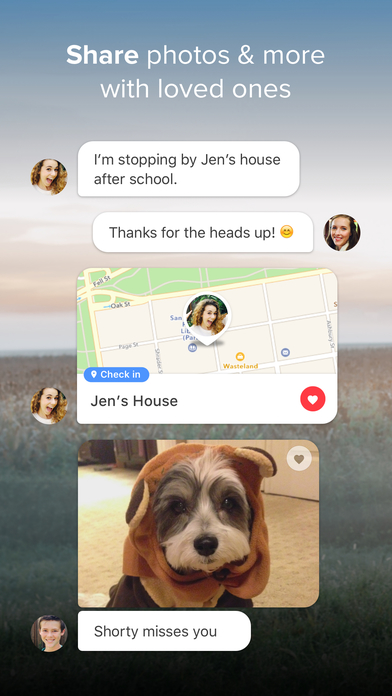 Customer Reviews
Useful app with so much room for improvement!
This is a great app for what it is and I see it going places with a few improvements! First and foremost, all the basics are free. I mainly just want to know that my child made it safely to the sitters house and to our house and it does just that. I don't expect much more than that considering I only use the free features of this app, but lately I've been noticing incredibly delayed notifications when a family member arrives/leaves a location which defeats the purpose of why I initially downloaded this app. It seems like an easy fix, and I'm hoping it's resolved in a future update. I also notice that it does drain my battery a lot faster than before I used this app. Anyway that can be fixed? Lastly, I understand this is a family tracking app but the lists were so incredibly useful to have in an app we all use! What happened to them and can we please have them back?!

Overall, good app with so much potential.
Not bad - ZERO support though, even when paid for
Compared to the rest out there, this is the best app. Its the best of the worst.
FindMyFriends seems to work more reliably but we needed a cross platform (Android/iOS) app and this one does fit the bill.

Sometimes, alerts are NOT accurate or timely if at all. I am still trying to understand that since if I run the app manually it DOES show a family member at work yet I was never told they were there. It is not reliably perfect but its ok as long as you know this.

Support? - Seriously? - They claim 24hr turn around. Well I am a paid customer and perhaps they dont mean 24 contigous hours? - I have sent in several emails over the past few weeks. I get the confirmation email - then nothing back. I signed up for the beta program, submitted a question that way and it too was totally ignored.

I dont understand that. So as long as support means nothing to you, then this isnt a concern. Oddly I only had 2 questions but still cannot get them answered.

As far as the complaint about the Driver being in an accident?
1. That is still in BETA. BETA means just that.
2. No one in their right mind should put that much importance on an app.

Especially one with such poor support.

If the item was free - then all of this would be 5 starts. But to pay a rather HIGH amount per year and have issues isn't acceptable.

Good luck. Give it a try. Maybe you will have better luck than I did.
Peace at last
I/we love this app!!! Our teenager recently started driving and I was a nervous wreck constantly asking for her to notify me when she arrived or left school, work etc. I downloaded this app & purchased the upgrade because we have more than locations that she travels to/from. It has been well worth it so far. I don't know anything about the "lists" feature I keep reading about in the reviews but it sounds great. I would say support the developers by purchasing the $4.99 version & they may be inclined to bring it back? Seriously, unless you like to work for free, if you're downloading the free version, don't look a gifted horse in the mouth. It's still a great free app like I said we only did the upgrade because the free only gives you 2 locations to track.
View in iTunes
Free

Category:

Social Networking

Updated:

Mar 13, 2017

Version:

13.2.0

Size:

141 MB

Languages:

English, Dutch, French, German, Indonesian, Italian, Japanese, Korean, Portuguese, Russian, Spanish, Thai, Turkish, Vietnamese

Seller:

Life360
Compatibility: Requires iOS 9.0 or later. Compatible with iPhone, iPad, and iPod touch.
Top In-App Purchases
Life360 Premium - Your Family, with Superpowers$4.99
Life360 Plus$2.99
Life360 Plus$24.99
Life360 Driver Protect$7.99
Life360 Driver Protect$69.99
Life360 Premium - Your Family, with Superpowers$4.99
Life360 Plus$2.99
Life360 Premium - Your Family, with Superpowers$49.99
Life360 Driver Protect$69.99
Life360 Plus$24.99