Light Writer - Photography Effects
By Laan Labs
This app is only available on the App Store for iOS devices.
Description
** WEEKEND SALE -- TOTALLY FREE **
...oh what the heck, now free until may 28th

While you can use this to show messages to people directly it works best in photos - simply take a picture with a longer shutter speed in a darker setting and your message or image will appear. Also, you need to swing it SLOWLY, in a steady back and forth motion, don't flail around randomly.


*** Please see our flickr and facebook groups for examples
** and take your own action shots and post them! **

flickr group, goto:
http://bit.ly/lightwriterflickr

facebook group:
http://bit.ly/lightwriterfb

** SET SCREEN BRIGHTNESS TO MAX **
to do this, go into your phone settings, then choose brightness.

Features:
- text - set your own text messages or choose from a list of common ones like "Hi Mom" etc..
- colors - pick your own color
- images -- show emotocon or small resolution images
- rainbow mode - go crazy by turning your message into a rainbow of colors!


Again this app is best in photos so:
- it works best at night or in a dark setting
- practice your wave in front of mirror -- it takes a bit of practice to get it right
- if a person cant see it - get them to "look through you" - tell them not follow the phone with their eyes.

Lastly -- if the person cant see the message (some can't - its like that 3d image picture) -- have them look at you through a camera (i.e. the camera on the iphone) -- the message will become clear.

Email us at labs@laan.com with any feature requests or bugs!

Follow us on twitter @laanlabs

Thanks, have fun.

Keywords: LED , Led message , Air Writing, Air Writer , Illusion , Motion Message


iPhone Screenshots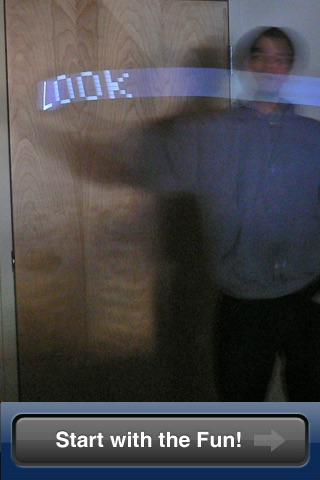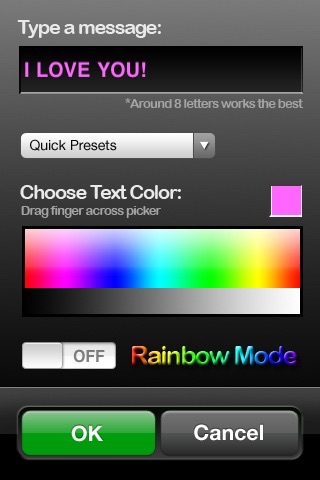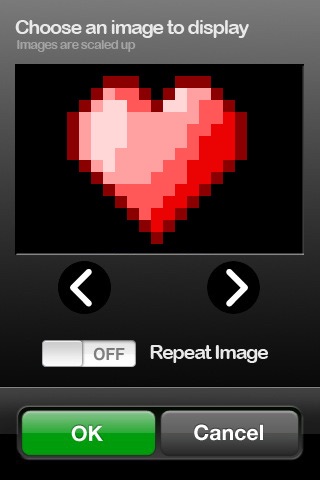 Customer Reviews
Good effort
This is not exactly an easy concept to use in an app. I also, as a hobbyist programmer, understand that producing a satisfactory product is no small task. Now, you, the developer, who is doing this for a living, if you want to not just be a good programmer, but a great programmer, you should take my feed back as constructive criticism, and not just some whiner complaining that he or she had their money taken.

Their is one key issue with your app, that's usability. May sound sarcastic, but that is critical to success, it's why people like gates and jobs have, and in the later case have had, a crap ton of cash. Their software was user friendly.
The issue with yours? As at least one person said, you have the scroll speed set real low, that isn't exactly a good thing with pov, and it's also a fixed speed, you could do one of two things, allow users to set the scroll speed themselves, our take data from the gyro, and accelerometer, and use that to alter the scroll speed in order to make for a more consistent message, in then end, improving user friendliness.
Great App!
I guess when viewed in person, this app is like one of theose Magic Eye posters. Either you see it or you don't. I can make out the images or text when I am waving it, but better results come with taking long exposure photgraphs. I set up my camera and experimented with 2-6 second exposures in a darkened room and was able to get lots of cool shots. Some suggestions for future improvements: - Make the rate at which the pixels making up the images/text variable. People may have better luck if they had different speeds to choose from. Maybe a a fast medium and slow option to keep it simple. - It would be cool to be able to inset the graphics in with the text. Maybe make it so the keyboard pop up contains both so that you could have graphics and text in the same message or have different graphics in the same display.
Brilliant
Took awhile, half an hour for me, to get used to it. I'm a photographer and was able to take a few cool shots with this. Still a little bit of tweaking to the app could be done, but otherwise it's a blast.

As said before, dark room, full iPhone brightness works best. Move it fairly slow. If you're using it with a camera, use a slow shutter (obviously). Play around with it for awhile to get the right speed. It won't work if it's right next to your face, which is probably why it wasn't working for a lot of people; have a buddy stand back a few feet and wave it in steady motions.

It does work, but takes some patience. Please don't write down 1-star reviews before getting it to work; it does work.
View in iTunes
$0.99

Category:

Entertainment

Released:

Mar 27, 2009

Version:

1.0

Size:

1.1 MB

Language:

English

Seller:

Laan Consulting Corp
Compatibility: Requires iOS 2.1 or later. Compatible with iPhone, iPad, and iPod touch.
More iPhone Apps by Laan Labs