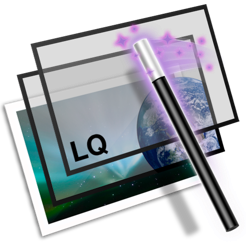 LiveQuartz Photo Edit
4+
Simple and Powerful
Description
A simple and powerful photo editor for the Mac.

It is based on non destructive layers and filters. The layers are at the left and the filters are at the right of the window. To edit a photo, just drag it into the window (or layers' list) and it will be added as a new layer. LiveQuartz supports Gestures (Multi-Touch).

SCREENCASTS : http://www.rhapsoft.com/?menu=livequartz_video

FAQ : http://livequartz.fr.yuku.com/forums/1/FAQ/FAQ

TWITTER : @livequartz


"As a product manager I constantly need to communicate my ideas visually but I lack the time, attention and motivation to learn something like Photoshop. I downloaded LiveQuartz Lite and was manipualting images and creating new content within minutes. I didn't hesitate to pull the trigger on the upgrade to the Unlimited version and more than happy that I did. I've since encouraged my non technical friends and my kids to use it and have seen the same results.Highly recommended." - BobKattt (2.3.2)

"I enjoy Mac style Apps because they make artistic sense to me. I like to have as little math, tangent calculations, and non creative tasks involved  when I am creating artwork and graphic design projects. With LiveQuartz, pencils act like pencils, and brushes brush. Actions are smooth and simple as putting a pen to paper. The layers behave magically and the various composites and photo effects are fluid and intuitive. Each time I use this program, I find new tools and combinations that help add to the fun of creating. Great program." - Phil Seymour (2.0.3)


TOOLS

• "Layer moving tool"
• "Brush"
• "Duplication tool"
• "Drawing tools" (lines, rectangles, rounded corners rectangles, ovals)
• "Gradient tools"
• "Rich Text tool"
• "Eraser tool"
• "Background eraser tool"
• "Filter effect tool"
• "Color Picker tool"
• "Rectangle Selection tool"
• "Ellipse Selection tool"
• "Lasso / Polygonal lasso tool"
• "Magnifying glass"


IMAGE FORMATS

• Native non destructive format : rhif (RHapsoft Image Format, sqlite based)

• Read / Export formats : pdf, heif, png, jpeg, jpeg2000, tiff, tga, gif, bmp, OpenEXR

• Read only formats :
raw, photoshop (merged layers), icns, sgi, Windows ico, Windows cursor, FlashPix, MacPaint, QuickTime Import Format, Radiance, XWindow bitmap


FILTERS

Standard Core Image Filters + Shadow filter + "Flip" geometry filter
New Features:
- In Edit menu, the latest selection can be restored
- As it is similar, the brand new "Paint Bucket" is available by choosing the background eraser tool with 'alt' key pressed
- Drag and Drop of text layers is now possible (Previously, it would have converted the layer to a pixel image layer)
- Default corner input points for certain transform filters now default to the current position of the corners (example: "Perspective Correction" filter)

Bug fixes:
- Drag and drop of layers and filters between two LiveQuartz documents is back on Mojave
- Fixing an issue on certain configuration with painting tools on Mojave (pencil and duplication tool)
- Scrolling with input devices like the magic mouse is disabled while using tools to avoid wired behaviour
- Fixing an english localisation issue in filter picker
- Fixing a layer size issue with background eraser when using a selection
Ratings and Reviews
Live Quartz answers many if not not most needs
My wish list would be a quicker way to select a single item in a layer or image. Something similar to the magnetic lasso tool
Recent Update ruined the brushes ?
I haven't had any problems until it updated, also theres a huge transparency bug. All of this happened right after it updated
Developer Response
,
Sorry for this issue with the brush and duplication tool. It was an issue in macOS. I suggest you to update to LiveQuartz 2.8 that has some rewritten parts of the painting tools' code (on mojave and beyong) to reduce risks of being affected by regressions in macOS.
Couldn't do my job without it.
I have been using this app since 2009. It receives updates on the regular. It has a ton of basic tools and lets you put together a lot of nice images. The app is lightweight but does punch above its weight compared to most other editors. Everything the app does, it does very well… which is rare but well worth the price tag.
Information
Seller

Romain Piveteau

Size

9 MB

Category

Compatibility

OS X 10.11 or later, 64-bit processor

Languages

English, Danish, French, German, Italian, Japanese, Persian, Russian, Simplified Chinese, Spanish, Traditional Chinese

Age Rating

Rated 4+

Copyright

© Romain Piveteau, 2018

Price

$7.99
Supports
Family Sharing

With Family Sharing set up, up to six family members can use this app.