Locabulary Lite
By Red Mountain Labs, Inc.
This app is only available on the App Store for iOS devices.
Description
lo-cab-u-lar-y |lōˈkabyəˌlerē| noun, 1. an app which combines location and vocabulary to produce efficient communication

- he used locabulary to order his coffee
- locabulary allowed her to say "hello"
- he expressed his mood using locabulary
- she asked for help using locabulary

ORIGIN early 21st cent. (denoting a list of words or phrases for communication): from medieval Latin locabularius, from the Latin locabulum.

Developed from the concept that everyone should have a voice, Locabulary is a groundbreaking communication app designed for users of all types for the iPhone and iPod Touch. The intuitive interface uses the iPhone to communicate words, phrases, and sentences. Locabulary can be used for fun, everyday correspondence, teaching, or as a vital communication device for individuals who have difficulty speaking due to autism, brain injury, stroke, laryngeal cancer, or other conditions that affect speech.

Locabulary can be used as a small, compact, and convenient alternative to bulky augmentative and alternative communication devices. The audio output level of the iPhone is sufficient for most situations but may not be loud enough in some high-noise environments. For these locations, we suggest that you connect an externally powered speaker to the headphone jack of the iPhone. Please visit our website if you need assistance locating a device.

Version 1.1 includes Quick Phrase (ex. "Hello," "Dude," "Sweet"), Moods (ex. "I feel daring," "I am happy"), Assistance (ex. "Where is the restroom," "Please call the doctor"), and Restaurants (ex. "I would like a Iced Café Mocha Grande," "I would like a Big Mac"). It also includes a location-based vocabulary concept and female voice option. Future versions will include an expanded word bank, additional forms of information exchange, and additional location based communication options. Created by a team of specialists from a variety of backgrounds, Locabulary is designed to be a platform from which unlimited forms of communication and expression will emerge.


Locabularly. Because Everyone Should Have A Voice.


FEATURES:

- Intuitive interface

- Communication with single word or short phrase choices

- Sentence construction as word and phrase options are presented based upon your previous selections

- Adjustable font size

INSTRUCTIONS:

- Make sure your ringer is on and volume is up 
- Tap the "AA" button to change the font size
- Tap Settings to select a voice and change the search range.
- Tap the category from which you would like to communicate
- Tap the word or phrase you would like to express or tap "skip" to advance to the next word

- Continue to tap the next word or phrase you would like to express to form a sentence

- Tap the icon in the top left corner to back up one level
- Tap the Home icon to go back to the main screen
- Tap Nearby and then "Locabulate" icon in the upper right to search for POI's near you. Range can be changed in the Settings Screen.
- Please note that the iTouch requires an external speaker 

- Visit our website www.locabulary.com to provide feedback
What's New in Version 2.0
We are excited to release Locabulary Lite version 2.0! There are a lot of new features that will allow you to be more efficient and productive. If you've already created a large library of phrases, Locabulary Lite will prepare them for our new remote backup server. With 2.0, you can restore your phrases when you change iPhones or copy them to a second iPhone or iPad!

Expanded Category and Phrase Settings - Categories and phrases have been expanded to allow you to backup and save to the Locabulary server. You can also share categories with the Locabulary community, geo-tag Categories using Location Presets, and provides an upgrade path to future category/phrase images, audio file playback and new TTS voices. Locabulary will convert your old categories and phrases to the new format automatically.

Location Presets - allows you to create presets for points of interest that can then be linked to a category or bank of phrases. For instance, create a "Home" location preset and link phrase categories that you use at home... create a "Work" location preset and link those phrase categories that you use at work.

Business Name Locations - Use this feature for phrases that are used at multiple business locations of the same name, or "chains", like restaurants, grocery stores, etc.

Remote File Storage and Sharing - allows you to backup and save all your phrase categories to a remote Locabulary server. You can either make them private which prevents others from seeing or downloading them, or make them public and share with the Locabulary community. Browse Public Phrases and download a menu from your favorite restaurant!

Abbreviations - are just like abbreviations that you use in text messaging only these abbreviations are spoken in plain text. For instance, create a "cul" abbreviation with "See you later" and wherever "cul" is typed on the keyboard, "See you later" is spoken.

Geo-Tagged Phrase Categories - Create Location Presets and use them in your Category Settings to pull up phrases that you use by location. Your Geo-tagged phrases in range will appear on the Nearby Tab, keeping your phrase lists shorter and easier to quickly access!

Community - get involved in the Locabulary community. Share tips, tricks and advice with Twitter, Facebook or the Locabulary Community Support Site!

Check out http://locabulary.com/instructions.html and learn how to use the new features!
iPhone Screenshots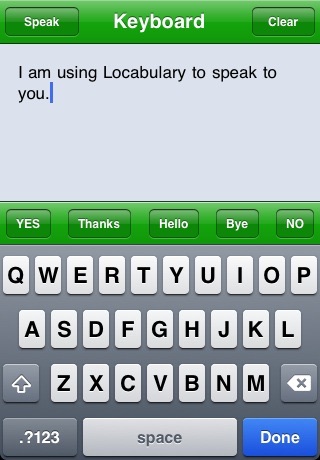 Customer Reviews
Great find
I am a retail manager and have a few customers who cannot talk. This app allows me to create my own categories to be specific to my store so I can help them faster and give them a great customer experience too.

I am very excited about this app, but I have not used it with my customers yet and will be back after they let me know how they like it.
Keeps freezing
Every few time using app freezes and need delete app and install again. Not able afford pro version and hate to save for it if this keeps messing up. Not taking chances pro version do same thing
Always freezes
Just like the other reviews mine froze all the time. I tried it on my iPhone 6s and no luck. Not sure how they expect anyone to pay for pro when the free version doesn't even work properly.
View in iTunes
Free

Category:

Education

Updated:

Aug 29, 2011

Version:

2.0

Size:

34.1 MB

Language:

English

Seller:

Red Mountain Labs, Inc.
Compatibility: Requires iOS 4.0 or later. Compatible with iPhone, iPad, and iPod touch.
More iPhone Apps by Red Mountain Labs, Inc.