MacID
By Kane Cheshire
Open iTunes to buy and download apps.
Description
Unlock your Mac with just your fingerprint, passcode, or watch – without even unlocking your iOS device.
––––––––––––––––––––––––––
Requires a Mac with Bluetooth LE (Low Energy) running macOS Yosemite or newer, and an iOS device with Bluetooth LE running iOS 8 or newer.
Please make sure your devices support Bluetooth LE before purchasing MacID for iOS.
––––––––––––––––––––––––––

FEATURES
• Works with multiple Macs, iOS devices and Apple Watches at once.
• Unlock your Mac using Touch ID, Passcode, Apple Watch or Pebble.
• Apple Watch Complication & background refresh for super quick access.
• Interactive notifications – you don't even have to unlock your iOS device.
• Control your Mac's audio – works with iTunes & Spotify!
• Manually lock your Mac or start the screensaver remotely.
• Auto-lock when your iOS device moves away from your Mac.
• Proximity Wake & automatic unlocking when returning to your Mac.
• 3D Touch shortcuts.
• Notification Center widget – unlock your Mac from anywhere on your iOS device.
• Share clipboard text to and from your Mac.
• Choose from beautiful colour schemes.
• Use MacID to authorise tasks that require your macOS admin password. (Admin accounts only)
• MacID for macOS never connects to the Internet without your consent.
• Your macOS password is never broadcast and never leaves your Mac.
• Incredibly simple to use but packed full of features and options.
• Automatically throttles connections during Low Power Mode to save even more battery.

INTERACTIVE NOTIFICATIONS
You don't even need to open the app to unlock your Mac. MacID intelligently notifies you when one of your connected Macs is woken up, which you can action directly from your iOS lock screen using either your fingerprint or passcode.

AUTHORISE
MacID can notify you when tasks require your macOS admin password, like moving protected files to Trash or changing a setting in System Preferences. (Admin accounts only)

AUDIO CONTROLS
You can also play, pause and skip iTunes & Spotify on your Mac remotely, as well as change the volume. Simply long-press on the audio controls to toggle between track and volume controls. Audio controls work anywhere the physical keys would on your Mac.

3D TOUCH
Press hard on the app icon to quickly access settings or to lock and unlock your Mac.

URL SCHEMES:
Create Home Screen shortcuts and URL schemes to lock and unlock your Mac from other apps.

CLIPBOARD SHARING
Ever needed to quickly share a phone number or piece of text between your Mac and iOS device? Clipboard sharing is built right into MacID – share any piece of text quickly and reliably. And now you can do it right from the Notification Center.

AUTO-LOCK
Enable auto-lock in MacID for macOS and your Mac will automatically lock when your iOS device moves away from it. You can even get notified when your Mac locks itself.

PROXIMITY WAKE
Enable Proximity Wake in MacID for macOS and your Mac will wake its display when your iOS device gets near. Simply authorise from the interactive notification MacID sends you to unlock your Mac, or enable automatic unlocking to have MacID do it for you.

WIDGET
MacID includes a handy Notification Center widget, which will show all your currently connected Macs and give you quick access to lock and unlock them from anywhere on your iOS device. You can even start a Mac's screensaver or share the clipboard.
––––––––––––––––––––––––––
Macs that support Bluetooth LE:

• MacBook Air 2011+
• MacBook Pro 2012+
• iMac 2012+
• Mac Mini 2011+
• Mac Pro 2013+

Check if your Mac supports Bluetooth Low Energy: click the Apple menu > About This Mac > System Report > Bluetooth.

MacID for iOS needs to be paired with the free MacID for macOS companion app, which you must download from: macid.co/get
––––––––––––––––––––––––––
Featured as EE's "App of the Week" in the UK
One of Time Magazine's "5 Apps Not To Miss" and "7 Best Apple Watch Apps"
Featured in 100s of articles across the globe!
––––––––––––––––––––––––––
What's New in Version 1.3.5
Hello! MacID v1.3.5 has a few tweaks and fixes for iOS 10, watchOS 3 and macOS Sierra.
If you have a moment spare I would *really* appreciate it if you leave or update a review in the App Store. Each update clears the rating from search results :( Thank you!

None of those cryptic release notes from me (I'm looking at you, Uber). Here's what's changed:

- MacID for iOS' Settings "ripple" animation flicker on iOS 10 is fixed and replaces the blur effect with a colour from the current colour scheme. Not as pretty, granted, but it sure does perform better on older devices and stops the flickering.
- Updates the MacID Widget to look nicer on iOS 10.
- Updated the MacID Widget to look a bit better in collapsed mode.
- The MacID for watchOS complication has been massively improved for reliability. MacID was blitzing through it's daily allocation of updates from the system way to quickly, and that's been changed. You can see this yourself because:
- You can now see how many complication updates are remaining today in MacID for iOS' Settings under "Watch" if you're on iOS 10.
- Seeing as watchOS 3 does away with Glances, your iPhone's network connection info is now is now displayed on the main screen of MacID for watchOS, which updates as you scroll to it in the Dock.
- MacID for Apple Watch also implements some of the background refresh APIs to keep itself up to date before you get back to it.
- Removes MacID for watchOS haptic play "on load" option. Two reasons: 1, the haptic plays when the app is in the background sometimes, and 2, watchOS 3's Dock and the new super zippy Apple Watch make this a bit redundant. (You ARE keeping MacID in the Dock on your watch, right?)
- Fixes a crash on launch when running watchOS 2.2

Don't forget to update MacID for macOS which has some important fixes for Sierra.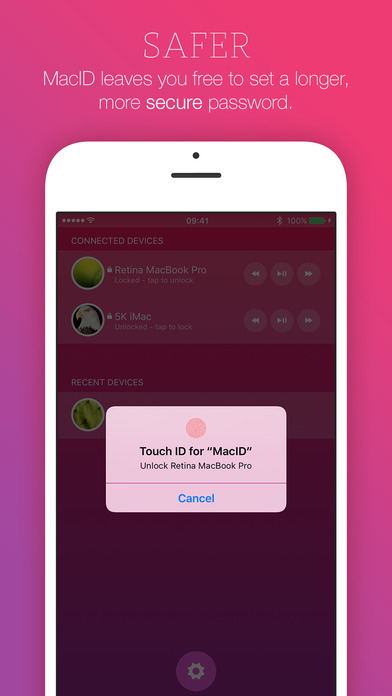 Customer Reviews
easily worth the money
I've been using this app after checking out similiar options and found it to be the most elegant, featureful, and actually operational option there is for this sort of thing. The last part is the key. It works and it works great considering all the factors the developer has to contend with. I use it in a busy office where I don't care to have people snoop on my screen when I walk away. I appreciate the reassuring "your mac has locked" indication on my phone or wrist as I walk away from my desk. Sierra may unlock your Mac with Watch, but this locks (WAY more important IMO), unlocks, and does a lot of additional, useful things to boot. Hats off to the developer who obivously enjoys what he does and keeps this app alive and relevant on the Watch/iOS/macOS.
Great app
I have been using this app for a while and it always works great. The developer has done an excellent job with this app. I thought when Sierra came out, I would no longer have a use for this app because of the unlock feature with the Apple Watch, but I discovered my 2012 MacBook Pro is too old to support this feature. Glad I have MacID! I can still unlock with my Apple Watch! Worth spending the money especially if you have an older computer that doesn't support the unlock feature or if you don't have an Apple Watch.
A Little Bit Wonky
MBP late 2011 with upgraded Bluetooth card, for the record. Pretty often an alert pops up that the bluetooth signal is fluctuating, then the app puts my Mac to sleep. Odd thing is, if a video is playing, the sound keeps going.

In general the app seems erratic, sometimes working OK and then other times either not unlocking the Mac or suddenly putting it to sleep. Needless to say, when working this is irritating-- enough so that here I am writing this review.

Maybe I've set it up wrong? Maybe it doesn't like my Mac's BT card? Don't know, but, while a nice idea, it's a bit dodgy. YMMV.
View in iTunes
This app is designed for both iPhone and iPad
Offers Apple Watch App for iPhone
$3.99

Category:

Utilities

Updated:

Sep 27, 2016

Version:

1.3.5

Size:

5.3 MB

Apple Watch:

Yes

Languages:

English, German

Seller:

Kane Cheshire
Compatibility: Requires iOS 8.0 or later. Compatible with iPhone, iPad, and iPod touch.