Make It Rain: The Love of Money
By Space Inch, LLC
Open iTunes to buy and download apps.
Description
How fast can you make it rain? No, really… how fast???

Make it Rain: The Love of Money is a fiendishly clever game, that's super simple, easy to pick up, hard to master, and crazy addicting!

Just start swiping and watch the money pile up. Hundreds, then thousands, then millions, then billions, then kili-billies, mega-billies, and beyond. But to get that much you'll have to make some wise investments! Tap to get rich, establish a legacy and then kick the bucket as a billionaire. Pass on your cash to the next generation and let the capitalist adventure begin again!

Make it Rain: The Love of Money Features...

Swipe to make it rain cash and coins!
- Bet you never thought clickers could make you rich, huh? Well, technically they still can't... but at least you'll have piles of virtual cash raining down each time you play this addicting arcade game!
- Just tap as fast as you can to collect that sweet, sweet cash.
- Capitalism has never been so fun – or free! Swipe swipe swipe to pile on the free money.

Make investments and make bank!
- Investment is the ultimate evolution of your financial strategy. Make smart investments to earn cash even when the app is closed!
- Maybe you'll invest in venture capital, loan sharking, or offshore drilling.
- Maybe you'll start a lemonade stand or a casino or a clown college.
- Or maybe you'll buy off a federal judge and watch the dollars roll in!

Establish a legacy to get bonuses!
- Lie, steal and cheat to your heart's content to keep that money flowing in these frantic clicker games.
- Make some friends in Congress or become an institutional investor.
- Hit it rich with insider trading! SHHH... don't tell anybody. Yes, we're talking to YOU, Steve.

Pass on your wealth when you R.I.P.
- You and your lineage will become heroes of Wall Street with all the cash you rake in.
- Pass on your cash cow to your family and scoop in tons of bonuses with that silver spoon.
- Apps don't get much more rich and fulfilling. Watch your fortune grow with each new family member and let the money pile out.

Get ready to swipe, swipe, swipe, swipe, swipe, swipe, swipe, swipe, swipe, swipe, swipe, swipe, swipe, swipe, swipe, swipe, swipe, swipe, swipe, swipe, swipe, swipe, swipe, swipe, swipe, swipe, swipe, swipe, swipe, swipe, swipe, swipe, swipe, swipe, swipe, swipe, swipe, swipe, swipe, swipe, swipe, swipe, swipe your way to glory.

Oh, and don't forget to buy that bucket. Even someone as vibrant and dashing as you can't keep swiping forever…

Download Make it Rain: The Love of Money and start down the road to riches!

Note:

Make it Rain: The Love of Money is free to play but does offer in-app purchases of various kinds. You can disable in-app purchases in your iOS system settings.

Let us know what you think! Problems? Questions? Get in touch! makeitrain@spaceinch.com
What's New in Version 4.3.1
- Safes! Unlock secret safes to win rewards as you upgrade.
- Bug fixes and performance improvements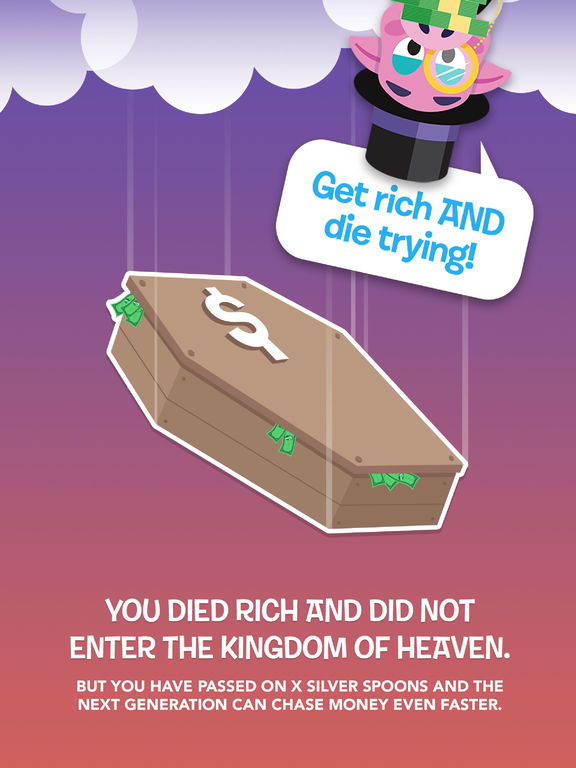 Customer Reviews
Tournament!!! Had to restart!! 👎🏼👎🏼👎🏼
So I did the tournament and when I got done it has drained all my money and it made me start my whole freaking game over! I was swiping 500k and after I got done with the tournament I went back and it has brought me back down to 1 dollar!!!! I had 20 billion I was making and it brought me down to 7 freakin' dollars!!👎🏼👎🏼👎🏼👎🏼👎🏼👎🏼😟😟😟That's what made me mad after all the hard work I had been doing I had to restart! So that's why I am thinking about deleting this game.. Sorry guys so if the tournament pops up don't do it you will have to restart and go all the way back down to $1 swipe!!.. Just a heads up for anyone who still plays this game not saying don't play it by all means but just be careful about the tournament and I know it says it will pause the game and bring u right back to where u left off.. LIE!! It won't it will just drain all your money then leave u will like 7 or 8 dollars to do absolutely nothing with! So guys just be very careful about the tournament!
Cool tournament!!!
Been playing for a few weeks now non stop just about! And I Love it! I don't know why people are complaining about tournaments I think there awesome! Ive won so many power ups from them! And the only staring back at a dollar ive seen is when you start the tournament you build money to play in it and rack up credit card debt! Cool idea! A lot of ads to begin with but once I knew I liked the game I bought one power up for 99 cents and poof no more ads! Not much different than the pay once and play style games! Plus you have the option to watch more ads (If you want) to earn more power ups! Well thought out and designed game guys! Thanks to the game makers! And I highly recommend this game!
Tournaments
For everyone saying that the tournament takes all your money away.. Your wrong. Once you enter the tournament it does pause your game and it does show a brand new restarted game. I don't know why it does that but it does. Once the tournament is over it brings you back to your old game with all your money. Or if you don't like that, just enter the tournament, swipe a couple times, so you can place in the tournament and get a prize. and then leave it and after the tournament is over you still get a prize. I was #36 after I did that and it gave me 3 golden minutes and 3 auto swipes. So entering tournaments is ok, I would recommend just leaving right after you enter it like I did🙌🏾🙌🏾 hope I helped
View in iTunes
This app is designed for both iPhone and iPad
Offers Apple Watch App for iPhone
Free

Category:

Games

Updated:

Aug 17, 2016

Version:

4.3.1

Size:

143 MB

Apple Watch:

Yes

Languages:

English, Arabic, Catalan, Czech, Danish, Dutch, Finnish, French, German, Greek, Hebrew, Hungarian, Indonesian, Italian, Japanese, Korean, Malay, Norwegian Bokmål, Polish, Portuguese, Romanian, Russian, Simplified Chinese, Slovak, Spanish, Swedish, Thai, Traditional Chinese, Turkish, Ukrainian, Vietnamese

Seller:

Space Inch, LLC
Compatibility: Requires iOS 7.0 or later. Compatible with iPhone, iPad, and iPod touch.
Top In-App Purchases
double balance$0.99
cash blast$1.99
double earnings rate$0.99
pack of 5 bribe cards$0.99
Golden Minute$0.99
pack of 25 bribe cards$1.99
Bill Counter$0.99
Cheat Death$1.99
Super Cash Sale$2.99
Insane Blast$19.99