MamaBear Family Safety
By GeoWaggle LLC
This app is only available on the App Store for iOS devices.
Description
Enjoy Peace of Mind Parenting™ with the all-in-one family safety and communication app

MamaBear is the simple and timesaving all-in-one app to protect your children and connect your family. Our streamlined, 24/7 Family Newsfeed and Family Map display your child's social media activity, video history and received and sent text messages, constant physical location, customizable Safe Place arrival and departure notifications, Panic Button alerts with instant location and one-touch dial, and driving speed (whether they are driving or a passenger) right on your mobile device, where ever you are, all the time. MamaBear also creates a private, secure family network for family messaging, check-ins, sharing photos, doodles and more. MamaBear's network allows free global messaging (while on Wi-Fi) anywhere in the world for traveling parents or families.

MamaBear gives parents the peace of mind they desire, while protecting children's safety and online reputation, and connects the entire family for easy communication right on your mobile device.

(See app set up assistance instructions at the bottom of this page).

Parents and Guardians
+ View your most important 24/7 newsfeed right on your phone, your child's social media activity, with previews of Instagram photos and details about Twitter and Instagram followers, YouTube viewing history, Tumblr and Facebook posts.
+ Set up notifications to receive need-to-know content like new friends, restricted words on your customized words list, uploaded photos and tags.
+ Know your child's current and recent location at the tap of the app.
+ Set up custom Safe Places, like school, home and sports practice with automatic arrival and departure notifications. No more begging your child to "text me when you get there."
+ Save time by receiving automatic notifications about your child's sports game times, snack duties, and coach's messages from your TeamSnap account right in the MamaBear app
+ Know when they exceed a customized driving speed, whether they are driving or a passenger with someone else.
+ Message the family, share photos and doodles privately, off the giant social networks.

Children
+ Keep parents updated without having to text or call, check in, share photos, doodles and emoticons.
+ Send parents an "I'm Here," "Come Get Me" or One-Touch Panic Button "Emergency" notification.
+ See the whole family on the Family Map, even if parents are traveling across the country or around the world.
+ Have the safety of the One-Touch Panic Button that alerts all guardians immediately with current location and One-Touch phone parent emergency phone dial.
+ Customize views of MamaBear with personal wallpaper selections

Set up MamaBear for the whole family in just a few steps:
+ A parent installs MamaBear on their smartphone and registers for their free or premium family account. Simply add children and other parents and guardians, like grandparents and babysitters, right from your phone with a few clicks.
+ Kids install the app and log in to MamaBear by simply clicking the link from the parent's text to start seeing location maps and history, Safe Place alerts and more.
+ Parents log in, just one time, to their child's social media accounts by clicking on icons in the Menu/Select Child and customize desired notifications to put social media activity in your NewsFeed 24/7. Know more to protect better.

Protecting your children, helping them grow into their digital world and guarding their online reputation is easy and convenient now, with MamaBear.

Continued use of GPS running in the background can dramatically decrease battery life.
What's New in Version 4.11.5
+ App crashing on load has been fixed!
+ Various enhancements to improve performance.

If you love MamaBear, please take some time and give us a great review. It would really help us out. If you don't love it please contact us via support@mamabearapp.com and let us know how we can improve.
iPhone Screenshots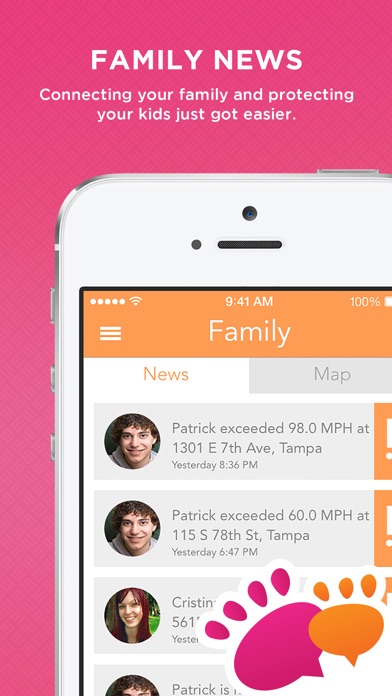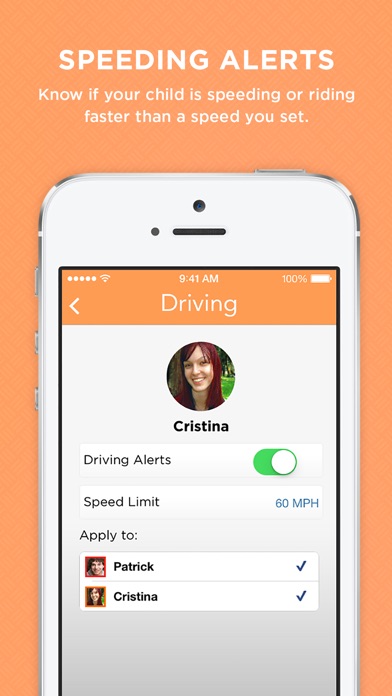 Customer Reviews
No longer worth it... :(
I paid for the 6 month subscription because when I first loaded it, it seemed to work fine and I hated the ads. Now.....I would prefer the ads because I hate the app. When my son is home, every few minutes it tells me he has left and then a few minutes later he has returned - this goes on all through the night, I even have the perimeter for our home stretched way beyond where it needs to be as I though maybe it was picking up movement from the edge of the perimeter, but it sends me these alerts even when the phone isn't moving. Sometimes he is even going 107mph while he is tucked away in bed. I have been with him in the car while he is driving the speed limit and I received an alert that he was going 90mph?!?!? The text messages take several minutes to show and even then I'm not able to view all of them when I click on an individual it never loads. Something needs to change ASAP or they just need to give it up, which is sad because it used to do everything I had hoped for. I have an iPhone 6s Plus, my son has a Samsung Galaxy 6
Rescued My Daughter 2 times now!
Our daughter got lost on her first dry run to local college and ended up a city away. Unsure where she was, but she knew it was not looking like a "good area" Mamma Bear app to the rescue! Helped us find her with in 10 minutes!
The second time, she was traveling with a sibling, got there alright, but took wrong express way home.
Ended up more that an hour away on what should have been a 15-20 minute trip. Again Mamma bear! Shared her location! I was able to tell her with confidence I knew where she was and am on the way! She doesn't always wait until she has reliable directions before going on her adventures. But we are all thankful for Momma bear!
Not working anymore
Used to love this app and told everyone about it. Not working the way it used to. I have to open and close sometimes several times to get a location. The alerts are completely off. My child can arrive at home then a half hour later I get an alert that they are home. Sometimes I get the alerts backwards first that they arrived then that they left. Very frustrating. Looking for a different app now.

Update **This app hasn't worked properly for almost a year. I am constantly receiving alerts that one of or more of my children are either exceeding the speed limit, arriving or leaving some where when they are literally sitting on front of me. I have even gotten alerts in the middle of the night which is not a pleasant way to be woken at 3 am. Only to run into their room and find them sound asleep.
I have given this app plenty of time to get straightened out. I will Be removing it and finding another.

Update again *** I have not yet received a response to my many emails. I have been waiting to remove this app in hopes that I would be contacted. SO DONE!
Btw why are you this very moment telling me my daughter has left home and is exceeding my set speed limit. Apparently she's going 80 mph while sitting on the sofa next to me. SMDH
View in iTunes
Free

Category:

Lifestyle

Updated:

Jun 23, 2016

Version:

4.11.5

Size:

38.0 MB

Language:

English

Seller:

GeoWaggle LLC
Compatibility: Requires iOS 8.0 or later. Compatible with iPhone, iPad, and iPod touch.
Top In-App Purchases
MamaBear Premium 6 Month Subscription$24.99
MamaBear Premium 3 Month Subscription$14.99