Mango Health - Medicine Manager, Pill Reminder
By Mango Health
Open iTunes to buy and download apps.
Description
Mango Health for iPhone and Apple Watch takes care of your daily health routine, to make it fun, easy, and rewarding. App feature highlights include: reminders to take your medicine and keep up with healthy habits, drug interaction info, a health history, and best of all - points and rewards, just for taking care of you!

HOW MANGO HEALTH SIMPLIFIES YOUR HEALTH:

RELIABLE MEDICINE REMINDERS
Schedule customized pill reminders for medications and supplements. Our user-friendly reminders are easy to schedule and edit, giving you the peace of mind that comes with knowing you'll never miss a dose.

HEALTHY HABIT REMINDERS
Set up custom reminders to drink water, record your mood, track your step count, check your blood glucose, take your blood pressure, or watch your weight. Our habit reminders make managing your health easy as possible, so you can focus on the rest of your life.

DRUG INTERACTION WARNINGS
Once you've added a medication, Mango Health alerts you to side effects and potentially dangerous drug interactions with other meds, supplements, or food. Color-coded messages also make it easy to understand the severity of interaction warnings.

POINTS AND REWARDS
Each day you take your medicine correctly, you'll earn points. Points unlock the chance to win rewards, including gift cards from your favorite stores, donations to leading charities, and more.

DAILY HEALTH DIARY
We automatically log your health history, so you can look back and see what you did and when. We make it easy to reference your health history at your next appointment to make sure your prescription and treatment plan is right for you.

TIMELY REFILL ALERTS
Our real-time count of your medicine on hand helps ensure you won't run out of pills. Mango Health gives advance warning when it's time to order a refill.

Mango Health has been featured on CNN, Self Magazine, the Los Angeles Times, and more. See what people are saying:

"A new app called Mango Health aims to make taking daily meds (like birth control) less of a chore — and less of an after thought — by rewarding users with real-life rewards. The best part? It's free." - Self Magazine

"Ever get a complicated prescription from a doctor? There are apps out there to help you remember to take your medicine. The latest is Mango Health's iPhone app, designed to make managing medications and nutritional supplements easier, safer and maybe even exciting by using games." - Los Angeles Times

Here are a few words from our community members:

"Best app ever!! Rheumatoid arthritis and fibromyalgia has made me super forgetful, and this app has kept me right on track with my meds!! Love this app, better than all the others definitely!! Very easy to use and customer support is the best. It's perfect for spoonies everywhere -- highly recommend. LOVE, LOVE, LOVE!!!!""

"This app has helped me get my life back on track. I'm a single mom and have a multiple sclerosis. This has really helped me not worry when I last took a dose or accidentally take two because I forgot I just took one. Wonderful app!"

"I recently started taking PrEP. Mango reminds me to take it at the same time each day, and gives me incentives to do so. Even better still, I am able to check for drug interactions with just a few clicks. Definitely 5 star app."

Read more reviews below or better yet, try it for yourself! It's 100% free. We hope you enjoy Mango Health!

Like us on Facebook: https://www.facebook.com/mangohealth
Follow us on Twitter: https://www.twitter.com/mangohealth
Follow us on Instagram: https://www.instagram.com/mangohealth
What's New in Version 3.4.5
IMPROVED:
- If you use our "hydrate" habit reminder, you'll notice that the average calculation now has an additional decimal place, for greater precision.
- We've also changed our math to omit archived habits and days on which there is no activity in the app, in order to ensure your scores are as accurate as possible.
- We've adjusted the "More" menu items for people that have their phones set to larger text settings, so that these parts of the app are more legible.
- Last but not least, if you've enabled the TouchID security feature, you'll notice that we've softened our animation transition, to make every entry into the app all the more welcoming.

FIXED:
- If you saw any meds that had units remaning but appeared empty, this bug should be addressed in this update.
- We also noticed that meds with drops or tinctures forms or with large total quantities (500+) would slow the app down; if this applies to you, you should find the app working more speedily after this update.
- We fixed a few behind-the-scenes bugs as well, so note that you may see a "Tidying up..." pop-up window after opening the app for the first time following this update.
- If you use Mango Health on more than one device, you may have experienced some unfortunate crashing -- this update should address this as well.
- We heard from a few folks that the "Contact Us" button was broken if you happened to search for a med and find zero results in our database. We're happy to report that this button is back in action -- and if you have any feedback for us, you can always get in touch by email to support@mangohealth.com.

MANGO TIP:
Before you eat your next meal, add a food or garnish that includes one more color. A new hue can make your food more special -- and even provide more good-for-you nutrients!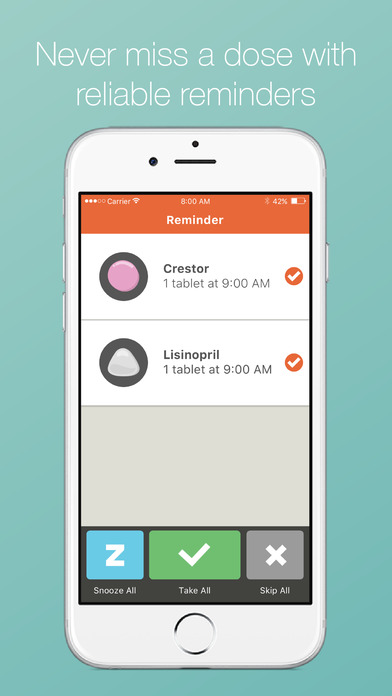 Customer Reviews
So many options!
I used Mango when it first came out and liked it but I quit using it bc I stopped taking as many meds as before. Now I'm on something that has to be taken pretty close to the same time everyday as possible so I started using Mango again. I am amazed at how many more options and features they have. I have always recommended it to patients with a lot of meds so that they have the reminders AND have a easy to use list to give to their doctors and nurses. I like the habits feature which lets you integrate things like steps and water intake. The only thing I'd recommend is allowing the app to email a list of meds and things like BP readings.
I can't do without this app!
I have tried other med reminder apps and none are as good as this one! I'm on multiple medications for mental illnesses and this was the only app I could find that allowed to have more than one medication to be added and that actually gave reminders more than once until you take your meds. I honestly don't remember to take my meds without these reminders and things don't go well if I don't take my medications. This app is a lifesaver for me. And I love the added bonus of prize drawings each level, that's pretty cool!
Helped Me for Years
Mango Health has helped me stay on track for four years. It's super easy to use and the reminders are gentle and nondescript. It's easy to enter in your medication, and the app has all of the information about your prescriptions that you might need. The history feature is helpful when I go to my appointments, and I love seeing my percentage rate go up. I love Mango Health and will not stop using it any time soon, even though I've reached level 8 and earned the most points possible.
View in iTunes
Offers Apple Watch App for iPhone
Free

Category:

Medical

Updated:

Jun 13, 2017

Version:

3.4.5

Size:

58.2 MB

Apple Watch:

Yes

Language:

English

Seller:

Mango Health, Inc
Compatibility: Requires iOS 8.0 or later. Compatible with iPhone, iPad, and iPod touch.