mDecks Ear Training 1 : Intervals, Triads & Sevenths
By Ariel Ramos
This app is only available on the App Store for iOS devices.
Description
*** It is way better to PLAY what you HEAR than to hear what you play!***
This app is great for music students learning an instrument, or in choir, and it uses a particularly interesting approach, not yet seen in the many other ear training apps on the market: You will train your ear by looking for the correct sound in a set of up to six different options.

The best feature is that musical elements, such as intervals or triads, are presented not only ALONE but also IN CONTEXT, so you will have to look for the sound that creates the requested musical element when combined with the background music.

The app also has an option to request the element in music notation where you will need to use your music theory knowledge and/or have perfect pitch to find the right answer.

Can you hear and identify all intervals, triads and sevenths?
Can you find the right one in a group of up to six different ones?
Can you identify them in context, embedded in the background music?

mDecks Ear Training 1 focuses on Intervals, Triads and Sevenths

A set of circles containing musical elements in a class (interval, triad, rhythm, melody, etc) will be shown on the screen. You will have to listen to them and decide which one contains (or creates) the requested musical element.

Elements will be presented alone and in context: In advanced stages you will have to find the circle that makes the requested element when combined with the background music!

mDecks Ear Training will guide your study step by step, increasing the level's difficulty as your hearing improves from Beginner to Master level.

There are 6 Stages, each stage contains 6 Levels: Listen&Learn, Beginner, Intermediate, Advanced, Expert, Master, and each level contains a set of exercises that you will need to conquer to access the next one. More than 120 sets of exercises!

In each exercises the app detects how well you are performing to guide you through the entire set of levels and stages. Once you've finished the entire app you will be a Master at recognizing intervals, triads and sevenths

-----
Stages in mDecks Ear Training 1:
Stage 1: Intervals (melodically up, melodically down, harmonically)
Stage 2: Intervals in Context (several soundtracks at different levels in all keys)
Stage 3: Triads (melodically up, melodically down, harmonically)
Stage 4: Triads in Context (several soundtracks at different levels in all keys)
Stage 5: Seventh Chords (melodically up, melodically down, harmonically)
Stage 6: Sevenths in Context (several soundtracks at different levels in all keys)
----

Features:
Study Modes:
Guided Study Mode: The app controls the levels availability based on your progress
Free Study Mode: You can play any stage and level freely.

Two Play modes: You may choose between to play modes
1. Drag over: you listen to the sounds behind the circles by dragging a play button over them and then tap to make your choice.
2. Tap & Hold: you listen by tapping and holding on a circle and you make your choice by double tapping.

Endurance Mode on/off: The next exercises starts immediately after.

Music Notation on/off: You may enable music notation (when available) if you want to recognize musical elements using prefect pitch (if you have it) and/or music theory (by recognizing the requested item from the staff)

Wave String: You may view the signature wave of an interval, triad or seventh if you want to use a visual input as an aid in memorizing the sound.

Volume Balance: control between the background music (context) and the sound behind the circles.

Statistics: A record of your performance is kept in the stats panel (one for the free mode and one for the guided mode)
iPad Screenshots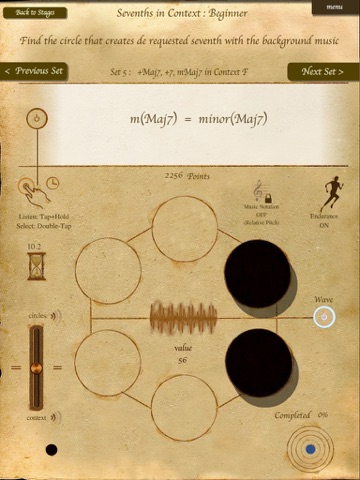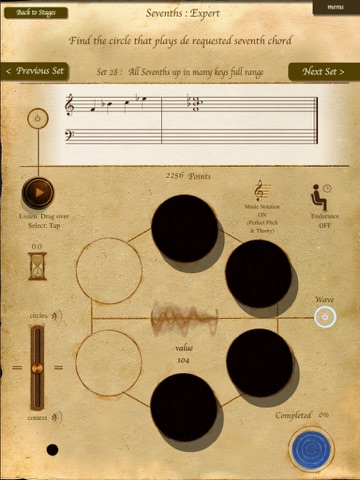 Customer Reviews
Excellent program
This is certainly a well written program to help keep your ears in shape. I'm almost done with the beginner modules and look forward to the more advanced stuff. The primary instrument is the piano but I would love to see the use of other instruments like brass because they have different harmonics. Overall, I'm recommending this to all of my students...many of them are pro. Great job!
tests you on intervals
It has a usable interface and it runs you through many examples. That's a good way to train your ear, by exhaustive examples. Funny, I didn't notice the background sounds until I read one of the other reviews. I play it softly, and didn't hear them until I turned up the volume. Yes, it's an odd thing to add to this app.
Ugly background sounds
Very basic app. Weird new-age sounds playing constantly in the background, can't shut it up. Very annoying, made me stop before going very far with it.
View in iTunes
$3.99

Category:

Music

Released:

Aug 07, 2013

Version:

1.0

Size:

41.3 MB

Languages:

English, Czech, Dutch, French, German, Italian, Japanese, Korean, Polish, Portuguese, Russian, Simplified Chinese, Spanish, Swedish, Traditional Chinese, Turkish

Seller:

Ariel Ramos
Compatibility: Requires iOS 4.3 or later. Compatible with iPad.
More iPad Apps by Ariel Ramos