Mechanical Clock 3D
De 3Planesoft
Abre Mac App Store para comprar y descargar apps.
Descripción
¿Alguna vez te preguntaste cómo funciona un reloj? ¿Quieres ver toda la "parte interna"? Obtén este magnífico papel tapiz animado realista: Mechanical Clock 3D.

Funciones:
- efectos y gráficos 3D de alta calidad
- dos esquemas de color
- muestra la hora actual
- modo de protección de pantalla
- campanadas cuando da la hora exacta y cada media hora
- sonido de tic tac
- soporte de monitor múltiple con selección de monitor
- icono de Puerto removible
- inicio automático al conectarse
- no impide que el ordenador se cierre

_________________

Ver otras aplicaciones:
The Lost Watch 3D
Fireplace 3D
Earth 3D
Dolphins 3D

Regístrate como fan en Facebook:
www.facebook.com/3Planesoft

Visita nuestro sitio web:
www.3planesoft.com
Novedades de la versión 1.3.1
- Se han arreglado problemas de compatibilidad con macOS Sierra
Capturas de pantalla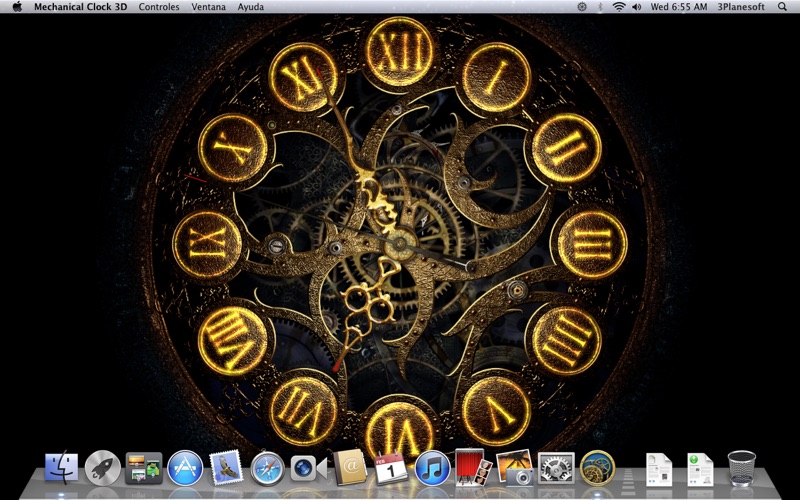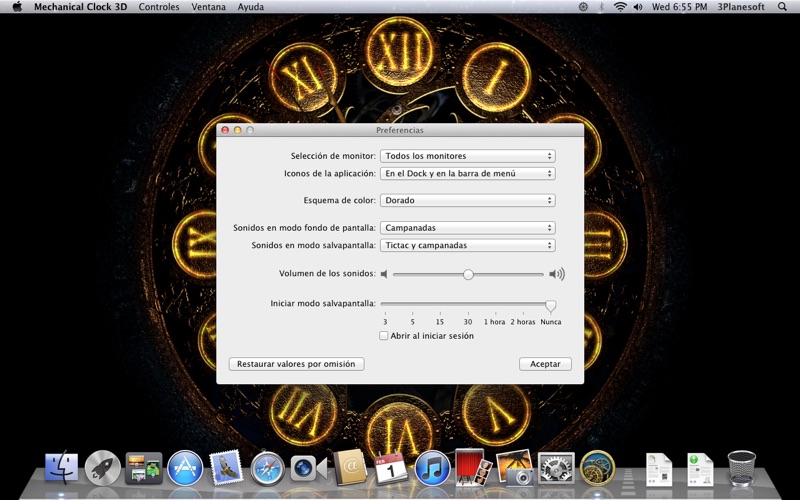 Reseñas de usuarios
Beautiful Desktop/Screensaver but limited in functionality
While this app afforded me the opportunity to clear a desk clock from my workspace, part of the reason I purchased the full version was to get a fully functional (per Mac OS standards) screensaver. Unfortunately, this program does not integrate into the System Prefences portion of the OS with the screen saver options. It is a stand alone product and the only way you can get the sceen saver aspect of it to 'come on' is to click on the icon, and then click on the 'turn on screen saver' option OR wait until the preset time of idelness to have it start. Within the OS, scsreen savers can be turned on by keyboard shortcuts and 'hot corners', which make it a breeze to use whenever one chooses. I've recently asked the app company to consider integrating a keyboard shortcut into the program. Also, the desktop component also does not integrate with System Preferences. It can only be turned on by opening the app. It cannot be used as a default desktop (it over rides the systems desktop. Besides this limitation, it is an absolutely beautiful desktop AND screensaver. I'd purchase again despite limitations, alhtough I'd give it 5 stars if they integrated the app into the OS.
Marvelous graphics and superb animated mechanical detail but...
!!!WOW!!! I would gladly hack this review software just to give this clock ver. 1.3.1 (3) SIX stars and a heart IF only the chimes and bongs worked properly. At 6 PM I get two quarter chimes and six bongs, 6:15 PM silence, 6:30 PM no chimes - one bong, 6:45 PM silence, 7 PM two quarter chimes - seven bongs, 7:15 PM silence, 7:30 PM one bong, 7:45 PM silence, 8 PM two quarter chimes - eight bongs. Oh, I see a pattern here but not a Big Ben pattern.

As a simple workaround I set the "No sound" option in this app and then installed Clock Chimes app (no graphics just Westminister chimes/bongs) to run in the background - they sync beautifully together but I much prefer the Big Ben chimes/bongs sounds in this app.

UPDATE: MY MISTAKE. Because the chimes sound just like the Big Ben bells, I expected the Big Ben patterns of bell strikes like most grandfather clocks also have. 3Planesoft support just responded to let me know that my Mechanical Clock 3D chime patterns are actually working as designed (a pattern I have never heard before) and have little to do with Big Ben.
Beautiful clock background,
Was just seraching through and found this app. The free version alone is wonderful and most people would probably be happy with it. I paid the $1.99 for the full version which adds a few little features. Found that I liked the original silver face more than the gold one. The chimes on the quarter, half and full hour are nice. The ticking is almost as mezmerizing as watching the hands and movement work. My wife keeps falling asleep to it, very relaxing. I hope a future release will be retina quality, would be well worth the money. It might be nice to also have it available as a screensaver function by itself rather than having to have it as your desktop. But all in all everything works as advertised and works well. Will be watching this one for future updates with interest and have already got several friends hooked on it.
Ver en Mac App Store
$1.99

Categoría:

Entretenimiento

Actualizado :

21/09/2016

Versión:

1.3.1

Tamaño:

16.7 MB

Idiomas:

Español, Alemán, Francés, Inglés, Italiano, Ruso

Vendedor:

Igor Panichev
Compatibilidad: Mac OS X 10.6.6 o posterior, 64-bit processor