Medad | کیبورد فارسی مداد
By Adnan Seddighi
This app is only available on the App Store for iOS devices.
Description
مداد، یک کیبورد کاملا فارسی و مطابق با لی‌اوت کیبورد استاندارد اپل است. که به منظور افزایش دقت تایپ، استفاده‌ی حداکثری از فضای کیبورد شده است.

شما می‌توانید با سراندن انگشت خود به سمت بالا یا پایین برروی دکمه‌های کیبورد حرف دوم کیبورد را تایپ کنید. به طور مثال به منظور تایپ عدد "۴" کافیست انگشت خود را برروی حرف "ف" به سمت بالا یا پایین بسرانید یا به منظور تایپ نیم‌فاصله انگشت خود را برروی فاصله به سمت بالا بسرانید

همچنین می‌توانید با سراندن انگشت خود به سمت راست یا چپ برروی دکمه‌ی فاصله (اسپیس) زبان کیبورد را به انگلیسی و بالعکس تغییر دهید.

فونت مورد استفاده در کیبورد فونت "ایران سن سریف" می‌باشد که جزو زیباترین فونت‌های فارسی است.

همچنین بعد از فعال سازی کیبورد و دادن اجازه‌ی دستری کلی به کیبورد (Allow Full Access) می‌توانید از بین تم‌ها و رنگ بندی موجود، کیبورد مورد نظر خود را انتخاب کنید.

این کیبورد از تمام آیفون‌های موجود (۴اس، ۵، ۵اس، ۶ و ۶ پلاس) در دو حالت عمودی و افقی پشتیبانی می‌کند.

مشکلات و باگ‌های اپلیکیشن و همچنین نظرات و پیشنهادات شما باعث بهبود نسخه‌های آتی اپلیکیشن خواهد شد!



Medad, is a Persian keyboard which support all persian letters and character.
This keyboards is designed to use all available space for letters for best typing.

You can increase your typing speed by only swiping your finger on buttons to type second character (so, no need for long press on buttons).

You can also use english version of Medad keyboard by swiping on space button.

This keyboard supports all available iPhone modes which run iOS 8 (iPhone 4s, 5, 5s, 6. 6+) in both portrait and landscape mode.
What's New in Version 1.2.0
توجه: بعد از آپدیت کیبورد جهت اجرای درست "حتما" یک بار خود اپلیکیشن را اجرا نمایید.

تغییرات نسخه‌ی جدید:

-اضافه شده قسمت تنظیمات جهت انتخاب فونت دلخواه
-اضافه شدن قسمت تنظیمات جهت انتخاب صدای تایپ و سوآیپ
-حل مشکل حرف "و" و "اسپیس" در تایپ سریع
-اضافه شدن دو کاراکتر جدید به صفحه‌ی اصلی کیبورد جهت تایپ سریع‌تر
-یک ویژگی مخفی: برای جابجایی کرسر در متن تایپ شده برروی دکمه‌های کنار اسپیس سوایپ افقی کیند!
-افزایش سرعت لود کیبورد
-ویرایش تعدای از رنگ‌ها
-اضافه شدن لینک شبکه‌های اجتماعی #مداد

با توئیت با هشتگ #مداد نظرات و پیشنهادات خود را جهت بهبود کارکرد کیبورد اعلام کنید.
iPhone Screenshots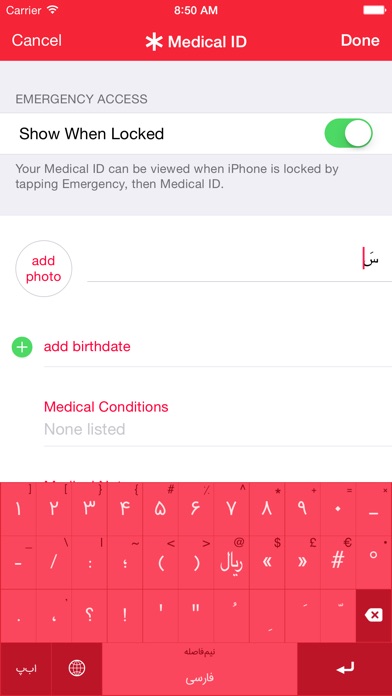 Customer Reviews
Great keyboard but needs optimization
1- split keyboard not optimized for ipad usage which makes it a little hard to type in a big screen when held in hand
2-language button hold not working
3-and finally one big issue for the creators !!!
Your app can not be found in the app store with any of the major search keywords which makes this great keyboard not available to every user (found it in google) you can get much more good reviewa if this issue is fuxed
Keep up the good work
Predictive & character view
So where is the Predictive and Character Preview??? This keyboard isn't like the original Apple keyboard. Predictive & character preview are useful options. And one of the most important things that affect your clean typing , is the face of keyboard and button shapes. Look up the original Apple keyboard, border of character buttons is very legible that doesn't let you make a mistake while typing !! Yuh. That's it.
PREDICTIVE. CHARACTER PREVIEW. & BUTTON SHAPES
another thing ! 10 characters. Maximum number for one line of keyboard
The rest are great 😍😍😍
Nice but have some bugs
There are some bugs when you click on backspace in new contacts ! And also when you swich it to eng in this mode (medad app) when you back you should switch it again to eng ! An other thing is small place for farsi alphabet (not easy to type) ! Need update again !
View in iTunes
Free

Category:

Utilities

Updated:

Dec 01, 2014

Version:

1.2.0

Size:

12.6 MB

Language:

English

Seller:

Adnan Seddighi
Compatibility: Requires iOS 8.0 or later. Compatible with iPhone, iPad, and iPod touch.