Meet Science: Force and Motion
By NCSOFT
This app is only available on the App Store for iOS devices.
Description
"Meet Science: Force and Motion helps kids approach scientific topics in a fun way" - Geeks with Juniors

What a fun way to learn science and endorse curiosities with animations, experiments and mini-games!
Introducing the 3rd version of 'Meet Science' series, Force and Motion edition!

■ Best Way to Use 'Meet Science'
- Watch the stories about Force and Motion narrated by friendly animated characters and check what you've learned through quizzes.
- Arouse scientific curiosities with experiment videos to experience physical phenomenon that occurs everyday lives.
- Illustrated glossary and fun mini-games will help you understand the principle of Force and Motion.

■ Contents
1. Learn
- Watch comprehensive educational animations about the core concepts of motion, reference point, speed, types of forces, inertia, action and reaction and more.
- Review the topics through OX, word quizzes and experiments related to each topic.

2. Experiments
- Watch 18 experiment videos to find out how to make a water-powered rocket, how the shape of water changes when the centrifugal force is applied and more.
- Neatly organized summary notes will help you comprehend the experiments even better.

3. Glossary
- Grasp the meaning of each word and find your favorite scientist with well-illustrated images.
- Enjoy more interesting stories based on Force and Motion such as the story of Archimedes finding the secret of crown and how gecko can climb a slippery wall.

4. Mini Games
- Fly to Collect!: Fly the spaceship from one planet to other planets to collect marbles.
- Shoot to Pick!: Measure the direction and magnitude of the squirrels and shoot to pick up the acorns.
- Drive to Catch!: Compare and choose the fastest speed to catch the thieves.
- Quiz game: Solve quizzes based on what you've learned.

■ About Meet Science
'Meet Science' series introduces physical subjects and various physical phenomenon.
1st edition, 'Meet Science: Magnetism and Electricity', presents the basic concepts of Electricity and Magnetism.
- 'Parent's Choice Award 2014' Mobile App Field Approved Award Winner!
- 'Best of the Best' awarded by Best Apps for Kids receiving 5 starts in every category (Quality, Education, Entertainment, Values and Child Friendly)
- "The best science app I've ever encountered. I love everything about the app. The learn section is awesome, and the recorded experiments are truly inspiring." – Gees with Junior
- "Best described as a science textbook on a tablet" – Children's Technology Review

2nd edition, 'Meet Science: Light and Sound', introduces the principle of Light and Sound such as light, shadow, refraction, reflection and sound.
- Nominated as 'Top Pic Science App for Children 9-11' by Fun Educational Apps
- Nominated as 'Best Apps for Kids 2014' by Geeks with Junior
- "One fantastic Science app for older elementary students, giving hours of learning and interactive play." - Teachers with Apps Review
- "This app is the perfect combination of information and entertainment" – Appy Mall Review

■ About NC iactionbook
NC iactionbook is an educational brand of NCSOFT. We aim to create both learning games for toddlers and preschoolers, and digital encyclopedia series for older children to enjoy with their whole family.
Meet the Insects Series: Forest, Village and Water & Grass Edition
Doodle Critter Math Series: Numbers, Shapes

■ How you can reach us!
Email: iactionbook@ncsoft.com
Website: http://www.iactionbook.com

■ Privacy
We here at NC iactionbook consider your right to privacy to be of great importance. Our app includes:
No third party advertisements
No in-app purchases
Parental-gate added for any Parents-Only zone
What's New in Version 1.0.1
Minor text errors are fixed.
iPad Screenshots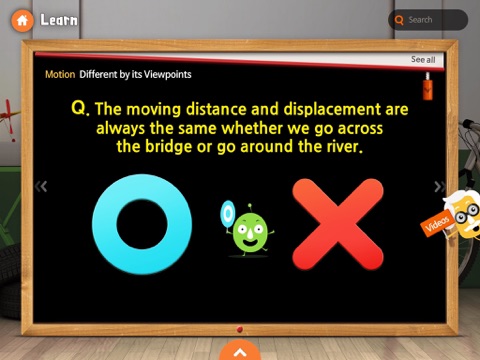 Customer Reviews
Awesome
My son really enjoyed this app. He actually had fun while leaning. Great!
View in iTunes
$4.99

Category:

Education

Updated:

Nov 11, 2015

Version:

1.0.1

Size:

566 MB

Language:

English

Seller:

NCSOFT
Compatibility: Requires iOS 6.0 or later. Compatible with iPad.