MenuBar Stats - System Monitor & Memory Clean & Battery Health
By Fabrice Leyne
Open the Mac App Store to buy and download apps.
Description
Completely redesigned for El Capitan and Yosemite, MenuBar Stats 2 goes further than before.


MenuBar Stats
• A quick view to your system health right in your menu bar.
• 5 advanced modules (Cpu, Memory, Network, Disk, Battery).
• 2 optional free modules (Temperature, Fans) to get from seense.com
• Each modules can be in 1 combined window, or in their own separated window, for more detailed information.
• Simply use drag & drop to reorder your modules right from the menu bar or from the window.
• Highly customizable.
• Notifications for most of the modules
• Top processes monitoring.
• Show or hide the modules in the menu bar.


Battery Module
• Keep a close control on your battery health
• Be informed with the notifications, when to charge or not your battery
• And more…

Cpu Module
• Optional graph in detailed view mode.
• As for any module, show hide module name, gauge, text in the menu bar
• 5 Top processes.
• Threads, Load average,…
• And more…

Memory Module
• Memory Clean
• Memory monitoring with traditional or memory pressure style
• Optional graph in detailed view mode.
• High number of options for the information displayed in the menu bar
• 5 Top processes.
• And more…

Disk Module
• Eject Disk from MenuBar Stats.
• Reveal the volume in Finder.
• Get notified when your disk run out of storage space.
• And more…

Network Module
• A quick view in the menu bar on your throughput.
• Detailed information on your interface.
• Quickly copy your IP address and more.
• And more…

More Modules
• "More Modules" from Preferences to get more free modules.
• Temperature module.
• Fans module.

Other
• Menu bar can be re-ordered by (shift) drag & drop while in combined mode.
• Menu bar items can be customized with different type of gauge.
• Keyboard Shortcuts to call your modules
• Access all your modules from the menu bar or from the Dock.
• Have the theme follow automatically the color of your menu bar.
• Keep or not MenuBar Stats windows floating above your desktop.
• And more …
What's New in Version 2.2
macOS Sierra supported.
[NEW] [CPU module] Multi Cores displayed. Physical, Logical…
[NEW] [ALL] VoiceOver, first third party System Monitor app with VO fully implemented.
[NEW] [Net module] Add "bits" metric to the network module.
[NEW] [Disk module] Disk Activity Graph.
[NEW] [Disk module] Disk Activity per disk.
[NEW] [Disk module] Disk Activity by Data or I/O.
[NEW] [CPU module] For old MacBook models with dual GPU (Integrated/Discrete). You can now get information about the current type of card used. Including Notifications.
[NEW] [Net module] Proper traffic display for values above TB/s.


[BUG FIXED] - MacBook without battery was leading to a crash.
[BUG FIXED] - Very rare case of network interface would crash the module.
[BUG FIXED] - The "Top 5 processes" display option from the CPU not saved properly.
[BUG FIXED] - Few other small bugs fixed and few improvement.
Screenshots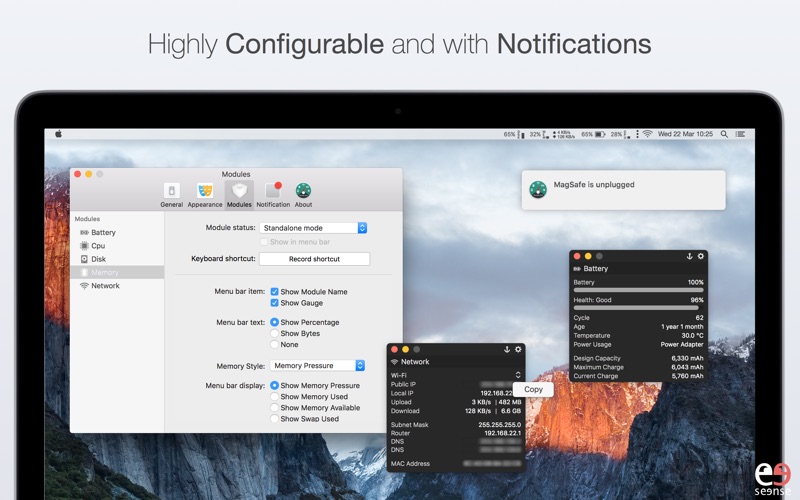 Customer Reviews
Never Can Have TMI ...
Sitting back there, taking up a whopping 0.3-0.5 percent of my resources (grin), sits MenuBar Stats - offering up-to-the second information and details about my 13" MacBook Air. From WiFI status, to Memory and CPU use, Temperature of 13 intimate areas of my computer, and status of Fans, Disks, and Battery. If you ever need support, he is there and will quickly reply to your inquiries. But for the most part, it's all right there. I needed to "find" "SMC Helper" to enable Temp and Fan Info - but it is right there in Preferences. Diehard Apple devotees may declare none of this is necessary - just use your Macs. But I find having all that intimate info and stats "comforting." Well-designed app - wouldn't own a Mac without it.
better than istat pro, excellent app
This is an excellent stastics app. Way more information than the old istat app, plus this in on the task bar. It is completely customizable. I especially appreciate the temperature and fan statistics. I had a little trouble with one of the plugins and asked for tech support, which i received in a matter of minutes. great app.
My Favorite System Monitor
Integrates really well into the menu bar, doesn't require much messing around with, and the modules can be sepparated and moved about with cmd+click. Also highly recommend if you want a more detailed battery metric with percentage, time left, & cycle count/health estimate.
View in Mac App Store
$4.99

Category:

Utilities

Updated:

Jul 08, 2016

Version:

2.2

Size:

2.0 MB

Languages:

English, French, German

Seller:

Fabrice Leyne
Compatibility: OS X 10.10 or later, 64-bit processor