Merlin Bird ID by Cornell Lab
By Cornell University
This app is only available on the App Store for iOS devices.
Description
What's that bird? Merlin Bird ID helps you solve the mystery in 5 questions, or with a photo of a bird.

First, Merlin asks you a few simple questions. Then, almost like magic, it reveals the list of birds that best match your description. Pick your bird, then delve into more photos, sounds, and ID tips about your bird!

If you have a photo, Merlin can help there as well. Take a photo, choose from your camera roll, or snap the viewfinder of your zoom camera, and Merlin's powerful AI will suggest an identification almost instantly.

Merlin is fun and easy to use—whether you're curious about a bird you've seen once or you're hoping to identify every bird that comes to your feeder. The answers are waiting for you with this free field guide app from the renowned Cornell Lab of Ornithology.

Features

• Created for beginning and intermediate bird watchers, Merlin identifies the 2,000+ most common bird species of the continental United States, Canada, Mexico, Central America and Europe.
• Merlin will now identify a photo using powerful deep learning algorithms. Select your photo, tell Merlin where and when you took it, and you'll see a short list of suggested identifications.
• Bird packs available for United States, Canada, Mexico, Europe, Guatemala, Belize and Costa Rica, with more coming soon.
• Explore birds by location and date with a list of species seen in the area.
• Intelligent results. No more scanning through hundreds of possibilities! Merlin shows the birds near you that fit your description.
• Customized location and date tools generate best answers for your neighborhood and time of year.
• Powered by eBird to deliver the most accurate results based on millions of sightings from bird watchers across North America.
• Enjoy more than 15,000 photos of birds, including males, females, and juveniles.
• Learn ID tips from Cornell Lab of Ornithology experts.
• Listen to beautiful bird sounds, including songs and calls for each species from the Macaulay Library at the Cornell Lab of Ornithology.
• It's all free! The Cornell Lab of Ornithology's goal is to help you and millions of others to learn about birds.​

Merlin is the most advanced bird guide app available, and is expanding to new regions of the world.

••• Bird Packs •••
Merlin Bird ID currently includes bird identification help for the United States with regional packs for the: Northeast, Southeast, Midwest, Rocky Mountains, Southwest, Texas and Oklahoma, Alaska, and West Coast.

Canada is covered by Eastern Canada and Western Canada packs.

Mexico bird identification is available for each region of the country.

Central America packs include Guatemala, Belize, and Costa Rica.

South America packs include the Medellín region of Colombia.

Bird identification help is also available for Europe with our Great Britain and Ireland pack, a Western Europe pack, and a pack covering the Scandinavian countries.

••• About Photo ID •••
Powered by Visipedia, Merlin Photo ID uses computer vision and deep learning technology to identify birds in photos. Merlin learns to recognize bird species based on training sets of millions of photos from birders at eBird.org. When using Photo ID, enter the date and location where you took the photo; those clues improve Merlin's accuracy by helping it focus on the species you most likely encountered there.
What's New in Version 1.3.6
New: Sound player with spectrograms!
Spectrograms provide a visual way to read and learn songs. You can read a spectrogram in a similar fashion as sheet music:
• lines going up and down to indicate pitch
• line gets darker to indicate volume
• time is represented horizontally

Update your packs to get the new spectrograms.


This version also includes tweaks and fixes for iOS 11 and iPhone X.
iPhone Screenshots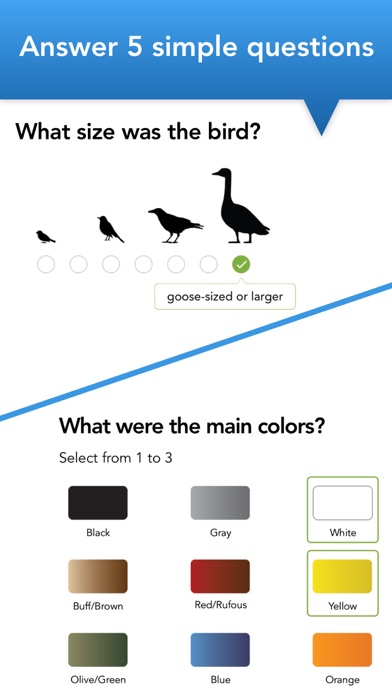 Customer Reviews
Great App w/One Major Flaw
This is a great app! I've been able to identify every bird I've seen. And the calls and songs for the birds are amazing! We attract lots of birds just by playing them. But here's the major flaw...when you confirm a bird ID it sends that data to Cornell labs so they can use it for collecting their data, but it doesn't save it for your own use. I can't tell you how many times I've seen a bird that I've previously identified but can't remember the name of and have to go through the ID process again. Or it would be nice just to know how many birds I've ID'd. If tracking/saving the ID's for Cornell Labs is important to them, why wouldn't they think it's important to the person using the app? I know I can probably download another app for tracking my bird ID's, but why should I have to? Please, please, please add this feature to this app!!!!
Great APP
I have used this APP for many years. I've identified most birds - there were a few that didn't stay around long enough to identify specifics in which to identify. As I've used the APP I have been pleased to see updates that encompass birds from specific sections of the country. This has helped on occasion when a stray bird has probably gotten blown off its normal fall flyway. The APP is very easy to use, and the photos are great since they try to add pictures of immature birds in the photo sequence as well as different angles so that you can see pattern variations. Also enjoy the sound recordings that are included to further identify a feathered friend. All n all I'd recommend this APP to anyone with a remote interest in birds since it's not a complicated program and fun to use.
works great but not if you can't take photos.
this app has helped me identify quite a few birds...however, my issue is that you often need to describe appearance to some extent. if they could add identification by sound, this would help greatly.

more often than not when I see unknown birds, they're way too high up and fast for me to take a proper photo of them or even see what colors they have. I can recognize many distinct calls, but I NEVER see the birds themselves. how am I supposed to identify birds I can't see, only hear???

overall though the app works greatly! the sound ID will probably make me change this to five stars, since it'd be way easier for me to identify birds.
View in iTunes
Free

Category:

Reference

Updated:

Nov 01, 2017

Version:

1.3.6

Size:

61.4 MB

Languages:

English, Spanish

Seller:

Cornell University
Compatibility: Requires iOS 8.0 or later. Compatible with iPhone, iPad, and iPod touch.
More iPhone Apps by Cornell University