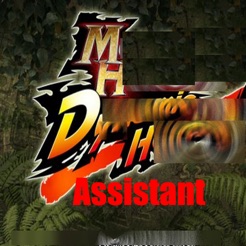 Description
THE BEST MHDH APP EVER!
Free for Limited Time / 限時免費 / 限时免费 / 期間限定で無料 / 제한된 기간 동안 무료
Languages: English;繁體中文;简体中文;日本語;한국어;

This FREE edition is with Ad. On the other hand, the Deluxe(PAID) edition will NOT have Ad.

MHDH is finally here! This app is to be used as an assistant while in game to help you get more out of your MHDH gameplay and have the knowledge of those professional gamers! Why don't you try MHDH Assistant?

What's New in v1.1:
Added Achievement
Added Material
Added Quest Bonus
Added All Quest and Monster Weakness

新增實績
新增素材
新增Quest Bonus
新增全任務及魔物弱點

新增實績
新增素材
新增Quest Bonus
新增すべてのタスクとモンスターの弱点を見る

The app currently performs several functions:
1) News List - Mode Select, Single Player Mode, Quest Flow, Pre-Battle, Operation, Quest Screen
2) Forum
3) Videoclip

WHAT IS THE BEST WAY TO USE MHDH ASSISTANT?
1. Have your Iphone/Ipod nearby as you play MHDH, to check and update your strategy as needed in game.
2. When you can't play MHDH, use the app to check your strategies and improve your knowledge of the MHDH universe!
3. Share this app with your team members, and further improve your team skill!
4. MORE UPDATES COMING TO FURTHER IMPROVE FUNCTIONS

WHAT TO LOOK FORWARD TO IN FUTURE RELEASES:
1. More Detail item retrieval guides
2. More Detail weapon upgrade guides
3. More Game secrets and tool tips.

REALIZE YOUR TRUE POTENTIONAL TO DEFEAT YOUR MONSTERS AND BECOME PRO AT MHDH!

最好的MHDH App永远!

MHDH终于实现了!这个应用程序是用于在游戏的助手,同时,帮助您充分运用您的MHDH游戏出来,有这些专业知识的玩家!为什么不试试MHDH助理?

该应用程序目前执行几个功能:
1)新闻列表 -模式选择,单人游戏模式,任务流,前战斗,操作,探索屏幕
2)论坛
3)Videoclip

什么是最好的使用方式MHDH助手?
1。让你的iPhone / iPod的附近,你玩MHDH,检查和更新您的策略,在游戏中需要的。
2。当你不能玩MHDH,使用应用程序来检查你的策略和改善你的MHDH宇宙的认识!
3。分享此与您的团队成员的程序,进一步完善您的团队技能!
4。更多更新功能来进一步提高

什么期待在未来的版本:
1。更详细的物品恢复指南
2。更详细的武器升级指南
3。更多的游戏秘密和工具提示。

明白自己真正的POTENTIONAL来击败你的怪物,成为在MHDH亲!

史上最高のMHDHアプリ!

MHDHは最終的にここにある!このアプリは、あなたがあなたのMHDHのゲームプレイをより取得し、それらのプロゲーマーの知識を持っているために、このゲームにはアシスタントの中として使用される!なぜあなたはMHDHアシスタントを試してみては?

アプリは、現在いくつかの機能を実行します:
1)ニュース一覧-モードの選択、シングルプレイヤーモードでは、クエストの流れは、Pre-戦い、操作、クエスト画面
2)フォーラム
3)ビデオクリップ

何がMHDHアシスタントを使用する最善の方法は?
1。持ってあなたのiPhone/あなたはチェックして、ゲームで必要に応じて、あなたの戦略を更新するには、MHDHを果たして近くにiPod。
2。ときに、あなたの戦略を確認し、MHDH宇宙の知識を向上させるアプリを使うと、MHDH再生することはできません!
3。を共有するチームメンバーと、このアプリ、さらには、チームのスキルを向上させる!
4。複数の更新プログラムは、さらに機能を改善するカミング

何は、将来のリリースで、お待ちしております:
1。詳細項目検索ガイド
2。詳細は武器のアップグレードガイド
3。その他のゲームの秘密とツールのヒント。
Added Achievement
Added Material
Added Quest Bonus
Added All Quest and Monster Weakness

新增實績
新增素材
新增Quest Bonus
新增全任務及魔物弱點

新增實績
新增素材
新增Quest Bonus
新增すべてのタスクとモンスターの弱点を見る
Ratings and Reviews
Crash=horrible
Crashed everytime I tried to open it, I even tried re downloading it and it still didn't work.
Just plain bad
No useful info, bad interface and only about 10% English. Some how not worth being free.
crashhhhh
I'm using an up to date CDMA iPhone 4 and this crashes every time I try to open it. what a boner.
Information
Seller

a Chan

Size

18.4 MB

Category

Compatibility

Requires iOS 3.0 or later. Compatible with iPhone, iPad, and iPod touch.

Languages

English, Japanese, Korean, Simplified Chinese, Traditional Chinese

Age Rating

Rated 4+

Copyright

© achan inc.

Price

Free
Supports
Family Sharing

With Family Sharing set up, up to six family members can use this app.