Microsoft Remote Desktop
By Microsoft Corporation
Open the Mac App Store to buy and download apps.
Description
With the Microsoft Remote Desktop app, you can connect to a remote PC and your work resources from almost anywhere. Experience the power of Windows with RemoteFX in a Remote Desktop client designed to help you get your work done wherever you are.

Getting Started
In order to successfully connect to a Windows PC, please read the FAQ first at http://technet.microsoft.com/en-us/library/dn473006.aspx

Features
•Access to remote resources through the Remote Desktop Gateway
•Secure connection to your data and applications with breakthrough Network Layer Authentication (NLA) technology
•Simple management of all remote connections from the connection center
•High quality video and sound streaming with improved compression and bandwidth usage
•Easy connection to multiple monitors or projectors for presentations
•Print from Windows applications to any printer configured on your Mac
•Access local files on your Mac from your Windows applications
•Support for Azure RemoteApp
What's New in Version 8.0.18
Fix for issues with concurrent connections using Gateway on Windows Server 2012 editions.
Screenshots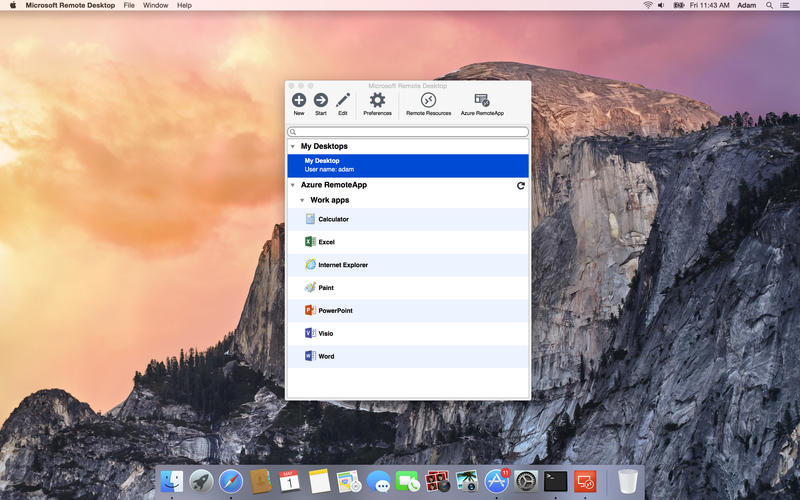 Customer Reviews
As usually Microsoft needs to focus on testing and logic design
Having worked for many years with Microsoft for long time in '90 and then dumping them for Apple privately (and home family business) now I have to work in corporation with Windows and RDP I see the same quality issues. RDP like just other tools seem to be like written by lost kids while alternatives outside Microsoft by solid developers work better. This RDP client cannot adjust to imposed local resolution of the screen (free CoRD for example can do it easily not to mention many commercial clients). Honestly, I do not care if in my office I have three monitors and some funny video card, beacuse at home I can have one big Retina that easily substitutes for multpile monitors. I need RDP to adjust to those local resolutions and not shrink picture vertically while horizonatlly having proper resolution. At minimum we need to work properly with older resolutions 1680x1050 and 1920x1080. Those are basics that Microsoft engineering needs to start understanding before their product is on the same level as those from alternative vendors. Microsoft please get focus a bit - it does not take much to stay focused on fixing and make it work nicely before bringing newer and "greatest" product that everybody needs to learn from the beginning.
UI is TERRIBLE
Hit '+' to add a connection. There's no "save", but that's common for a Mac. So I close the window. Where is my connection? I had to twist down "My Desktops" - ah, there it is. Is ther potential for there to be another category of some point? If I have a single connection, just show it to me.

Logged in fine. Had to tab out and couldn't figure out how to get back to my RDP session. There's no tabbing back to the session - it just gets me to the connection window. It's not on the dock... So I opened another one and it refused the duplicate connection but at least got me back to my original. Had to tab out again. I looked under the Window menu and there's my session listed, so I click it. This is when I discovered it was using a separate desktop, which is neat I guess but I'm not in the habbit of using more than one desktop so that was foreign to me.

Might be more of a MacOS UI thing, but this is why as much as I try to be at home on my work machine (Mac Mini) I'm consistently baffled by the horrendous UI flow of the OS.
Lack of basic feature (copy+paste into guest) and other usability issue
In ability to copy+paste or have custom key-mappings work in the guest machine are major obstacles for using this with any regularity (mostly because of long, randomly generated passwords that are painful to enter manually). At best, it's a last-resort option when I _do_ happen to have the desired connection mapped _and_ don't want to wake my Windows VM for real RDP.

Also no ability to 'quick connect' (as in CoRD, and Remote Desktop Manager in Windows) for ad-hoc connections is big missing feature that I would use frequently.

UI\Design flow for adding or editing connections is awkward as there's no button to confirm your changes - you just click the red 'x' dismisses the create\edit form and trust that it did what you asked. A 'confirm' or 'save' button that automatically dismisses the create\edit for would be a much more intuitive and less-jarring experience.
View in Mac App Store
Free

Category:

Business

Updated:

May 20, 2015

Version:

8.0.18

Size:

14.3 MB

Language:

English

Seller:

Microsoft Corporation
Compatibility: OS X 10.7 or later, 64-bit processor