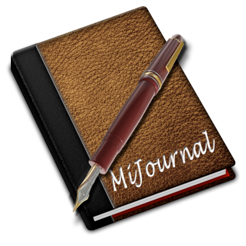 Description
MiJournal supports: Pictures in entries, Drag and drop videos into entries, full des3 encryption, password protection, Syncing (via drop box), importing from other apps, and instantaneous search through DECADES of entries. It has ALL the features you would want in a Diary App, without the clutter of esoteric features found in some other apps.

MiJournal is rich with features and options that will help you organize your thoughts, and keep a daily journal / diary. This journal app is much like your old paper journals, but much better in the sense that you can back it up, drag digital photos and videos into your entries, protect it with a password, and even encrypt your diary entries. Plus, you have an unlimited number of Journal Entry pages!

With MiJournal, you can drag and drop photos, images, videos, sound clips - even links to emails and iCal items into your daily journal entries. Unlike some other journal apps, MiJournal allows you to resize the images too.

MiJournal allows you to search for journal entries in seconds. A decades worth of daily journals can be searched in 1 second! Also, you can use complex search techniques (Regular expressions) to find exactly what you are looking for. Few other journal apps offer this feature.

MiJournal is Secure using strong encryption to protect your journal entries. Also, MiJournal allows you to password protect the entire app.

MiJournal lets you store your Journal Entry database in any location you want. MiJournal seamlessly integrates with dropbox for syncing your journal with other mac computers. Also, if you sync with dropbox, your journals are backed up (they are also be additionally backed up with Time Machine if you are using that). With this many layers of backup, you should never lose an entry!

We love Macs for their simplicity and ease of use; we believe that your 3rd party software should be the same. Your apps should be intuitive to understand as soon as you start using them. MiJournal strives to maintain the balance of being loaded with features, having some eye candy, and being really easy to use. We are committed to your satisfaction, and always welcome suggestions and feature requests!

********************* IF you have an older version of MiJournal, and are having trouble running MiJournal after upgrading to Yosemite, please download this fix from our website:
http://gotoes.org/sales/Journal_App_Mac/MiJournal_Wont_Launch_Yosemite.php

********************* This issue does NOT affect new users of the app.
* Fixed an issue where if you had elected to start every new entry with a template, that same template would be applied to every journal. Now, each journal can have its own template.
Customer Reviews
Meh
I bought this app because I wanted a journal app that allowed me to attach videos. This one allows that, but everything else about this app is unimpressive. There are no font options, resizing the photos is not convient, the words don't wrap around the photos and there's no way to export your entries/journal. The looks of the app is not pleasurable. It doesn't make me feel inclined to write in it. It looks like something from the 90's. I had hopes that this app would improve over time, but it hasn't. I've used the app for several months and I just don't have the desire to open it up and use it. I'm a modern clean lines kind of person that is artistic. This app doesn't go along with that at all. Needless to say, I'm going to be taking my entries out the hard way and putting them into a new journal app that I purchased today; which looks much better. Only downfall is I'm losing the capability to attach videos and that is the only thing this app has going for it. Wasn't worth the money I paid for it and now paid for another app that doesn't have the function I was really looking for. It was just time to move on with or without video attachments.
clunky
What a waste of $15. I NEVER spend that kind of money on an app, but there are few journaling apps out there, and this one had good reviews. I suppose if encrypting is the most important feature for you, then this is what you want. But if you want an intuitive, attractive journal app, then skip this one. You can't design your template in the app; you have to design it elsewhere then import it. For $15, I expected to be able to click and drag a photo from Photos (Mac), then resize it by grabbing a corner. Nope. Couldn't even click and drag it from Photos on my Mac into the app. First I had to drag it to the desktop, then drag it into the app. Then resize it from a dropdown menu, where I didn't get a clear image. The text will not wrap around a photo like it does in Pages. I've already wasted too much time and money on this app. If you have a Mac, just use Pages. You can password protect it plus you will have a much more intuitive program that looks beautiful too.
stellar support
I looked at a few options for journaling apps and decided on MiJournal. I started by entering a few past entries but was having trouble, so I emailed support. I asked for help but also conveyed that I was unhappy with my experience to that point. Between the time I sent the email & received a response, I figured out what the issue was (the date format I was using was not compatible with the App Store version). I received a response literally a few hours after sending my email, exchanged a few emails about the issue, received a link to the developer's website for the latest version and was off and running. I also received a couple of follow-up emails before I had a chance to put the latest version to the test. My actual hands-on experience with the app hasn't been very deep (adding photos, videos, etc) but I am extremely confident that if I were to have any other problems or questions, the support team would be there to assist - it's refreshing to know that they believe in good customer service…thanks again Brian!
p.s. - there is an option - under preferences - to autosave entries. Just thought I'd toss that in because people complained about it.
Information
Seller

Brian Lucido

Size

4.6 MB

Category

Age Rating

Rated 4+

Copyright

© 2010-2014 GOTOES

Price

$13.99
Supports
Family Sharing

With Family Sharing set up, up to six family members can use this app.