MileTracker - Mileage Tracker and Reporting
By Silverware Software, LLC
This app is only available on the App Store for iOS devices.
Description
MileTracker is the easiest and most feature rich app to track your mileage & driving expenses. Data can be exported to create custom expense reports. Start saving money now!

MileTracker allows you to track mileage the way YOU want, offering several different methods. It is incredibly versatile!
When tax time arrives or expense reports are needed, creating beautiful & customizable reports is a snap.

Watch our Demo Video: http://tinyurl.com/LiveMileageTracking

WHY MileTracker IS BETTER
* Elegant user interface
* The most powerful and flexible Reporting features available
* Offers considerably more features than other mileage tracking apps
* Quick and easy on-screen filtering to maximize your tracked data
* Organize your entries into Logs for maximum ease
* Distinguish between Personal and Business entries
* Apple Watch support.

EASE OF USE
* Completely customize your app and make it your own
* Hide fields you do not use for concise entry forms
* Remembers frequently used choices
* Quick menu with list of frequent trips for super fast entry

MILEAGE
* Track mileage the way you want:
1. LIVE mileage tracking - the app will track your every move via GPS. This feature requires you to tell the app when you start and stop. (optional AutoTrack add-on is available for fully automatic tracking - see below).
2. Enter Start/Stop odometer reading
3. Enter the start address and end address-the app will determine the travel distance
* If using odometer, remembers last stop mileage and pre-fills start for next entry.
* Mark an entry as round trip to double the distance
* Supports Multiple Vehicles
* Miles or Kilometers
* Indicate if reimbursable
* Customizable mileage allowance

DRIVING EXPENSES
* Track Fuel, Tolls and Parking expenses
* On-screen sorting and filter to see totals for each type of expense

PHOTO RECEIPTS
* Capture multiple images per entry
* Crop images easily
* Geotagging of photo receipts

REPORTING
* IRS compliant reporting
* The most flexible and powerful reporting available
* On-screen preview
* Include photo receipts
* Choose the attractive PDF format or CSV for importing into Excel
* Email your reports and photo receipts
* Export your reports to Dropbox, Box or directly to your Mac or PC via a wi-fi connection
* Include photo receipt images in the same file as the PDF report
* Accountants love our templates because they provide all the key information needed

PREFERENCES
* The MOST extensive set of preferences available
* Show those fields you wish to use and hide those you do not need

ON-SCREEN FILTERING
* Sort entries by "Date," "Category" or "Client"
* Extensive on-screen filtering to find out exactly what you need to know
* Filter by Date, Client, Merchant, Reimbursable and MUCH more

BUSINESS SPECIFIC
* Ability to email database settings to others in your company (without sending your entries)

BACKUP AND SAFE KEEPING
* Backup your data to iCloud, Dropbox, Box or directly to your computer via a Wi-Fi connection
* Set backup to "Automatic" when using iCloud so your data is always safe
* Ability to set password to access app

ADD-ONS
* App offers an optional subscription to AutoTrack, a feature that will automatically track your drives. No need to start or stop tracking. All you need to do is carry your device with you. The app does that all for you. Each subscription includes a free one-month trial period.

Demo Video on AutoTrack at: http://tinyurl.com/MileTracker


OTHER ADD-ONS
* Create your own templates for PDF reports to match your company's requirements
* Keep all of your iOS devices in sync via iCloud or Dropbox
* Location Awareness will pre-fill start location and prompt stop location if you are near one of your frequent locations.

------
Continued use of GPS running in the background can dramatically decrease battery life.

Questions/comments? For a fast reply, email us at: support@silverwaresoftware.com

OR just choose the Email the Author link in the Prefs screen within the app.
What's New in Version 10.03
*** New in version 10.03 *** (July 9, 2017)
* Fixes a bug with the "Set Current" feature for a mileage entry.

*** New in version 10.00 *** (June 24, 2017)
* Now requires iOS 9 and greater.
* Improvements to user interface THROUGHOUT app.
* Improvements to Apple Watch support.
* Easier now to create a report that includes entries from all logs (available when you set the date filter within the Email/Export screen).
* Additional filter options on screen and when creating reports.
* Now supports Dropbox's new API (insuring compatbility into the future). Requires optional Dropbox or Device Sync add-on.
* Major enhancements to optional AutoTrack feature.
* Major enhancements to optional Device Sync feature.
* Various bug fixes.

** New in version 9.91 ** (Oct 2, 2016)
* When saving a Toll, Fuel or Parking entry it will show in the Merchant screen a list of nearby merchants from a worldwide database of stores and companies.
* When using the optional AutoTrack feature, when approving a drive, it will show a list of nearby stores and companies when assigning a Nickname for that location.
* Bug fixes.

** New in version 9.90 ** (Sept 13, 2016)
* iOS 10 ready.
IMPORTANT: If you use the optional Device Sync feature, be sure to update all your devices with this new version.
* Now requires at least iOS 8.
* Improvements to optional Device Sync feature.
* Nice enhancements to optional AutoTrack feature. Choose to just record city and state rather than street, city and state. Autofill odometer readings for those required to include odometer values.
* Those who have tried AutoTrack in the past will get another two days to try again automatically.
* Improved Description selection screen. Can now choose from list as always but can also tap "append" button for an item to append that item to existing entered items.
* Support to use Date Wheel instead of Calendar picker for those in need of Voice Over support.
* Enhanced PDF report features including the ability to choose an image of their signature to include in the footer of the report.
* Additional sort and filter options.
* Various User Interface improvements.
* Bug fixes.

** New in version 9.80 ** (May 26, 2016)
* Apple Watch support for both LIVE Tracking feature and optional AutoTrack feature.
* Huge improvements to optional AutoTrack feature. REALLY !!
* Fixes issue when attempting to restore an existing subscription on a new device.
* Exposes backups and exports sent to iCloud in your iCloud Drive account and iCloud.com
* Added support for "Quarterly" reports.
* Now can save on-screen filters as "relative dates", so if you create a "Last Week" filter it will always filter the last week based on the day you are creating the report.
* Adds the ability to sort CSV reports by Project field.
* User interface changes to choosing date range when creating reports.
* For the optional AutoTrack feature, if a special name of a location is available (like the name of a Mall), it will be shown in the address.
* Numerous User Interface improvements throughout the app.
* Bug fixes.

IF your suggestion did not make it in to this release, please email us again if you feel strongly about a certain feature and we will revisit it for possible inclusion into the next release.

ALSO, do not forget to post a new review or update an existing one. Every time we release a new version, that version has no reviews associated with it. It is only through your support by posting reviews can we attract new users. New users allow us to further invest in the app and release these great new free updates.

IF, you encounter an issue, do NOT post a review right away but instead please give us the opportunity to resolve the problem. We have seen most every issue and likely have an easy solution. So first email us at info@silverwaresoftware.com or go into the Prefs screen inside of MileTracker and tap the "Email the Author" link.

Thank you for making MileTracker a top choice among mileage tracking apps.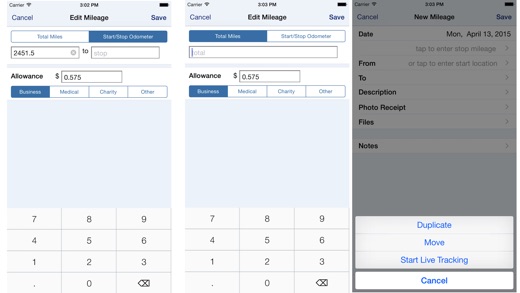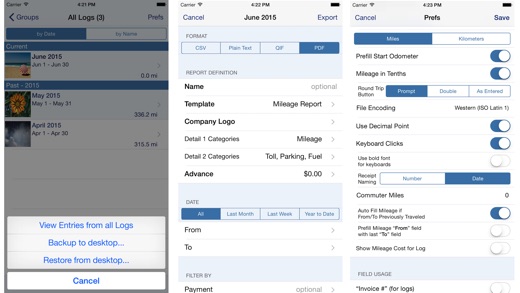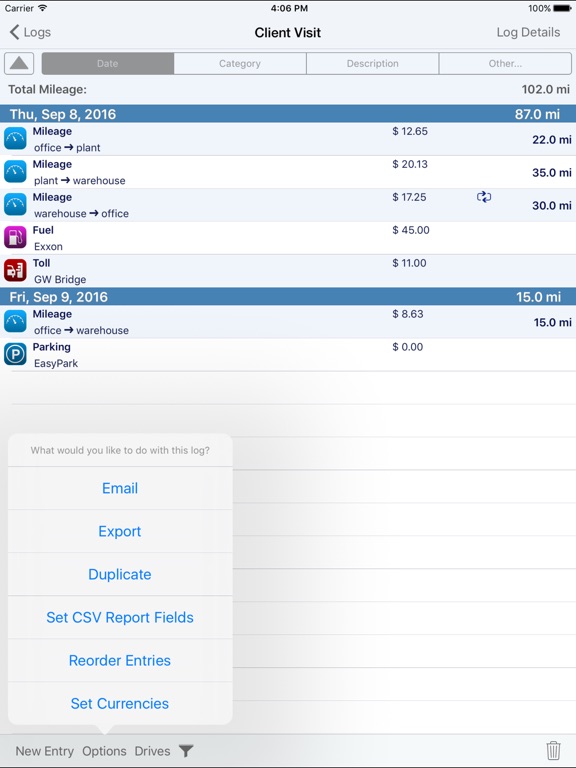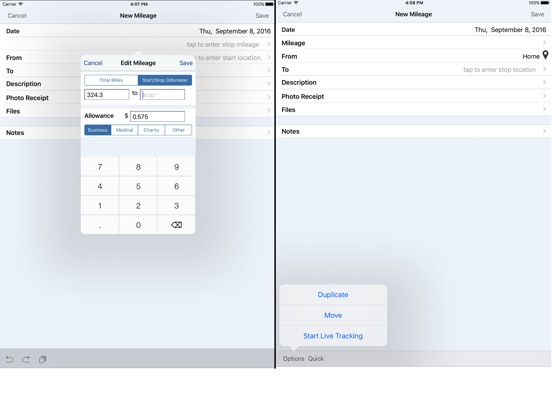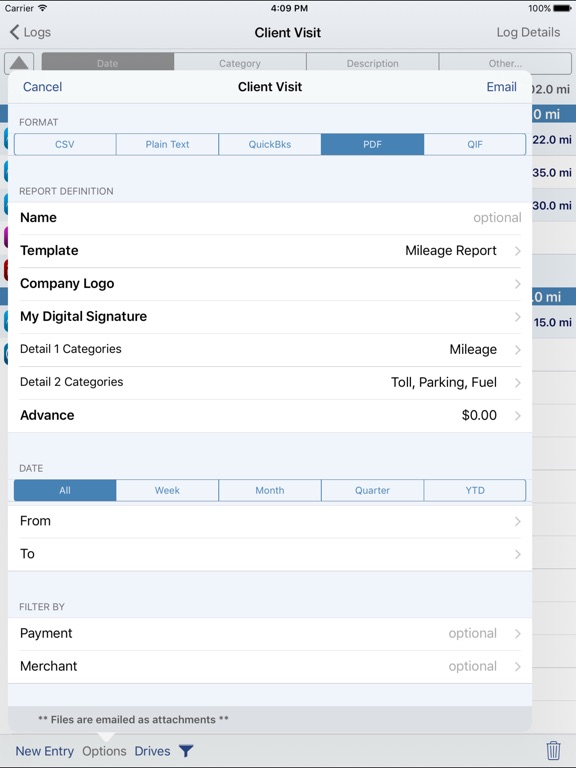 Customer Reviews
Works most of the time
I've been using it for about 3 years now and paying monthly for the GPS "drive" tracking and am mostly pleased except for a few annoying problems.
1. It will just quit auto tracking some time over the weekend without me knowing and I have lost several trips and sometimes hundreds of miles since I last checked "Drives" to make sure it is still tracking.
2. It has no way for you to tell it to end one drive at this location and start another drive so if you go to the bank on business and then go thru Sonic for personal, it just sees the whole trip as one unit since you didn't get out and walk around or go in a store.
3. The order that it lists your days drives isn't chronological, it depends on whether the log entry came from "drives" or from New or from Connecting leg, etc. so it's hard to look at a day and see if you got all the days trips.
4.Organizing your frequently used destinations has gotten better as it appears to be bringing the last ones used to the top of the list which helps when tagging drives but editing that list is still not simple.
It has improved since earlier versions and I like that it will find nearby businesses as suggested destinations for your drives. That's a real time saver.
I hope to see it continue to improve in future versions.
Waiting To Learn More
It was a bad time for the app to ask me to rate it. I'll start with one star until I find that I am the problem, not the app. It is irritating that on occasion I open the program and I don't see data I've previously entered. I can't find it. Other times, for reasons I don't understand, the data is present. There may be a simple answer to my problem, but I would simply prefer that the data appear when I open the app.

Another annoying thing is preparing reports from data I've entered. I own rental properties and , in one case, I must keep travel expenses separate for two condo units within a single development complex. I haven't found the reports flexible enough to handle this problem.

As I've said, perhaps I am the problem, not the app. But, unless I can find myself far more satisfied with the app than I am at the present time, I will delete the app and search for what I consider a better one that meets my needs with fewer problems.
Best Mileage Tracker
I have tried several of these mileage apps and settled twice on MileTracker. I don't want automatic tracking while I drive (uses space and battery in my phone) - I travel to the same local places almost all the time. This is absolutely the only app that makes it easy to designate and name favorite locations and track round trip mileage to them easily and MileTracker always delights me when it designates my starting point as the place where I currently am. Also, for several years I have used this app to create yearend reports that have passed muster with my accountant. Don't look further than this app - simple and just what you need.
View in iTunes
This app is designed for both iPhone and iPad
Offers Apple Watch App for iPhone
$2.99

Category:

Finance

Updated:

Jul 10, 2017

Version:

10.03

Size:

22.0 MB

Apple Watch:

Yes

Languages:

English, French, German, Italian, Spanish

Seller:

Silverware Software, LLC
Compatibility: Requires iOS 9.1 or later. Compatible with iPhone, iPad, and iPod touch.
Top In-App Purchases
AutoTrack Subscription$3.99
Location Awareness$0.99
Device Syncing$1.99
Dropbox Support$0.99
AutoTrack Subscription$39.99
Ultimate Custom Reports$2.99