Minds of Modern Mathematics
By IBM Corp.
This app is only available on the App Store for iOS devices.
Description
If you have ever wondered how mathematicians and mathematics have shaped the world we live in, this is the app for you. The Minds of Modern Mathematics takes you on an interactive journey that spans nearly 1,000 years. It tells the story of mathematics and how it has impacted almost every aspect of human progress, from science to music, art, architecture, and culture.

Minds of Modern Mathematics is a digital recreation of a 50-foot-wide wall installation that was part of the groundbreaking 1961 Mathematica exhibition sponsored by IBM and designed by the legendary design team, Charles and Ray Eames.

Composed with the same passion for design and interactive learning that fueled Charles and Ray Eames, the Minds of Modern Mathematics lets you explore the fascinating history of mathematics on your own terms. Features include:

• Millennium view: Get a bird's-eye view of the entire history of math, including the explosion of discoveries in recent times.

• Century view: See the rich interplay of ideas between contemporary mathematicians, culture, and history.

• 3D Chronological view: Step through the entire timeline one object at a time.

• Mathematician profiles: Discover each mathematician through a high-resolution portrait, detailed personal biography, achievements, related artifacts, and links to online information resources.

• Artifacts: Explore 495 high-resolution images of artifacts selected and painstakingly retouched from the original Mathematica exhibit.

• Original poster: View a fully navigable, ultra high-resolution version of the original Men of Modern Mathematics poster that has been proudly displayed in mathematics departments and classrooms around the world.

• Eames mathematics films: Watch nine original Eames educational films, experiencing these master educators' genius at making complex topics easy to understand.
What's New in Version 1.01
- Bug Fixes for iOS 5
iPad Screenshots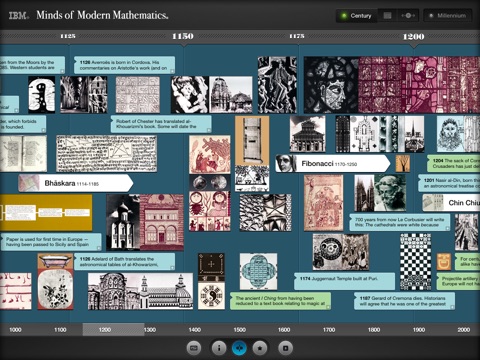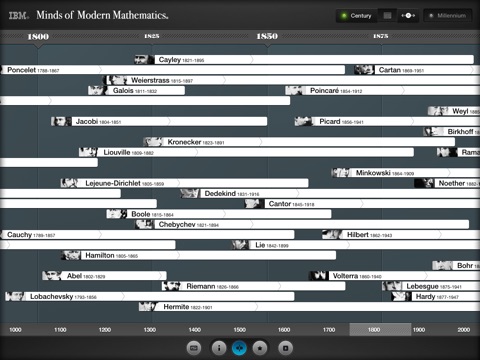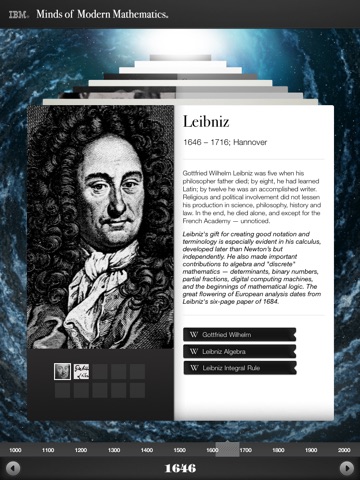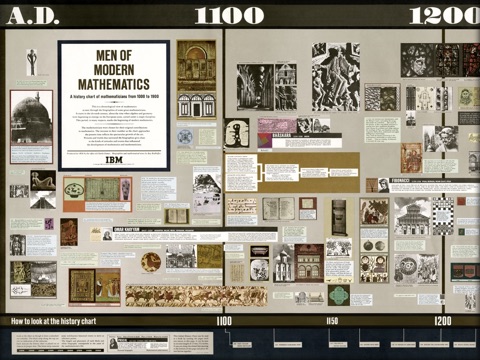 Customer Reviews
Fills a void in high school math
There was a time back when I started teaching in the 60's when a number of large corporations invested time and money into providing educational materials (films, kits, etc.) to schools and teachers. Admittedly, some tried to embed a commercial message, but there were some like IBM and AT&T that appeared to be focused on stimulating interest in science and learning. In a time when the bottom line drives most corporate endeavors, it's nice to see at least one corporation that is still willing to fund projects such as this. This is a solid reference tool and fills a void in that most high school math texts neglect the study of the growth and development of the discipline. Thank you, IBM, for a nicely executed and worthwhile app! Now if we could only get it projected...
Math history for white guys
I played with this for a bit without quite knowing why I was finding it so annoying. Then it hit me. There are almost no women (not even a token nod to Ada Lovelace!) The timeline starts in 1000, around the time "algebra and geometry were beginning to emerge on the European scene", which means the reader misses out on developments in the rest of the world. The text describes the pre-1000 AD development of math in a few boxes. This is math history for white guys.

The exhibit from which this app is adapted dates from the 1950s. The original title was "Men of Mathematics." The text in the screens taken from the 50s display is annoying--much of it in capital letters, much of it with a faded newsprint background.

The new timeline, in color, has a series of fascinating tidbits of information, with historical photos and full-color artwork. I give 2 stars for that.

This is useful as a look at how we record historical achievements, but not as a serious history of mathematics. Too much is left out. I can list half a dozen websites off the top of my head that provide a richer, more balanced, more up-to-date, more interactive, and more complete experience for my students.
Fascinating and fantastic
Thanks to IBM for making this wonderful and informative app free. The interactive features are great and I really appreciate the externals links to the Wikipedia and Wolfram Alpha web sites (I own the Wolfram iPad app and it does not seem to jump to it directly, which would be great).

I wish there was a search function. For instance, I can't find a reference to IBM's own Benoit Mandelbrot; surely he would not be left out? But then again, the app does not list any recent history since 1946. It would be nice if IBM can bring this app up to present times.
View in iTunes
Free

Category:

Education

Updated:

Apr 04, 2012

Version:

1.01

Size:

556 MB

Language:

English

Seller:

IBM Corp.
Compatibility: Requires iOS 3.2 or later. Compatible with iPad.
More iPad Apps by IBM Corp.