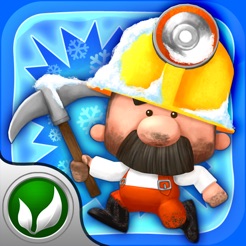 Description
The more downloads we get, the more levels we can make. Tell your friends!

#5 Paid App in the UK - Thank you!

****

If you are running iOS 2.x, to be able to load Miner Disturbance you will need to upgrade the software running on your device.

****

"Featured by Apple in 148 countries NEW and Noteworthy + What's Hot + What We're Playing!"

"Miner Disturbance' — One HOT Puzzle-Platformer: Very rarely, an absolute gem flies under our radar. Miner Disturbance is a terrific action-packed puzzle platformer that should keep you entertained for hours as you pick your way through devilishly concocted mineshafts" - TouchArcade

"Keep digging and you'll unearth a gem of a game. Miner Disturbance ensures that, once again, the mining industry has proud video game representation." - Pocketgamer

"Miner Disturbance features one of the best onscreen touch-based joysticks in an iPhone game." - Gamezebo


****

TIP: Press and hold the dig button before moving into a direction for the best digging experience!

TIP: OpenFeint needs to be manually switched on if you want to use it. Simply connect to it before you go for a massive HighScore!

****

Dive into the menacing depths in this NEW, addictive, fun version of the hit Jagex PC game. A must have!

Watch out for monsters, spikes, spiders and other sinister critters (moles!) as you explore the dingy depths of 30 challenging levels.

Download TODAY and compete for a place in the global highscores deep within the ultra-competitive, randomly-generated Volcano and earn an array of awesome Achievements - which you can now show off via OpenFeint!

****

In Miner Disturbance, you'll...

• Conquer 25 levels of mining mayhem!
• Compete for global recognition in the randomly-generated Volcano!
• Earn Achievements galore to show off on Facebook and Twitter!
• Excavate amazing artefacts to admire in the in-game museum!
• Enjoy awesome NEW graphics and a catchy, top-quality soundtrack!

****

Also available from Jagex Games Studio:

StarCannon - hours of shoot 'em up fun
Bouncedown - how long can you survive?

Visit us at www.jagex.com and follow us on Twitter: JagexMobile
* Reduced app size
* Fixed an issue where Goldrush 4 would crash on startup
* Fixed completion rate of 100% being unattainable
Ratings and Reviews
Hey Jagex, Forget Something?
Hey jagex, I loved playing this game. It's a really good game, but can you please throw some updates this way? I love what you've done with Runescape, 07 Scape, and I can't wait till RS3 comes out. But you made app too. And these apps haven't been updated in a while. Please give us some new content in these apps. I realize that there are so many things that need your attention, but since you have made some apps, that means that, these apps are also on the "to-do" list. Can you please give us some updates(and not the *bug fixes* updates). We need some more levels and new content. I love what you have done with RuneScape, but please work on the apps. I'd hate for these apps to become "forgotten apps". Keep sending us great content.

Sincerely,
Steaphan9(RS name)
Love it!
This is the game I think about while playing other games! I wasn't quite sure what to expect when I bought it. I had seen it a few times and passed it up, but I'm so glad I finally got it! It is a big game, I've been playing a lot for the past few days and am only about 20% thru. Each level has a set of 3 goals to reach and you get paid based on how well you do. Then you go to the store to upgrade your equipment. There are about a dozen different upgrades, but each has different levels to enhance. It is an awesome game, really well done, hope there's a sequel soon!
Come on Jagex.
So yes, it's been four years and yes this game it still a good quality app but come on. You are still charging money for this application, so if you want to maintain loyal customers I feel that you have a right to either make this application free or actually update it. The textures look terrible on the new iPhones. This game is still designed for the iPhone 4 and looks pixelated and the UI is blown up. This game does not look worthy of 2014 however you are still charging money for it. Quit selling out, spending time making crappy transformers games, and turning runescape into a piece of crap and actually go back and fix your stuff that hasn't been completely ruined.
Information
Seller

Jagex

Size

20.4 MB

Category

Compatibility

Requires iOS 3.0 or later. Compatible with iPhone, iPad, and iPod touch.

Age Rating

Rated 4+

Copyright

© Jagex Ltd. 2010

Price

$0.99
Supports
Family Sharing

With Family Sharing set up, up to six family members can use this app.