Minesweeper!
By Ross Franklin
Open the Mac App Store to buy and download apps.
Description
Minesweeper is a refreshingly clean, yet authentic interpretation of the classic strategy/puzzle game. The object of the game is to identify all mine squares by revealing all non-mine squares. The best minesweeper experience available.

FEATURES
- Common presets and custom board settings are available.
- Save, load, and replay games.
- Mouse path is tracked with replay, and can be displayed.
- Window can be resized at any time
- Area is always opened on the first click.
- Double-click or press both buttons to reveal adjacent squares.
- A Right-click anywhere after a game, or click the clock to start a new game.
- Best times are tracked in a high score table.
- Chording is available for faster play.
- The Inspector tool shows live game statistics.
- Colors can be changed.

NOTICE
A mouse with two separate buttons is ideal for this game. If you use a trackpad or magic mouse, be sure to enable secondary clicks in your system preferences.
What's New in Version 2.7.2
Fixed a crash that occurred on Snow Leopard.

Screenshots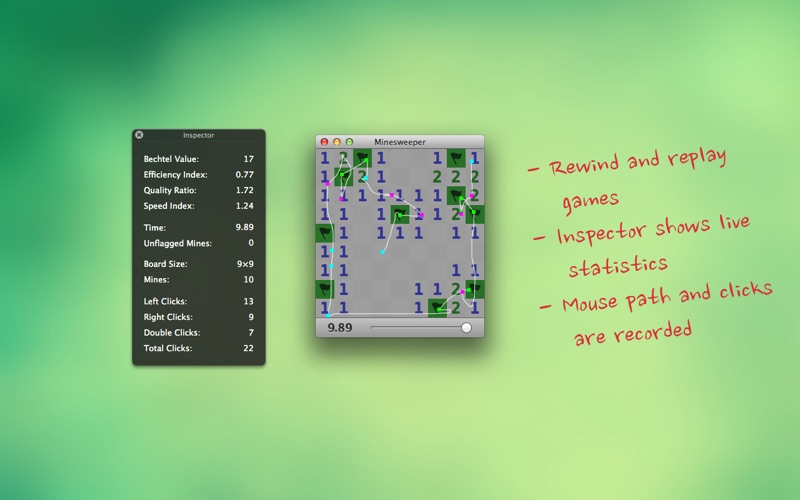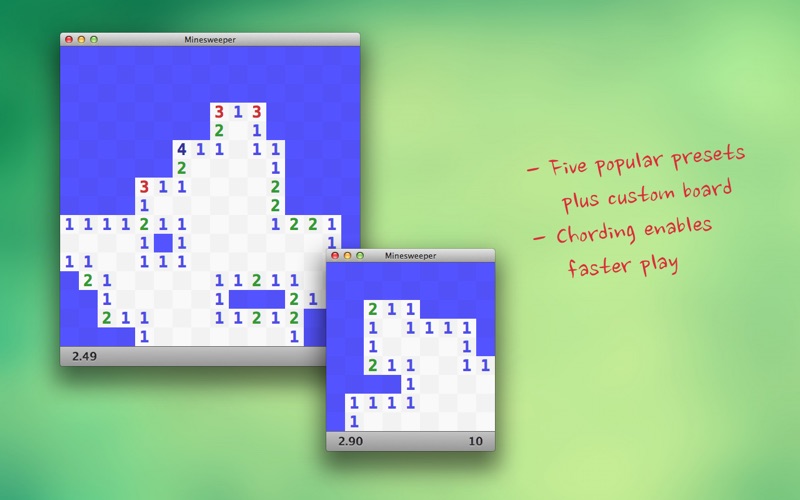 Customer Reviews
just as good if not better than MS minesweeper
i was addicted to MS minesweeper when i used windows. now i'm addicted to this one. it's the only game in my dock :-/ much like the original, it loads super quickly no matter what all is running already and plays clean - simple and sleek - so i can twiddle with it when a call comes in on google voice or when waiting for something to up/download. also the color mods are awesome - if anything makes this game better than the original it's the color mods. i think new MS minesweeper does that, too, but i doubt it still runs as clean as it used to. simple yet awesome addition to your nervous stimulation :)
It's alright…..
First, there are issues with trying to left click to mark a mine, and it is registered as a left click thus triggering the mine - very annoying.

Also, there are flaws in the algorithm used to lay out boards, a board should be winnable by logic entirely yet there are times when guessing is required, this is very annoying if you spend 5-6 minutes on a large board and it comes down to a guess.
Another issue I've found (which is somewhat rare) is that a mine can occur in a place where a number is required to go. For example, I had a game where I had 5 mines on the bottom of the grid, so that there were 3 mines across, and then two below that with a blank space in between them and below that was the edge of the screen. The rules of minesweeper dictate that the blank should have been a 5, however it was a mine.

Annoying- that's the best word I can use to describe the bugs/flaws of this app.
OK but lacking full set of "classic" features
Seems stable, and the UI is ok though it's not the "classic" Minesweeper grid. The real items lacking though are the "question mark" marker state, and also the ability to click on a number that's been revealed to highlight the surrounding squares for quick identification. The "double-clicking" on a number (versus right-clicking) to clear out the surrounding hidden squares is a UI choice but I could get used to it except for the other items. Going to go looking for a full implementation somewhere else.
View in Mac App Store
$0.99

Category:

Games

Updated:

Mar 09, 2012

Version:

2.7.2

Size:

0.6 MB

Language:

English

Seller:

Ross Franklin
Compatibility: OS X 10.6 or later, 64-bit processor