Mint:Personal Finance & Money
By Mint.com
This app is only available on the App Store for iOS devices.
Description
Mint is the free, effortless way to manage your money in one place.

Finally, there's one place to manage all your finances with ease. Mint is the free money manager and financial tracker app from the makers of TurboTax® that does it all. We bring together your bank accounts, credit cards, bills and investments so you know where you stand. See what you're spending, where you can save money, and stay on top of bill pay in Mint like never before. You can even keep track of your credit score to help you be smart about it, no credit card required.

SEE EVERYTHING IN ONE PLACE
Get a more complete picture of your financial life. We bring together everything from account balances and spending to your free credit score, net worth and more.

MANAGE BILLS & MONEY TOGETHER
Track and pay bills right alongside your account balances. You'll know what's due, when it's due, and what you can pay. (Note: bill pay available for phone and desktop.)

SAVE TIME & MONEY
With one place to keep track of your finances, there's no need to log into multiple sites. Plus, we'll give you savings tips to help with budgeting and debt.

BUDGET BETTER
Effortlessly create budgets you can stick to. To help you save smarter from day one, we even make a few for you based on your spending.

BE SMART ABOUT YOUR CREDIT SCORE
Get your free credit score, no credit card required. You'll learn how it's calculated and get tips.*

SAY GOODBYE TO LATE FEES
Get bill pay reminders so you pay bills on time. Schedule payments on the spot or for later, and say so long to missed payments and credit card fees.

STAY SECURE
We're serious about security and use measures like multi-factor authentication, designed to help you protect access to your account. Plus, Mint comes from the people who make TurboTax®, trusted by millions with sensitive data, and we participate in security scanning with VeriSign.

SYNCS WITH THE MINT WEB APP
Mint's great on the go, but you can also use the desktop version at Mint.com. Sync your bank accounts, credit cards, budgeting, spending and more across your devices. You can even export spreadsheets from the web, and more.

WHY DO MILLIONS TRUST MINT?
Time Magazine: The 50 Best Apps of the Year (2016)
PC Magazine: What to Do When You Go Over Budget in Mint.com (2016)
Nerd Wallet: Financial Fitness - 7 Exercises to Build your Credit Muscle (2016)
Huffington Post: 5 Things To Know After You Graduate (2016)
Tech Times: Save Money in 2015: Here are the Best Money Management Apps (2015)
Kiplinger's: 10 Great Saving Money-Saving Apps (2014)
Money Magazine: Best Finance Tool For Budgeting (2014)
Wired: The Best Apps for Budgeting Your Cash (2014)

FROM INTUIT INC.
Mint is part of a suite of financial tools that includes TurboTax®, QuickBooks®, QuickBooks Self-Employed™ and ProConnect™. Wherever you are in life, whatever you do, Intuit can help you save money and simplify the business of life.

Mint bill payment services provided by Intuit Payments Inc. under applicable licenses (http://www.intuit.com/legal/outbound-licenses/) Intuit Payments Inc., 2700 Coast Avenue, Mountain View, CA 94043
To learn how Intuit works to protect your privacy, please visit
https://security.intuit.com/index.php/privacy

When you download and use Mint, you agree to the Mint Terms of Service https://www.mint.com/terms

*Intuit is not a credit repair company. We do not provide credit repair services to repair or improve your credit profile or score. All information is provided for educational use only.

Message and data rates apply. Reminders subject to interruptions due to various reasons including but not limited to internet/mobile service outages. Account balances may not immediately reflect recent transactions. Internet/mobile data required for financial data refresh.

Mint currently connects to US and Canadian financial institutions only.
What's New in Version 5.23.0
Bug fixes and performance enhancements.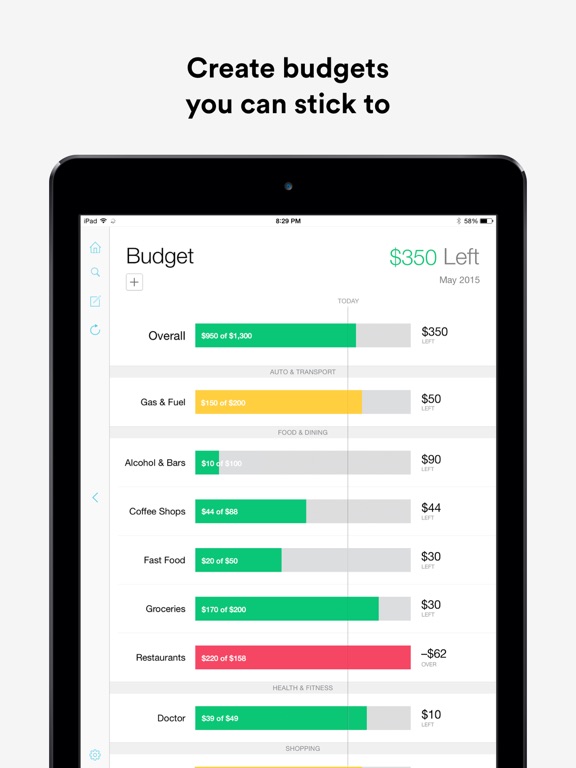 Customer Reviews
Needs Small Fixes - Otherwise a Great Product
I love nearly everything about this app. I love seeing all of my information displayed and the overall look and ease of the app. However, I wish they would fix some of the issues they have with the banks and credit unions. When I first connected with them I had no issues then it duplicated most of my accounts. Now I have a few credit union accounts that show all savings, checkings and loans twice. When I asked for assistance with customer service to resolve they advised me to delete the account then reload (but they were not promising this would fix the issue) or just "hide" the duplicate accounts so I do not see them and the app does not use the info. They also said if I deleted the account then I would lose all of my history it has collected. I opted to just hide my duplicate accounts since at that time I had several months of data I would lose and now I would have several years of data I would lose if I were to do it now. I am not satisfied by this and wish I did not have to have "hidden" accounts. Someday I hope they will have a fix where I do not lose all of my previous data the app has collected to get this fixed. It is frustrating but I can live with it if I must. Besides that I have no complaints. They constantly update and add new features which I love. I do refer the app to others.
This is the best app ever!
This is the only app I use for finances and it's all I need! This has helped me to be on top of budgets, account balances, bills and my credit score. This app would be great for anyone, even if you are starting out with you first savings account. It's easy and can only be opened with your thumbprint or passcode if you wish. It sends you alerts if you have high spending or if your account balance gets to low. On the budgets you can use their categories and subcategories or create your own. I have only found a way to create them on the website, not on the app but they may have updated since, not sure. Basically everything about this app is customizable as for as organization goes. You can rename your accounts and when transactions come through under a category that may not make sense, you can change the category to fit in with where it goes in your budget. You can even hide transactions from your budgets and trends (there are trends a graphs for everything)!! I use this If say... I bought something for a friend who was going to pay me back with cash, but I didn't want to take the cash back to the bank to balance the account. I could use this feature to just hide the transaction.
Lying sketchy company
I get so many emails from this app I hate it so much. I even have emails turned off in the app and they STILL send them to me. The worst part is these emails never tell me anything!!!! Just try to get me to use their app and sell me credit cards. Awful to the maximum. I get a low balance email and it won't even tell me the new balance. LOL this has to be a joke. Like I got an app to tell me to check my bank app. waste of my time and space. Worst part is there is no way to delete my account short of going through their customer service which I know will take forever. I want my account deleted along with my personal financial information! I do not want mint to keep bothering me while helping out absolutely none.

Their app barely even works. If you pay rent to a company, you can set it that the payments to that will count for rent. But if you pay rent to roommates or by check or by cash or by online or anything other than a specific charge to your account by the exact same person/company, it won't work. Waste of time. Awful budgeting app. It's so rigid. You have to use their method of budgeting. Absolutely no customization apart from where to put different modules which are fancy ways to display almost no information. But ads will always be on the front page.
View in iTunes
This app is designed for both iPhone and iPad
Offers Apple Watch App for iPhone
Free

Category:

Finance

Updated:

Jan 02, 2018

Version:

5.23.0

Size:

197 MB

Apple Watch:

Yes

Language:

English

Seller:

Mint.com
Compatibility: Requires iOS 10.0 or later. Compatible with iPhone, iPad, and iPod touch.