Mint: Personal Finance, Budget, Bills & Money
By Mint.com
Essentials
Open iTunes to buy and download apps.
Description
Mint is the free, effortless way to manage your money in one place.

Finally, there's one place to manage all your finances with ease. Mint is the free money manager and financial tracker app from the makers of TurboTax® that does it all. We bring together your bank accounts, credit cards, bills and investments so you know where you stand. See what you're spending, where you can save money, and stay on top of bill pay like never before. You can even keep track of your credit score and get tips to help improve it for free, no credit card required.

SEE EVERYTHING IN ONE PLACE
Get a more complete picture of your financial life. We bring together everything from account balances and spending to your free credit score, net worth and more.

MANAGE BILLS & MONEY TOGETHER
Track and pay bills right alongside your account balances. You'll know what's due, when it's due, and what you can pay.

SAVE TIME & MONEY
With one place to keep track of your finances, there's no need to log into multiple sites. Plus, we'll give you savings tips to help with budgeting and debt.

BUDGET BETTER
Effortlessly create budgets you can stick to. To help you save smarter from day one, we even make a few for you based on your spending.

GROW YOUR CREDIT SCORE
Get your free credit score, no credit card required. You'll learn how it's calculated and get tips to help you keep it healthy.

SAY GOODBYE TO LATE FEES
Get bill pay reminders so you pay bills on time. Schedule payments on the spot or for later, and say so long to missed payments and credit card fees.

STAY SECURE
We're serious about security and use measures like multi-factor authentication, designed to help you protect access to your account. Plus, Mint comes from the people who make TurboTax®, trusted by millions with sensitive data, and we participate in security scanning with VeriSign.

SYNCS WITH THE MINT WEB APP
Mint's great on the go, but you can also use the desktop version at Mint.com. Sync your bank accounts, credit cards, budgeting, spending and everything else across your devices. You can even export spreadsheets from the web, and more.

WHY DO MILLIONS TRUST MINT?
- Time Magazine: The 50 Best Apps of the Year (2016)
- PC Magazine: What to Do When You Go Over Budget in Mint.com (2016)
- Nerd Wallet: Financial Fitness - 7 Exercises to Build your Credit Muscle (2016)
- Huffington Post: 5 Things To Know After You Graduate (2016)
- Tech Times: Save Money in 2015: Here are the Best Money Management Apps (2015)
- Android Connections: Best Personal Finance Apps of 2015 for Android (2015)
- Kiplinger's: 10 Great Saving Money-Saving Apps (2014)
- Money Magazine: Best Finance Tool For Budgeting (2014)
- Wired: The Best Apps for Budgeting Your Cash (2014)

FROM INTUIT INC.
Mint is part of a suite of financial tools that includes TurboTax®, QuickBooks®, QuickBooks Self-Employed™ and ProConnect™. Wherever you are in life, whatever you do, Intuit can help you save money and simplify the business of life.

Mint bill payment services provided by Intuit Payments Inc. under applicable licenses Intuit Payments Inc., 2700 Coast Avenue, Mountain View, CA 94043
To learn how Intuit works to protect your privacy, please visit https://www.mint.com/privacy

When you download and use Mint, you agree to the Mint Terms of Service https://www.mint.com/terms

Message and data rates apply. Reminders subject to interruptions due to various reasons including but not limited to internet/mobile service outages. Account balances may not immediately reflect recent transactions. Internet/mobile data required for financial data refresh.

Mint currently connects to US and Canadian financial institutions only.
What's New in Version 5.1.1
- Tax Document Center: In late February, Mint can find and send tax docs to TurboTax, which can then automatically add them to your taxes. You can access the Tax Documents center from Settings.

IT'S OUR BIGGEST UPDATE EVER
You asked for it. You got it. Now you can pay bills in Mint too!

SEE BILLS AND MONEY IN ONE PLACE
You can see all your finances at a glance. You'll know what's due, when it's due, and what you can pay.

SAY GOODBYE TO LATE FEES
Get reminders so you pay on time. You can schedule payment for linked bills on the spot.

SAVE TIME
Forget logging in to multiple sites. You can track all your bills here!

PAY WITH 2 TAPS
Mint remembers your payment settings after the first time, so you just have to confirm.

FAST PAYMENTS
Get your payments there fast, often by the next business day.

As always with new features, we need your help working our any kinks. Please let us know what you love and what we can make even better at feedback-mobile@mint.com.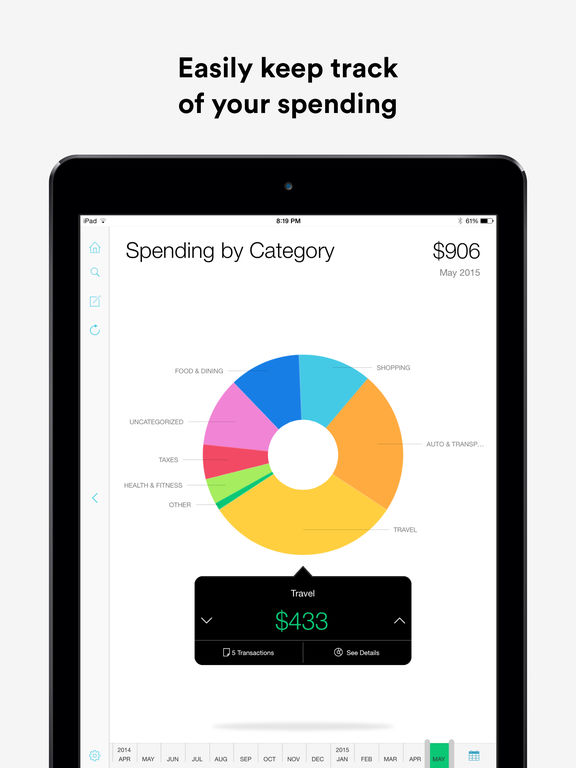 Customer Reviews
Amazingly 'Intuitive' Financial App
I was extremely wary of this app when I initially installed it because of the amount of personal information required to use it (it's a financial app, what exactly was I expecting? Haha!) After using it on my iPad for about three months, I realized I could also use it on my MacBook. Once I began using it on my MacBook, I realized the level of customization available to me - it's amazing! The app is extremely fluid, helpful, easy to use and a one stop shop for my finances. I love that I can pay my bills with it but also get statistical information regarding my finances in various ways/platforms. It's truly a marvelous app that I recommend to all my friends and family for their budgeting needs. I seriously cannot praise it enough! It will make life so much easier, especially if your in a place where your managing a lot of accounts.

The only thing that I've had problems with is for whatever reason, I'm unable to get my car loan to appear on the account. I can add it in as "property" but I can't link it to the financial institution that the loan is with so I can show it is a debt instead of an asset. I'm sure that if I called customer service this would be an easy fix, but I just haven't got around to it yet.

Overall though, extremely efficient application. Must have!
Almost Got It Right
I've been using the Mint Bills app (no longer listed in the US App Store for iPhone) for years to track my bills and bank accounts and it was a breeze. I downloaded this regular Mint app for budgeting which could not be done specifically in the Mint Bills app. I was thrilled when the Bills section was added to the bigger Mint app. HOWEVER, when refreshing my account for updates, it does NOT refresh them at all no matter how many times I do it. Also, unlike the old Mint Bills app, it does not allow you to refresh individual accounts. I've had Bills that have been paid for a week that this app won't update and show as paid no matter how many times I refresh my accounts whereas the old Mint Bills app updates as soon as the Biller/Bank show it in its records. So basically I still have to use the Old "Mint Bills" app to get a clear financial picture.
Also, the fact that the Navient & HSA Bank accounts are always having issues with this app is beyond frustrating. And for some reason it is still listing old paid off student loans from Navient that I can't even see on my Navient Main Account page.
There needs to be an update with the algorithm in this app. So that I can finally be able to use this app with confidence and not be bound to two separate Mint apps.
Life changing
I've been a committed Mint user for going on 5 years now and it's helped me save so much money. Mint provides the tools and data about my spending and savings to help me make informed, purposeful, decisions about how I want to live. A few years ago I started using the goals feature, which only works if you have a specific bank account dedicated to your goal. I wanted to start and emergency savings fund but didn't have a separate account for it. Mint recommended Ally bank, an online bank, and the rest is history! I was able to adjust my habits, and also start saving for a car, and started a travel account. Mint makes my life so much easier and my finances crystal clear.
There are a few kinks that are odd (like the hide button not working when selected on any particular bill) but overall functionality is great, charts and tools are wonderful, and usefulness is fantastic.

---Highly recommend!!---
View in iTunes
This app is designed for both iPhone and iPad
Offers Apple Watch App for iPhone
Free

Category:

Finance

Updated:

Jan 06, 2017

Version:

5.1.1

Size:

123 MB

Apple Watch:

Yes

Language:

English

Seller:

Mint.com
Compatibility: Requires iOS 8.0 or later. Compatible with iPhone, iPad, and iPod touch.