みっちりねこ だっしゅ!
By Yamaha Music Entertainment Holdings, Inc.
This app is only available on the App Store for iOS devices.
Description
[注意! iOS9にアップデートすると正常に起動しない現象が発生しております。]
【にゃんと!120万DL突破だにゃー!!】
動画再生回数290万回!アプリ280万ダウンロード
を超える大ヒット!の「みっちりねこ」の今度の
舞台はランゲーム!
かわいい「みっちりねこ」達が走って!飛んで!
食べられちゃう!?
タップ操作だけで遊べちゃう新感覚お手軽
ランゲーム!

■「みっちりねこ」って何・・・?
放っておくとなぜかみっちりと集まり続ける、
不思議なねこっぽい生き物。
そんな個性豊かな大勢のみっちりねこ達が走って、
飛んでの大活躍!

■遊び方
操作は簡単!
画面をタップして指を左右に動かすだけで、
みっちりねこが左右に動くよ!
指を画面から離すとみっちりねこが
必死にジャンプ!
障害物を避けて商店街をどこまで走れるかを競う
ゲーム!

■前代未聞の21匹ラン!?
落ちている「みっちり箱」を拾うとみっちりねこ
達がみちみちぎゅうぎゅう集まって来るよ。
その数、なんと最大21匹!
21匹でぎゅうぎゅうになりながら走る様は
猫好き必見…かも?

■ゲームのポイント
・「魚屋」が現れたらみっちりねこ達がまぐろを
 求めて一斉襲撃。
 一気に高得点を稼ぐチャンス!
 集めれば集めるほど高得点が狙えるよ!
・コレクションアイテムも充実!
 「にゃんこれカード」を集めて、
 気になるみっちりねこ達の生態を知ろう!
・操作可能なキャラクターは全部で50キャラ!
 本ゲーム描きおろしのキャラクターも!!
What's New in Version 1.0.1
<追加仕様>
季節限定カードを追加しました。

<不具合修正>
スーパーまたたびフィーバーの演出が終了しない不具合を修正しました。
iPhone Screenshots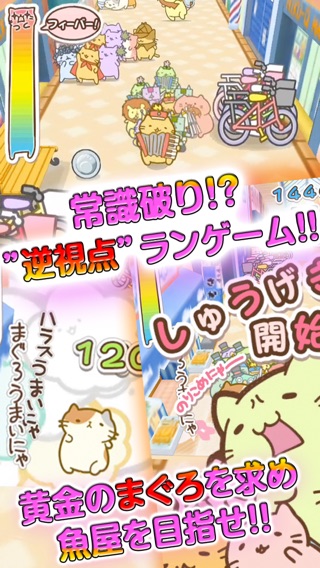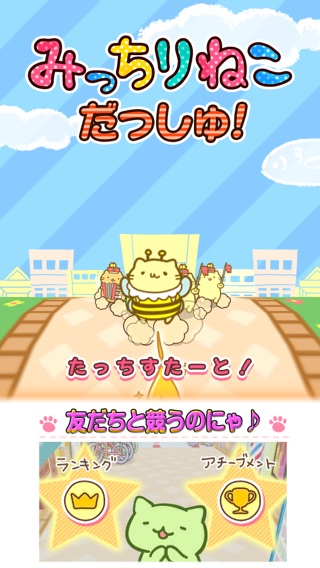 Customer Reviews
YOU NERD TO READ THIS IMPORTANT INFORMATION
I have a cat game called Neko Astume and I fell in love with it. So I went back to to the App Store to find myself another cat game and u stumbled across this one, I thought it was cute, so I downloaded it. The whole thing was in Japanese, witch I expected (must admit that it makes the game very difficult) because it wasn't in English it was hard to comprehend half the time I had no idea what I was doing. I explored the game looked at everything before I started it. After looking at everything I was still confused but, I decided to start the game anyways so I hit the pink cat button that I believed to be the start button, a screen popped up ( what I believe to be a loading screen to start the game ) and next thing I knew I was back at my home screen confused I tried it again and again and again and each time it brought me back to my home screen. After at least 30 tries it finally brought me to the game. The game was fun and I really enjoyed it but it was almost impossible to get to, even now it still takes a thousand tries just to play the game
I LOVE THIS GAME! But there's a huge problem!
Ok i love the matching lil cats so friggin much, I watched the video on repeat for like a year. So I was so excited when I found this game!!! But, the background music doesn't work at all and it's really disappointed me. The gameplay is great but I feel like I can't enjoy it fully without the music. I have an iPhone 7 and I'd really appreciate an update that would fix this issue :c I want to love it so much! Please help me out, thanks!!
(((o(*゚▽゚*)o)))
I've been looking for new ways to practice reading Japanese and I decided to search for some good apps. At first I thought this game would be like every other dash game out there, but I got hooked and omg I love it so much. It's so cute and addictive and I love it so much. 10/10
View in iTunes
Free

Category:

Games

Updated:

Dec 02, 2013

Version:

1.0.1

Size:

160 MB

Language:

Japanese

Seller:

Yamaha Music Entertainment Holdings, Inc.
Compatibility: Requires iOS 6.0 or later. Compatible with iPhone, iPad, and iPod touch.
Top In-App Purchases
ちょっぴりにゃんこばんパック$0.99
ほんのりにゃんこばんパック$2.99
しっかりにゃんこばんパック$4.99
ほんのりにゃんこいんパック$2.99
たんまりにゃんこばんパック$9.99
しっかりにゃんこいんパック$4.99
みっちりにゃんこばんパック$14.99
ちょっぴりにゃんこいんパック$0.99
More iPhone Apps by Yamaha Music Entertainment Holdings, Inc.