Modern Combat 5: Blackout
By Gameloft
Editors' Choice
Open iTunes to buy and download apps.
Description
Proud to be "App Store's Best of 2014" in 28 countries!

*IMPORTANT* Modern Combat 5 requires an iPad 2 (or newer), iPhone 4s (or newer), or iPod touch 5th Generation. An Internet connection is required to play.

> "It plays as good as it looks." – IGN
> "Amps everything up to the next level." – 148Apps
> "Sharp controls, impressive graphics." – Pocket Gamer

Step into the action as the latest installment in the best FPS series raises the bar for shooters once more! Create a squad, add your friends and test your individual and team skills against other squads!

Is single player your thing? Then step into a world on the brink of anarchy and shoot your way out of one dire situation after another to expose a lunatic who's trying to tear the world to shreds.

We have welcomed Apple's bold move into wearable technology, and we are now bringing you a dedicated companion app for the Apple Watch. Change your class selection and loadout straight from your wrist and your new choices will be waiting for you in-game!
You'll also be able to receive important notifications and to sign up for events. Enjoy!

CHOOSE YOUR FAVORITE CLASS
> 5 customizable classes that you can level up across single- and multiplayer
> Find the play style the suits you: Assault, Heavy, Recon, Sniper or Support
> Activate class-specific skills by earning and spending Skill Points

HIGH-POWERED MULTIPLAYER
> Epic team clashes in Squad vs. Squad matches
> Talk to other players in Global and Squad Chat
> Individual and Squad leaderboards
> Win cool rewards in the limited-time events

UNIFIED PROGRESSION
> Accumulate XP and level up by playing both single-player missions and multiplayer matches
> Unlock higher-tier weapons by mastering lower-tier ones
> Customize the perfect weapon using a host of attachments

INTENSE SOLO CAMPAIGN
> Fast-paced story missions with various challenges taking you from Tokyo to Venice
> Play the new Spec-Ops missions for a real adrenaline rush
> Flawless graphics, music and voice performances with seamlessly integrated cutscenes

HIGHLY CUSTOMIZABLE CONTROLS
> Intuitive, highly customizable controls so you can play just the way you want

_____________________________________________

Visit our official site at http://www.gameloft.com
Follow us on Twitter at http://glft.co/GameloftonTwitter or like us on Facebook at http://facebook.com/Gameloft to get more info about all our upcoming titles.
Check out our videos and game trailers on http://www.youtube.com/Gameloft
Discover our blog at http://glft.co/Gameloft_Official_Blog for the inside scoop on everything Gameloft.
_____________________________________________
This app allows you to purchase virtual items within the app and may contain third party advertisements that may redirect you to a third party site.


Privacy Policy : http://www.gameloft.com/privacy-notice/
Terms of Use : http://www.gameloft.com/conditions/
End User License Agreement : http://www.gameloft.com/eula/
What's New in Version 1.3.0
Let's celebrate summer with some deadly new gear in your #1 mobile first-person shooter!

MORE WEAPONS, MORE FUN
• A new weapon tier for each class has arrived.
• Get familiar with the 7 new legacy weapons, each a remodeled version of a military classic.

DOMINATE IN STYLE
• Weapon Trinkets have now been added to the Battle Packs! Tie them to your weapon to mark your presence on the battlefield.
• The collection of epic Masks is getting a whole lot bigger. Wonder how a paper bag or firefighter helmet can be useful? Check their stats in-game!
• Camo doesn't make for a better weapon, but it sure makes a gun look awesome. You'll have 4 new ones to make yourself unique.
• You wanted more killsigns, and we were happy to oblige!

All this new content will be progressively unlocked over the near future, so be sure to follow our announcements to see what's coming. Happy fragging!
Apple Watch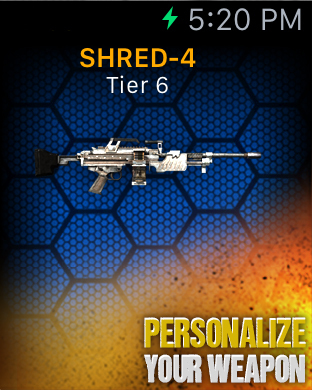 Customer Reviews
LGR'S. LGR'S EVERYWHERE
Look, gameloft, I really love this game. It's really cool. I like it until I join a multiplayer battle. Then everyone on the opposite team whips up their LGR and hogs mines all over the place. It hasn't even been 1 minute into the battle when they are beating us 10 to none. All they have to do is wait for our little avatars to show up on their screen, touch the shoot button and BAM. We're gone. Just like that. No skill or accuracy required with that gun to kill someone. Not only does this frustrate everyone, it makes us hate the game. Please ban the rocket launchers and the grenade launchers, they are totally unfair and obsolete. Next. Please improve the pairing system for the squads. Do you really think by pairing up a rank 1700 squad with a 1000 rank squad you are going to get fair results? Please pair up squads with the same or similar ranking. This will solve a lot of unfair conflicts. And finally, I STRONGLY ENCOURAGE YOU to integrate a "mute player" option when private chatting with another player. I've had a lot of players harassing and bothering me and I felt helpless knowing that there was no way to block their messages. Please fix this. Thanks. Oh and one more thing, when I level up it doesn't refill my energy. A slight bug you might say, but I rely on this a lot to let me keep on playing. Which brings me back to this: why don't you give us the option of paying 7 dollars (the original price for this game) so the energy bar can POOF be gone?
Amazing, but a couple things I'd like added
I've got some ideas for a new update to, First off, I'm a veteran user, and I think if you made energy free so many more people would play it, also they would get more playing time and they would want more guns so, they would pay more money for veteran coins. I feel like this game would be way better if that was fixed, I'd like to see this game get as big as clash of clans, that would be sick. This is literally the best FPS game you can get on IOS... I think everything is well thought out, I just think you should add one more class called commando where he has a whole genre of pistols and different knives and abilities, or maybe classic class with guns from WWII or Vietnam... Maybe create a mode called save the hostage where the bad guys protect a AI for a certain amount of time and the other team needs to rescue it by shooting it or something. Also make the squads more interactive make it easier to manage, also make it available to edit our guys. ALSO TAKE OUT THE LGR!!! It's to OP and it ruins multiplayer. This game is worth it, download it.
With the latest update they fixed a lot of my complaints. I just think voice chat would be cool and a little more online backup because I hear slot of people talking about disconnection
It's an okay game, but needs a lot of improvements.
It had good graphics, and I like how there's a level system and all, but when you level up a certain amount I feel that we should get a supply box, and if it's not possible for a level up, then I'd say put it randomly for just doing so many matches. One of the horrible points that I need to point out is something a lot of people complain about, the energy bar. This game has "power users" and it's hard to keep for a while because not everyone has very good skills to get the credits in order to get it. It's not easy at all to earn credits. Yeah we can get free credits, but we can only get about 4 every 13 or more hours, or at least that's how it is for me. Another thing, this game has events just about always, but some events are only for "power users" or "veterans" and that's very bothersome. I honestly hate the fact that you can only get tons of credits Without paying through events. I know it's supposed to be something where you need to earn it, but when they're in events you have to get in about the first to tenth rank in order to get tons of credits, and when you earn credits through completing markers of the event you really only get 5 or 10 credits for the ones that show. I would like to see change in this.
View In iTunes
This app is designed for both iPhone and iPad
Offers Apple Watch App for iPhone
Free

Category:

Games

Updated:

Jun 10, 2015

Version:

1.3.0

Size:

790 MB

Apple Watch:

Yes

Languages:

English, Arabic, French, German, Indonesian, Italian, Japanese, Korean, Portuguese, Russian, Simplified Chinese, Spanish, Thai, Traditional Chinese, Turkish

Seller:

Gameloft
Compatibility: Requires iOS 7.0 or later. Compatible with iPhone, iPad, and iPod touch. This app is optimized for iPhone 5, iPhone 6, and iPhone 6 Plus.
Top In-App Purchases
Captain's Pay$4.99
Colonel's Savings$9.99
General's Cut$19.99
Honorable Captain's Pay$2.99
Mercenary Bundle$0.99
Welcome Bundle$1.99
Top-notch General's Cut$9.99
Enlisted Credits$1.99
Admirable Colonel's Savings$4.99
Commander's Stash$49.99