Moment – Screen Time Tracker
By Kevin Holesh
This app is only available on the App Store for iOS devices.
Description
Track how much you and your family use your phone and tablet each day, automatically
• See what apps you use the most too! Moment is the first and only app on the App Store to do this.
• Set daily limits on yourself and find a balance for the screens in your life.


Moment Family
• Monitor all of your family member's screen time too.
- Look at your entire family's day from the comfort of your own device.
• Start screen-free family dinner time, which means for the next 60 minutes, every time a person in your family picks up their phone or tablet, an annoying alert will go off and everyone will hear it. How embarrassing!
- You can decide how long each family dinner time will last.
- Everyone in your family can start family dinner time, including your children.
- Schedule it for the same time every day.
• Change a family member's daily limit and force them to put down their phone when they're over that limit.


The Highlights
• Tracks how much you use your phone or tablet automatically.
• Keeps track of what apps you use the most almost automatically (iPhone only).
• Trains you with the Coach to use your phone less, if that's your goal.
• Logs how many times you pick up your phone each day.
• Force yourself off your device when you're over your limit, and force your family members to do the same.
• Break down each day to see when you're on your device and what apps you're using.
• Tracks where you go each day, and have it plotted on a map.
• Invisible app. Once you set it up and as long as the app is running in the background, you never have to open it again.
• Choose from 6 relaxing reminder sounds and 6 intense sounds for your daily limit reminders.


Apple Watch
• Quickly see how long you and your family have used your phone today.
- You'll see a colorful icon for each one of your family members on your glance. Green means well under their daily limit, yellow means getting close, and red screams they went overboard.
• No, the app doesn't track how long you spend looking at your watch.



Warning to parents: Moment is not strictly about parental control. Using Moment Family as a parent gives you certain powers, but your children have power too.
• If your daughter notices you on your phone while you're supposed to be watching a family movie together, she can start family dinner time for the entire family until the movie is over. That means no one can pick up their phone, and you as the parent can't turn that family dinner time off.
• Your entire family can see everyone else's screen time for the day from the family scoreboard. You can see if your son is over his limit for the day, and he can see if you are over yours!


Continued use of GPS running in the background can dramatically decrease battery life. Moment has been designed to use GPS sparingly.
What's New in Version 3.4.2
Fixes a crash on iOS 11. Sorry about that!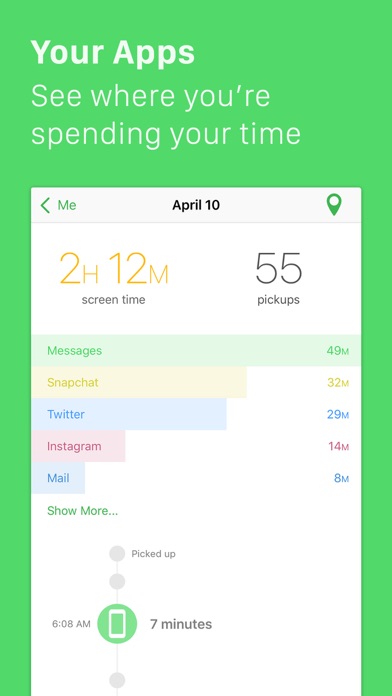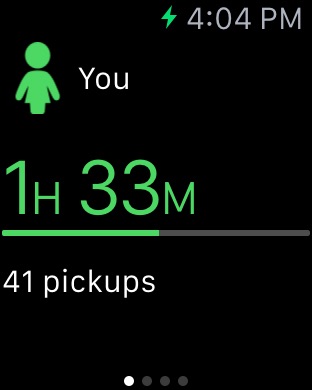 Customer Reviews
Great Idea
This app is a great idea and I would love if it worked. This first week or so I used the app, it would track my usage well, but then it started to lose my trust. The amount of time I spent on my phone started to grow a ton even though I felt like I was using my phone the same amount. I checked the usage (or whatever it's called) tab in the app and the numbers the time it said I was using it throughout the day didn't add up. For instance I would do the math based on what it said my pickups and usage time was and it would come out to more than an hour under what the overall total was. In my mind, I was like this makes sense they're trying to sell a product that makes you decrease your phone usage, or at least makes you feel like you are decreasing your phone usage, so it makes sense to inflate the numbers to then just show the actual numbers once people buy the premium product or whatever it's called. Now, I didn't wanna just leave it at that, I wanted to be thorough, so I tracked my phone usage myself and compared it to the app's purported usage and my hypothesis was correct and the app inflated your usage. Its too bad the developers have chosen to inflate the numbers, I think this is a great idea with great potential to actually help people use their phones less and connect with people around them more, but it's part of a business model and has to make a profit so I understand why they have made the choices they have.
Life Changing
Moment has dramatically improved the quality of my life. I found myself frustrated with my phone usage and one day I googled "How to use your phone less" and Moment was the first thing to come up and I remember on the first day of the 14 day bootcamp when it asked me not to use my phone for 30 minutes, it was so much harder than I had anticipated. Over time, it got easier and easier. By the cold turkey day at the end of the course I was so proud to say that I had used my phone for less than 2 minutes that day. During the course there was a day that I was at a doctors office in the waiting room and I noticed after about 15 minutes of waiting, I hadn't touched my phone once. I had just been observing my surroundings and lost in thought. It made me so happy! I use my phone to communicate, and to keep notes and use basic resources, but I don't waste my time. My life is so much more organized, I am so much happier, I sleep better, I read more, I take better care of myself, and most of all I am present in my day-to-day life.

If you're looking for a catalyst to a better, happier, more productive life, moment is the place to start.
Okay concept- if it worked
Unfortunately this app does not do what it says it will do. The first week or so it worked somewhat. But after I bought premium it started inaccurately tracking time spent on the phone. I was on my phone at midnight and by 12:30 it said I had already been on my phone an hour and a half that day, when there had only been 30 minutes in the day! This is a trend I am noticing. It monitors time incorrectly. It also is very finicky when it comes to tracking app usage. For instance, you can take the battery screenshot like it says each week, but I have only had it actually translate the screenshot correctly into actual usage one time. Ever since then it has said the report is ready, but it was blank, it does not actually work. And even if it did work, it is basically just taking the information your phone already tracks and putting it in a different format. Not worth it.

This would be a great app if it worked and didn't give you false data and was able to do what it says.

I would not recommend downloading this app or upgrading, it really isn't worth it for the false information you get.
View in iTunes
This app is designed for both iPhone and iPad
Offers Apple Watch App for iPhone
Free

Category:

Health & Fitness

Updated:

Sep 23, 2017

Version:

3.4.2

Size:

97.0 MB

Apple Watch:

Yes

Language:

English

Seller:

Kevin Holesh
Compatibility: Requires iOS 10.0 or later. Compatible with iPhone, iPad, and iPod touch.
Top In-App Purchases
Moment Premium$3.99
3 Months of Moment Family$14.99
12 Months of Moment Family$44.99
Optional Coach Support$9.99
6 Months of Moment Family$26.99