MONOPOLY for iPad
By Electronic Arts
This app is only available on the App Store for iOS devices.
Description
Read on for important info below!

**YOU VOTED & THE CAT'S OUT OF THE BAG** Thanks to the votes from YOU and thousands of loyal MONOPOLY Facebook fans from 185 different countries, the CAT mover is now available to play within this latest update as well as in the classic board game version of MONOPOLY! From Mediterranean and Baltic to Boardwalk and beyond, enjoy a wealth of ways to play with friends – or friendly computer opponents!

EXCLUSIVE iPAD FEATURES INCLUDE…
• Tabletop Mode – Gather friends and family around the iPad and use customizable Game Rules in the game's signature mode
• Teacher Mode – Play against the computer and get tips and tricks to help you strategize in future games
• Enhanced HD-quality graphics – iPad delivers a visually rich experience with striking animated elements – It's just a lot of fun!

GET "GOING" IN MULTIPLE MODES OF MONOPOLY PLAY
Jump right into a game with up to 3 other players in Play Now mode. Or take your on chances against in-game computer opponents featuring 4 levels of difficulty. Also connect multiple devices to play with up to 3 other players via local WiFi or Head-to-Head via Bluetooth!

Requires acceptance of EA's Privacy & Cookie Policy and User Agreement.
User Agreement: terms.ea.com
Visit https://help.ea.com/ for assistance or inquiries.EA may retire online features and services after 30 days' notice posted on www.ea.com/1/service-updates.Important Consumer Information.This app: Contains direct links to the Internet; Collects data through third party analytics technology (see Privacy & Cookie Policy for details).

By installing this game, you consent to its installation and the installation of any game updates or upgrades released through your platform. You can turn off automatic updates through your device settings, but if you do not update your app, you may experience reduced functionality.

Some updates and upgrades may change the way we record usage data and metrics, or change data stored on your device. Any changes will always be consistent with EA's Privacy and Cookie Policy, available at privacy.ea.com. You can withdraw your consent at any time by removing or disabling this app, visiting help.ea.com for assistance, or by contacting us at ATTN: Privacy / Mobile Consent Withdrawal, Electronic Arts Inc., 209 Redwood Shores Pkwy, Redwood City, CA, USA.
What's New in Version 1.1.93
Hey MONOPOLY fans! We've made some behind-the-scenes updates to the game. Thanks for playing.
iPad Screenshots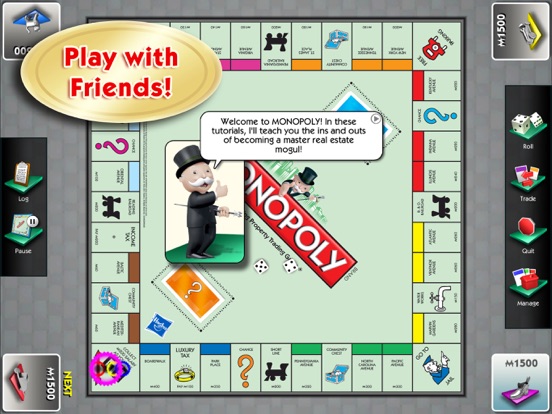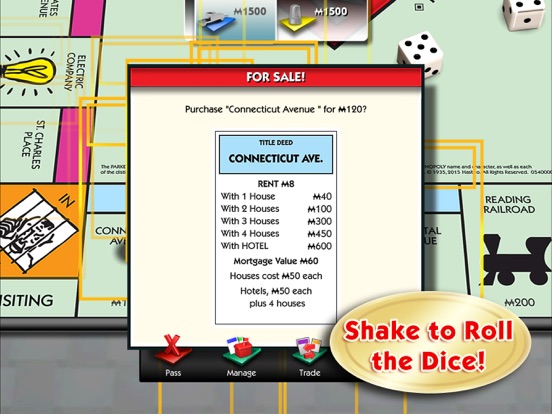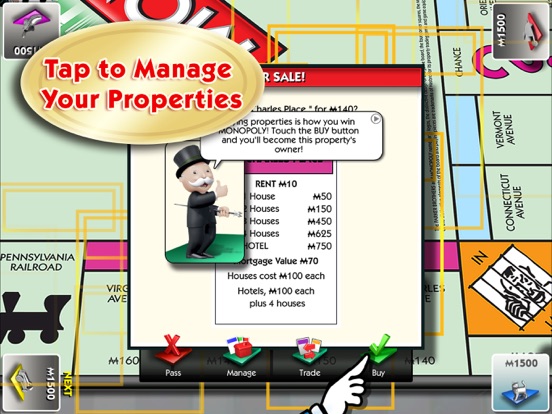 Customer Reviews
If it can keep my stats from game to game why can't it keep my house rules?
Who cares what your stats are? I started a game, deep into it and landed on Free Parking. First player to do that in this current game. I expected to get money so i could build houses. No money. I Checked the House Rules and realized I hadn't changed the House Rules so NO Free Parking money in this game. My choices for this game are now either to continue THIS game so there is NO money, landing in GO is NOT double and there IS a house limit or abandon the game, THEN change the house rules and then start ALL OVER AGAIN. The programming on this game definitely needs some work to have it reflect more of what seems to be a real game. For instance in the current game that I just abandoned the AI had $2200 and I had $26. Big deal, it happens depending on what property you buy, or how many times you land on safe squares. But for this current game I was landing on the luxury tax and the income tax every time I went around the square. I am not exaggerating. The AI landed on those a of couple times but then it would land on free parking and collect its money AND my money. The AI also landed on the Go Square so it got even more money there. And got both of the Advance to Go cards. I abandon a lot of games when I see them heavily favor the AI. Fix this already.
Great time passer
Finally works with my iPad Pro. Yes, this game cheats as that is the way the game calibrates the difficulty levels. So if it's an easy setting it actually helps you cheat. But on the difficult level it cheats against you. So here's how you win this game. Remember it's not how much money you make it's whoever runs out of money loses. So you want to make the opponent run out of money. Let it buy the expensive properties. In order to buy all of the properties it lands on it will have to mortgage the ones that it already has and you won't have to pay rent when you land on those spaces. In the meantime you buy the cheap properties and you trade to get a MONOPOLY in those. If you land on an expensive property hit the pass button and let it negotiate its way up and pay for the property. It's also cheaper to put houses on cheap properties. Also the railroads are a great way to win. The computer apparently does not know how to cheat with railroads as it doesn't seem recognize them to skip over them. Keep money in reserve because sooner or later if you're winning it is going to hit you with the pay taxes on all of your houses card. Good luck.
The game cheats
It's funny how I try and write a review that it won't let me post it, it keeps telling me that someone else has the same nick name so I'll try for the 3rd time with ridiculous made up names that I don't think anyone has, because my regular ones didn't work, but this game cheats badly with the dice, I've played this game many many times now for a few months and I've come to the conclusion that it cheats, it's funny that Al constantly missed my properties with homes and I land on his regularly, it seems like he passes my properties on an average of 10 times before landing but I average maybe 2 times before I land on his,, the constant landing on taxes at the worst times and cards that make me payout a lot at specific times (which happens a lot!) all I want is this to be fair, I've made counting charts on all the landings, I would like to roll the dice manually myself and punch the number in, than if I lose then I know it would be fair, I don't know if this is the worst $5 I've spent or the best because I really like to play this game.
View in iTunes
$4.99

Category:

Games

Updated:

Nov 09, 2016

Version:

1.1.93

Size:

980 MB

Languages:

English, French, German, Italian, Japanese, Korean, Simplified Chinese, Spanish

Seller:

Electronic Arts Inc.
Compatibility: Requires iOS 8.0 or later. Compatible with iPad.