MONOPOLY
By Electronic Arts
Open the Mac App Store to buy and download apps.
Description
"GO" with the best MONOPOLY yet! From Mediterranean and Baltic to Boardwalk and beyond, enjoy a wealth of ways to play.

GET "GOING" IN MULTIPLE MODES OF MONOPOLY PLAY
Jump right into a game with up to 3 other players in Play Now mode. Or take your chances against the computer opponents in 4 levels of difficulty.

EARN A COMPETITIVE EDGE IN TEACHER MODE
Play a single-player game against a quirky computer competitor. Get helpful hints and tips that pop up throughout the game. Improve your gameplay and discover new strategies. Even experienced players could learn a thing or two!

CHOOSE YOUR OWN GAME RULES
A variety of new Game Rules are available to give you more gameplay depth and style. Allow one-time use of "sleight of hand" tactics like loaded dice and property grabs to make games even more exciting.

Watch MONOPOLY come to life on your Mac with sensational graphic quality, whimsical music and realistic sound effects.


Requires acceptance of EA's Privacy & Cookie Policy and User Agreement.
What's New in Version 1.0.1
"GO" BIGGER! Update now and Own-It-All in FULL-SCREEN mode.

We've listened to your feedback and added a FULL-SCREEN BUTTON to make your MONOPOLY board even bigger!

We hope you enjoy this update! Now, you can a bank on the richest experience yet on your Mac!

Screenshots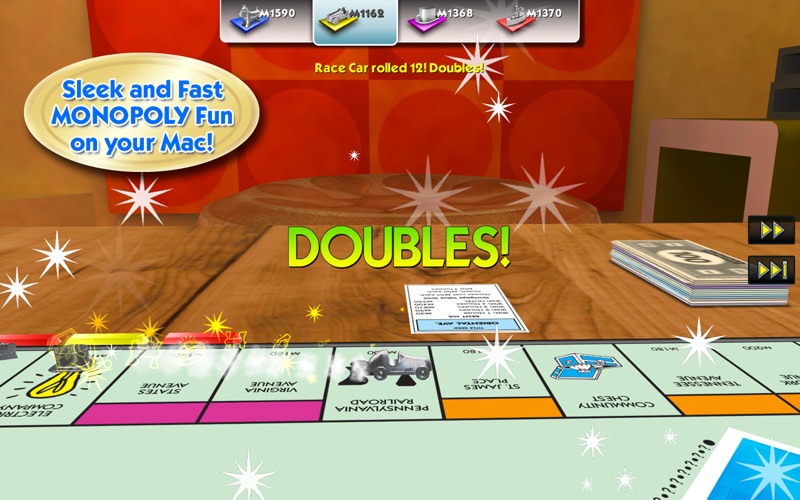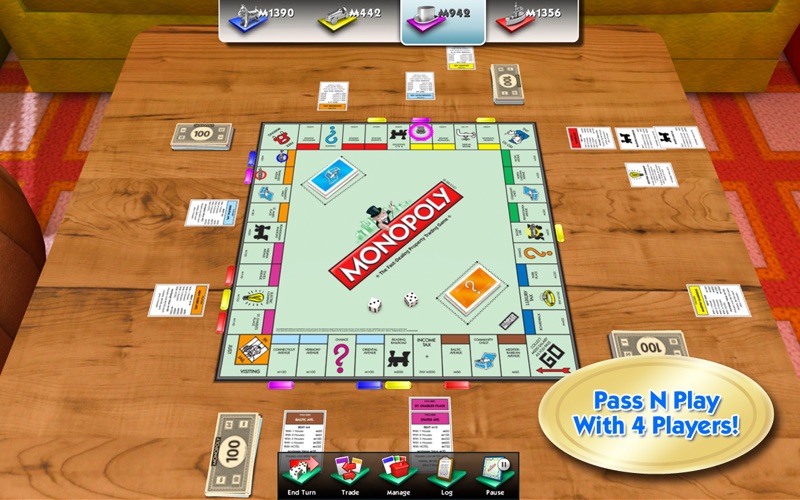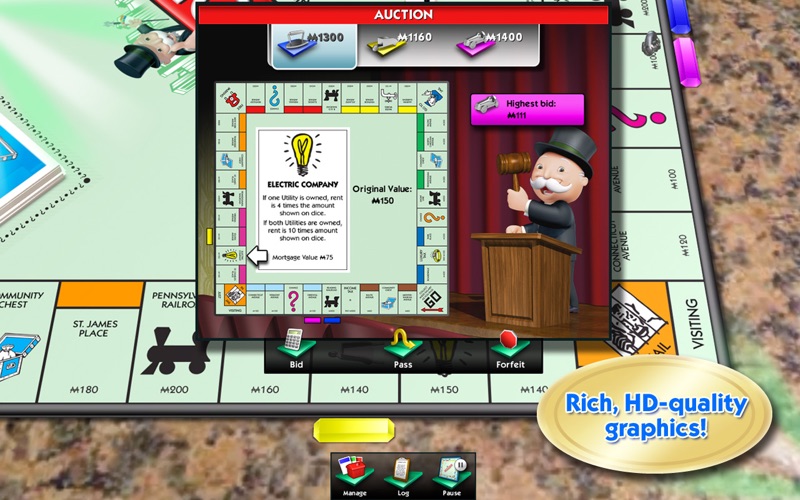 Customer Reviews
Nice Application
I enjoy this application. It is worth the money. The slowness of Monopoly was due to figuring out who owned a property, how much rent was etc. This game greatly speeds all of that up. It is a big improvement over a physical board. A few suggestions for improvements as of Jan 20, 2013 would include: 1. Be able to set the speed of play; sometimes AI notifications happen so fast it is hard to keep up. 2. The Chance and Community chest cards appear to reshuffle i.e. the get out of jail free card seems to come up as soon as it is back in the deck. Normally cards are not reshuffled until all cards have run through. 3. Placing audio controls in a more obvious location such as the menu bar. 4. Being able to set new house rules as default for future games. 5. If you initiate a trade where you give something up and not get anything the system could alter you one additional time to ensure that this is what you actually intended. 6. Players in jail should reside on the orange square to differentiate people who are just visiting; pieces just visiting should reside on the just visiting portion of the tile. 7. The ability to permanently hide (disable) the trade notification instruction about drag or click.
Great game, but sorely missing online multiplayer
Look, the reason you'd probably be playing this game is because you want to play Monopoly and have no one else in your immediate vicinity to play with. After all, a physical Monopoly set goes for about the same price as this game, and if you have a bunch if people wanting to play Monopoly, you'll have way more fun playing on a real game board than huddling around a computer. So it baffles me that there is no online multiplayer in this version--there really should be online "friend" matches and matchmaking with random players. Playing against the computer is fine, but they're sometimes kind of dumb even on the hardest difficulties and they lack the fun of playing against a real person.

Overall though, other than having no online multiplayer, the experience is solid. It's very colorful and captures the look and feel of the newer Monopoly boards very faithfully. The game moves along at a good pace, and the animations are fun without making moves take forever. I do wish there were a few more keyboard shortcuts for some of the buttons though.

Overall, it's definitely a great video game version of Monopoly--probably the best there has ever been, but the lack of online play is a huge oversight.
Good game! Couple things though.
I love Monopoly and I do think this application is really fun overall. So you should definitely buy it just because of that. I think it is definitely worth the $10.

Just a couple things I would say about it though. (1) There are a few software bugs that happen every so often that need to be worked out (missing pieces in the graphics here and there, and the exclamation box just sits in front of everything else when you go to manage your property, which is very annoying). There may be other little glitches, I am just not able to think of them at the moment. (2) Online Multiplayer! Please add this feature! How fun would it be to play our friends that we personally know. Getting together with 3 or 4 other people in the same place for hours on end can't happen often. I could see this game as providing a platform to play together with people that you know and still enjoy the fun of Monopoly just as if we were sitting around a table together. That's it from me! Thanks!
View in Mac App Store
$9.99

Category:

Games

Updated:

Mar 07, 2012

Version:

1.0.1

Size:

107 MB

Languages:

English, Chinese, French, German, Italian, Japanese, Korean, Spanish

Seller:

Electronic Arts Inc.
Compatibility: OS X 10.6 or later