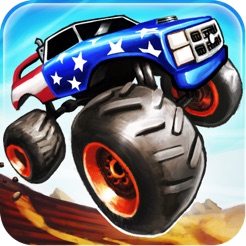 Description
◆◆◆◆◆ OVER 3.8 MILLION DOWNLOADS and over 100 million gameplays since launch!! (see below) Huge thanks to everyone!
NEW UPDATE #2: Now even more races!

Race, jump and nitroboost your way pass thrilling dynamic levels with your monster trucks. Earn medals and unlock new levels and vehicles!

Latest update adds a new type of driving experience with special USA Stars & Stripes Monster Truck! The update also includes new developments to the highly-appraised physics and graphics of the game, taking the game-play and feel of controlling the huge monster trucks even further.
___________________

Reviews:

"What do you get when you combine nitro, great graphics and flawless frame rate? Recently updated Monster Trucks Nitro comes with really souped up graphics and performs with silky smooth frame rates. The game does what it promises. Find your trucks situated in a desert full of walls, piled up buses, gas drums and of course, nitro boosts. The design of MTN is superb. The graphics are well rendered in full 3D. Overall, it was wonderfully executed and polished"
-TheAppEra.com

"This is a game for all the truck and speed lovers. There will be not a single moment, when you may feel bored. This game is a must have in your iPhones, grab your copy today and start playing!"
- iPhoneApps.org

"What's truly awesome about this app are the physics involved in the motion."
- Phoxware.com

"Monster Truck Nitro is an exciting game with hours of replay value. Whether you are a truck fanatic, or are just looking for some fun, this game is for you."
- AppChatter.com

"Monster Trucks Nitro impressed us with its graphics ,gameplay and overall fun of playing. Fun ,relaxing uncomplicated game play"
- GameDroid.net

"You'll love the incredible reaction between the trucks and the track obstacles. RedLynx has developed beautiful settings to race in."
- AppSmile.com

"The 3D graphics for this game are stunning."
- PocketMobile.org

"Monster Trucks Nitro by RedLynx will get your heart racing."
- CrazyMikesApps.com
___________________

About the game:

Monster Trucks Nitro on iPhone continues the storm started by Monster Trucks Nitro for PC & Mac. On PC & Mac the game has been a huge success, claiming #1 spot in number of casual channels, and rising to #4 position in all Apple Mac downloads. Now the great playability of PC & MAC Monster Trucks Nitro is available also for iPhone!

Features:

- Real Monster Trucks physics with iPhone!
- Unique Bubble Level rotation control
- Includes multiple camera modes including Holographic Pro camera mode
- Stars & Stripes monster Truck with huge wheels and responsive suspension
- Extremely powerful RedLynx Monster Truck and Miniclip monster Trucks
- Extra achievement Trucks Schoolbus Monster Truck and Formula Monster Truck
- 16 thrilling tracks with medal achievements, including among others the famous ones like The Loop, The Gap and The Nitromus oximus
- Top hiscores lists for each track
- Gesture camera controls


'Gameplays' from the headline was calculated from both iPhone, iPod and Flash versions.


RedLynx is an award-winning game developer for multiple gaming platforms, based in Helsinki, Finland. RedLynx's best known games are Pathway to Glory (selected of Best Mobile Game of 2005 by Mobile Entertainment Forum), Reset Generation (among others, Pocketgamer 2008, 10/10 points), legendary RedLynx Trials-series with over 20 million unique players so far (web and PC, e.g. Acegamez 10/10), and as the latest success case, Monster Trucks Nitro.
- iOS5 support
- News display
- New engine version
- Faster frame rate
Ratings and Reviews
MONSTER TRUCKS NITRO ROCKS!!!
The game:
No doubt about it this game rules! There are levels coming soon ,but as of now there are exactly 16 different epic levels to chose from. Once you pass the first page of levels, the second page is even BETTER!

The vehicles: OK, so there are exactly 5 vehicles. You start with 3, and the other 2 are unlockables. The names of the ones that you start with are: The red Nixon ,the miniclip theme truck, and the American theme truck. I don't wanna ruin the surprise, so you will find out what the unlockables are (that is if you buy it)! I will tell you they are awesome and I already unlocked both.

Graphics: The graphics are ok but they deserve a 3 star rating. There aren't as many explosions as you would expect, but there are still some.(another reason I like the second page it has more explosions)

Trust me, you will not regret buying this game for such a cheap price!(which is $.99 and I think is quite a steal)
Lovin' it!
This is a great game. Pretty easy at first, they help you out a bit in the first few levels, then they leave you on your own. Physics are spot on. It really makes you think about it, you have to utilize the pieces they give you to make it come together. There are 4 sections, with 16 levels per section. This game really exorcises your brain, which is good for older people to combat Alzheimer's. I definitely recommend this game, and it's only a buck. It will last you a while too, you're not just gonna blow through this game Nice job, guys!
Not that great.
I thought it was a fun game, but it has only 16 levels. They really need to add more soon. Also the controlling of the vehicle was annoying. In order to preform a flip you have to flip the device completely around which means letting go of the accelerater. So if you need to do a loopty-loop, you have to turn on cruise control in order to keep the vehicle moving, which makes it a lot less fun because it removes the feeling of actually driving. If I had known all of this I wouldn't have bought the game. Even though it was only $1.00, I thought it wasn't worth the money.
Information
Seller

RedLynx Ltd

Size

18.8 MB

Category

Compatibility

Requires iOS 3.0 or later. Compatible with iPhone, iPad, and iPod touch.

Age Rating

Rated 4+

Copyright

© 20010 RedLynx Ltd

Price

$0.99
Supports
Family Sharing

With Family Sharing set up, up to six family members can use this app.