Montessori Crosswords - Teach and Learn Spelling with Fun Puzzles for Children
By L'Escapadou
Open the Mac App Store to buy and download apps.
Description
Selected by Apple in "Macs in Class" List !

➜300 word-image-audio combinations classified in 3 levels of phonetic difficulty appropriate for ages 3/4 to 8
➜ Full Montessori Movable Alphabet with letter sounds (consonants and short vowels phonics)

➜This is the Mac version of the successful iPad and iPhone app downloaded more than 50000 times, rated more than 4 stars, mentioned in the New York Times,awarded by Children Technology Review, and recommended by parents & teachers.

--

The app offers a fun, interactive game to help kids develop their reading, writing and spelling skills using the proven Montessori method of learning and 300 different word-picture-audio combinations and letters sounds (phonics) !

There are three levels of phonetic difficulty appropriate for ages 3/4 to 8 (as defined in the Montessori method) - of course, older kids can also have fun and practice their spelling!

Also included is a Movable Alphabet that allows open-ended activities for young children learning their letters. Letters can be rotated and resized to add to the fun.

---------------------------------------------------
- Press and Educators Reviews of the iPad/iPhone version -
---------------------------------------------------

★ New-York Times - "The 3-year-old has learned to spell compound words through an app called Montessori Crosswords, her mother said"

★Wired's GeekDad - "5 Favorite Apps for Elementary School iPads" - "An excellent tool for learning spelling and early literacy (...) It can build from simple to more complex words making it usable by students from prep through to grade 3 or 4"

★commonsensemedia.org (rated 4) - "Montessori Crosswords is a great way for kids to develop literacy in an engaging way that feels like play." (rated 4 stars)


➜ Educators' Reviews (iPad/iPhone version)

★Sue on Iear.org - "I just have to say I love Montessori Crosswords both as a parent (to 2, 7, and 8 year olds) and K teacher. I like that the app is appropriate for the developmental levels of my students and all three of my kids"

★Jennifer (2nd Grade Teacher) - "this is a fantastic app (...) I can use it as is in the classroom tomorrow and benefit from it"

★Cindy - "This is one of my favorite educational apps. I highly recommend it for the children who are learning to read and spell. The kids also love the interactive artwork as they complete a puzzle."


-------------------
- Features Overview -
-------------------

★300 different word-picture-audio combinations
★ Letter Sound (phonics) when a letter is touched. Note that only short vowels sounds are provided
★Three levels of phonetic difficulty appropriate for ages 3 to 8 (as defined in the Montessori method) - of course, older kids can also have fun and practice their spelling!
★Level 1 displays simple words for beginning readers (no blend and only short vowel).
★Levels 2 and 3 automatically create multi-word crosswords in tens of thousands of different combinations, encouraging unlimited repeat play.
★21 Fun and colorful interactive visual effects are displayed when a crossword is completed. Visual effects animate and change as they follow your child's touch.
★Also included is a Movable Alphabet that allows open-ended activities for young children learning their letters.
★Packed with animations and sounds to create a fun and enjoyable experience!
★Children can play alone or with a parent. Includes instructions on how to use the game as an educational tool.
★Choose capital or lower-case letter display.
★Organize letters alphabetically or Montessori style (vowels first, followed by consonants).
★Displays the total number of completed words.
★Full Screen Mode (4/3 ratio)
★Tips on how to use Montessori Crosswords as an educational tool

--

Visit our web site for a video demo : http://lescapadou.com

--

Email questions or suggestions to support@lescapadou.com.
What's New in Version 1.1
Version 1.1 is here - Thanks to all for the feedback!
➜New mode to move letters without dragging - easier for young kids. (previous mode still available in Options menu)
➜Custom Hand Cursor
➜Words audio volume has been increased
➜Start with a larger window

Please rate the app if you've got a moment. It's very important to let people know it's a good and useful educational app. Thanks!

You can email to support@lescapadou.com for any matters. We are waiting for your feedback to make the app even better.
Screenshots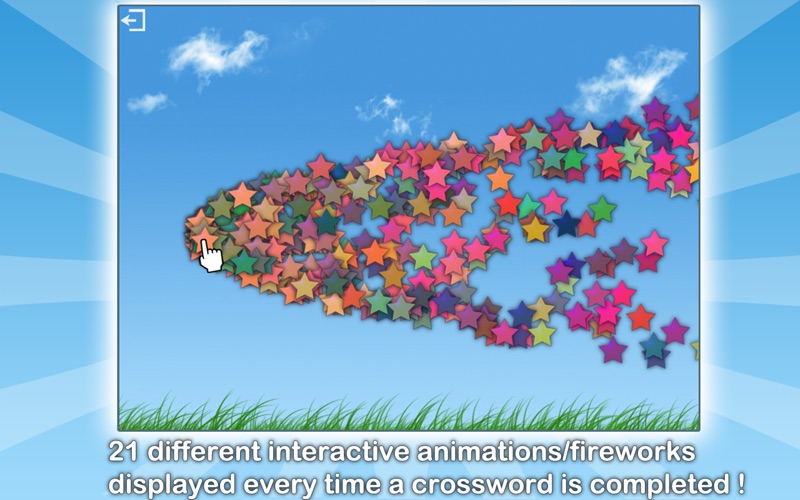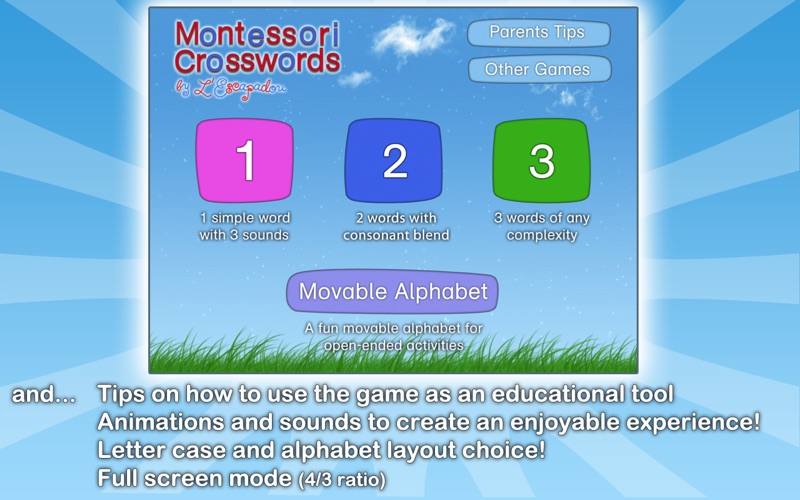 Customer Reviews
Nice App that could use some Improvement
My daughter (she is three and a half years old) enjoys this game. Particularly nice is the animation of flowing stars, etc upon completing a game. There are two areas that could use some attention. When one chooses a letter, a spoken voice provides the pronunciation of the letter sound. This is a very helpful aid, but the voice only gives one pronunciation, say of the letter "E", when there are always at least two-the short and long pronunciations of the sound. The voice's pronunciation also does not always conform to the sound of the letter in a word, which is confusing. It would be an improvment if the vocal pronunciation at least conformed to the sound required in the particular word that is open. The other thing that is more difficult than it needs to be is the mouse placement of letters. A simple drag and drop of the letter into the square would be a lot easier than having to click the mouse button twice, once when the letter is selected, and again, when it is dropped into the square. Good work otherwise.
Great educationally, needs a couple of practical improvements
I would definitely recommend this app for it's educational value. My daughter is 3 and has been playing for two days and is already on Level 3 (multiple and complicated words). I wish it had more levels, but that alone was definitely worth the $3. However, it needs the following features:

1. "Hit" spots need to be expanded. It can be difficult to get the mouse to go riiiiight over the right spot to hit the square where the letter should be, causing the letter to fall back down. This can be frustrating if they know they have the right letter and just can't get it to "stick."

2. The letter sounds are wrong/inadequate. This is confusing and requires almost constant parental intervention to "correct" the sounds. It needs to either not have the sounds at all, or give all the different sounds a letter can make.

Other than that, this is a fantastic game and my daughter really likes playing it when she's not incredibly frustrated at it's practical problems. If these minor problems are fixed in an update, I will happily change my review to 5 stars. As it stands, the game is fantastic concept, but a few minor details make the execution enough that the game is a bit difficult to play.
From a Montessori parent
All of my children attend Montessori school, but they have yet to see this app. I wanted to play around with it first and so far I agree with the other reviewers and think that some of the pronounciations are off. For example, the 'i' and the 'e' both make the same sound in this app, which is incorrect. The 'e' should sound like the the 'e' sound in 'egg' and the 'i' should sound like the 'i' in the word 'insect'. I'm hoping that there will be an update to correct this. For now, I will explain the mistake to my children, but for $3 I was hoping for a bit more accuracy from an app that is calling itself MONTESSORI. However, overall I am thankful for this company to be releasing Montessori apps using the moveable alphabet and other Montessori materials found in a Montessori classroom. :)
View in Mac App Store
$2.99

Category:

Education

Updated:

Jan 25, 2011

Version:

1.1

Size:

12.9 MB

Language:

English

Seller:

pierre abel
Compatibility: OS X 10.5 or later