Moom
By Many Tricks
Open the Mac App Store to buy and download apps.
Description
Moom allows you to easily move and zoom windows—on one display, or to another display—using either the mouse or the keyboard. Moom lets you...

• Hover over the green button and choose from five preset size/location options in a pop-up palette
• Use a grid to 'draw' a window's desired size and location
• Define custom controls to move and zoom, move to other display, center, resize, and more
• Chain custom controls together to execute complex window management tasks
• Save window layouts to easily recreate a desired window arrangement at any time
• Automatically activate saved window layouts on changes in monitor layout, as in when you disconnect from your work display and then open your laptop at home
• Use keyboard mode to do all of this, and more, without ever touching a mouse

Once you've tried Mooming your windows, you'll never go back to simply moving and zooming them again.
What's New in Version 3.2.8
• Fixed a bug relating to Moom's palette position when the green zoom button was near the right/bottom screen edge.
• Fixed a bug related to double-clicking the center button in the custom resize action.
Screenshots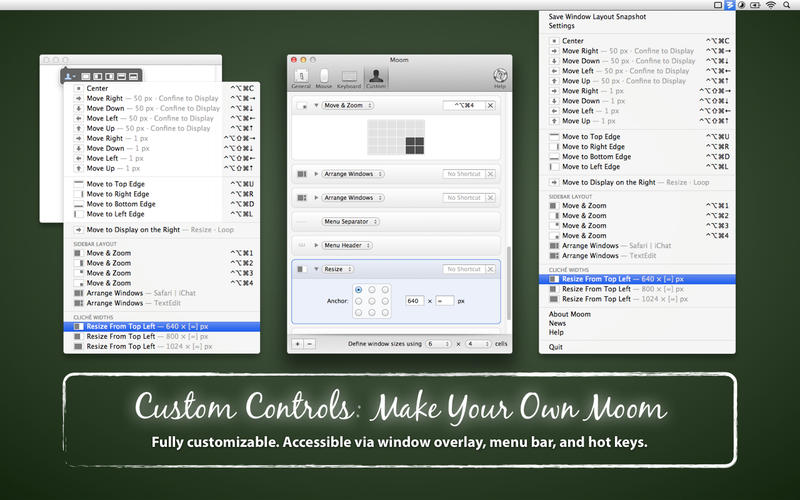 Customer Reviews
I like it--hope to see more features!
I like that I am able to resize windows in-place (instead of moving and confining them to a specific screen position). Being able to "shrink" and "grow" the window sizes is nice too.

The only thing I don't like (common to other window sizers as well) is that my (hidden) Dock hogs about 4 pixels on the screen edge, and I want to cover every bit of the screen (not including the menu bar) with terminal windows. To me, that 4-pixel gap is visually distracting while I do coding work. Being able to specify negative/absolute coordinates would be a good workaround for this. For example, since my Dock is positioned on the left side, I'd set the left to -4 pixels instead of 0 pixels, relative to the available screen edge. A better solution would be to cover that gap entirely, making the entire screen available. Between UI design and setting window coordinates as necessary, I know it's possible to make it work that way. It could even be implemented as an option, because many people (unlike me) will actually want to access the Dock (which happens to be the reason the gap is there in the first place).

The "hex grid" hasn't been a problem for me so far, since I haven't really gotten to needing it yet. I look forward with much curiosity to seeing how that is rectified! If I could just reclaim those 4 pixels on the screen edge, I could have a lot of fun with the grid!
Still Supporting Moom
In a recent update, the Many Tricks team were forced to change the resizing grid due to legal concerns. It is awful, no doubt about it. I honestly thought that the product simply hadn't been updated or something and was freaking out. But after doing a little reading, I learned more about the issue. See their blog for more information.

So, that being said, I wanted to show my support for the app and developers as this has been a fantastic app from a very long time and I'd hate to see the ranking go down because of what's going on. I expect them to get things sorted out as soon as possible, and would encourage all of you to hang in there, too.

While you're waiting, if you don't already use this functionality, brush up on your keyboard shortcuts for the app. They are awesome either way. :)
Hex layout MUST GO
First, I have LOVED this app for years and it is one of the 1st things I install on my machine or anyone else's that I customize for them.

Second, DO NOT break something that was working perfectly before. The hex grid instead of the square grid is needlessly complicated and senselessly hard to parse. Thankfully I use this app mostly using keyboard shortcuts because otherwise I would have instantly deleted the app after this change. Please don't mess with my workflow if you can't offer obvious improvements by doing so. Stylistic choices are just that and are generally not worth the turmoil. By the way, this is the first app review I have EVER written - that is how much I HATE this change.
View in Mac App Store
$9.99

Category:

Utilities

Updated:

May 16, 2017

Version:

3.2.8

Size:

3.9 MB

Language:

English

Seller:

Many Tricks
Compatibility: OS X 10.7 or later, 64-bit processor