MouseWait for Disneyland Wait Times FREE
By app316.com
This app is only available on the App Store for iOS devices.
Description
Disneyland Wait Times FREE + COMPREHENSIVE Food Guide with menus, restaurant reviews (wait times for restaurants too!), real-time Food Blog, hours, events, showtimes, California Adventure, Downtown Disney + EVERYTHING you need for your next trip to the Disneyland Resort! Join 3 MILLION users and find out why 15 out of 17 people use MouseWait as their primary Disneyland App. MouseWait is the most popular, critically acclaimed, and most updated Disneyland iPhone/iPad/Apple Watch/Apple TV App since 2009 with over 11,000 reviews.

The Huffington Post acknowledged MouseWait as one of the three "Disneyland Musts You Shouldn't Be Without"

OCWeekly named MouseWait as one of the OC's best apps, "Whether you're a Disneyland Annual Passport Holder or a casual Disneyland visitor, this is a must for everyone."

"One of the 26 Apps You Need To Survive In Los Angeles" BuzzFeed

"MouseWait provides a wealth of information for both casual and frequent visitors to the Disneyland Resort. It does exactly what it claims and more, and it does it extremely well. If you have plans to visit the Disneyland Resort in the future, or are an Annual Passholder, this app is an absolute must." Danny Amezcua, Macworld

MouseWait 9 is our biggest update since 2009:
•New ONE-THUMB Navigation makes it easy to find all of our features, including MagicSearch, FAST!
•Find restaurants and individual menu items with MagicSearch.
•Make new friends with Disney fans worldwide in our family friendly, moderated social Lounge.
•Save time and money with tips and info you won't find anywhere else.
•See the most important info on your Dashboard including your favorite attractions, shows, and restaurants.
•View your Favorites on Apple Watch and Apple TV.
•Fast access to our proprietary Historical Crowd Index via MagicPlan
•Read MouseWait community reviews and get the inside scoop about all food at the Resort.
•Find attractions, restaurants and more through Spotlight Search.
•Optimized for iOS 9 and the iPhone 6S

Download today to get INSTANT access to our world famous Crowd Index, MagicSearch Technology, INSTANT wait time feature, MagicPlan Calendar, and more!

AS SEEN ON TV: Ryan Seacrest, Leo Laporte, CBS, KCAL, KTLA News, FRONT PAGE of the Press Enterprise, LA Times, OC Register, OCWeekly, Macworld, PCWorld, TMZ, E!, People Magazine, & OrangeCoast Magazine

"If Walt would have created an app, I have to think it would be something like this." Karate Kidd

"I would pay for this app!" xbuddycorex

"Lots of features, super-fast email support for questions" DavidRac

"Love how I can get all the info I need in one place" stimpy0323

"This app is the best Disneyland Resort app and it's FREE" Rloluvmuzik

"This app has tons of features, it will be great to use on vacation or just checking in on the latest Disney news" Jen's Music

FEATURED IN WHAT'S HOT
Top 50 Travel App since 2009

Email us at support@mousewait.com we answer all requests. Your positive ratings help us to continue development so please rate MouseWait in the App Store!

ALSO TRY MOUSEWAIT PLATINUM (No banner or popup ads).
NEW: Get your own Virtual Plaid! http://VirtualPlaid.me

Go to http://www.MouseWait.com for updates on Twitter and FB

MouseWait is not affiliated with the Walt Disney Company.
What's New in Version 9.1
Big update coming soon! We fixed a lot of bugs, improved speed, and added a few of your suggestions from our Lounge survey!

*Email support@mousewait.com and we'll help you in person with bugs or feature requests (instead of posting support requests as a review, since we cannot answer those).
•We made the Lounge faster (check out the Lounge for Disneyland news, updated INSIDER tips, and more). The update will take effect the first time you load it (please wait for it to load completely). After that, it should load much faster.
•Tons of MagicSearch improvements, including the ability to search the Lounge (you can find almost anything at the Disneyland Resort, FAST, by using our proprietary MagicSearch technology).
•We fixed display problems on smaller screens.
•Sticker Sorting is here! On My Collection, just hit the Edit button and sort your Stickers.
•MW Radio now accurately reads your points, and unlocks stations.
•Today Widget text color fixed
•Have you added your favorite attractions, shows, and food to your Dashboard yet? It makes it easy to see everything you need to know on one page!
•We added a Clear Cache button on the Settings page, which will fix most problems (if they arise) including Lounge problems, duplicate wait times, etc.
•Special thanks to our Platinum Sponsors: Hojo Anaheim, Courtyard Marriott Theme Park Entrance, and Magical Memories Disney Fine Art.

Previously added in MOUSEWAIT 9--our biggest update since 2009!
•Completely redesigned for iOS 9 with our new ONE-THUMB navigation system.
•Optimized for speed while using less battery and data.
•Add your Favorites to your Dashboard: it's easy to track your favorite attractions, shows, and restaurants as soon as the app opens.
•Your Favorites are now available on your Apple Watch and now Apple TV!
•Faster access our famous, proprietary Crowd Index that's used by millions of Disneyland fans every day.
•Improved wait time accuracy.
•Plan your trips with our Historical Crowd Index MagicPlan feature.
•Find anything at Disneyland, FAST with MagicSearch: individual menu items, restaurants, and more.
•Our comprehensive dining section with community reviews makes it easy for you to find a good place to eat.
•Earn MouseWait Credits for entering wait times and see your progress in real-time.
•Find restaurants, attractions, and more from Spotlight Search on your iPhone or iPad!

As an independent developer, your positive reviews mean a lot to us, they keep us going, and encourage us to add new and exciting features! Ratings reset each time we push an update, so if you can please update your review in the App Store, we would greatly appreciate it! If you're having problems with the app, please use our in-app real-time support module (Support tab), and we'll help you out, or you can email support@mousewait.com

If the update doesn't work, delete and reinstall the app--this solves 99% of all problems.

Don't forget to reserve your free Virtual Plaid! Kate works great with MouseWait -- more info http://VirtualPlaid.me
You can also remove ads with a one time Platinum purchase.

http://mousewait.com
http://facebook.com/mousewait
http://twitter.com/mousewait
Instagram @mousewait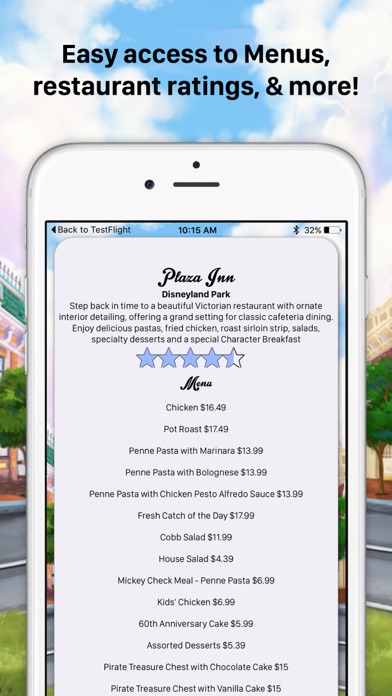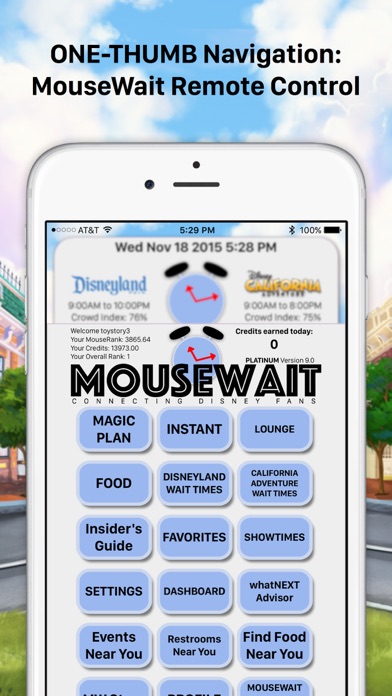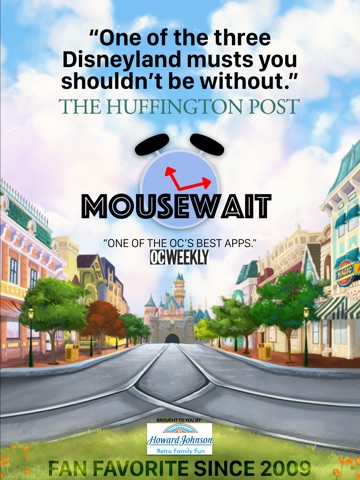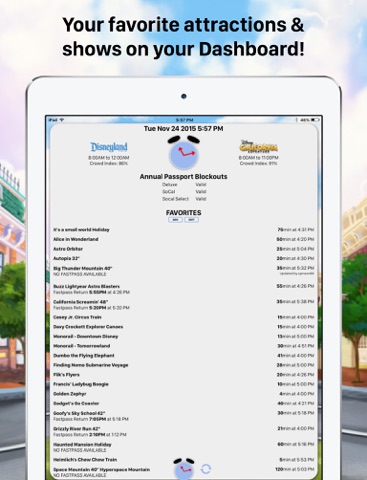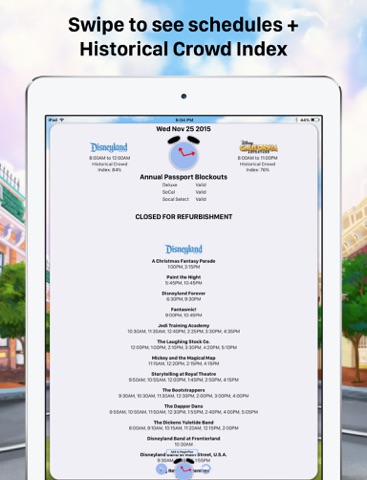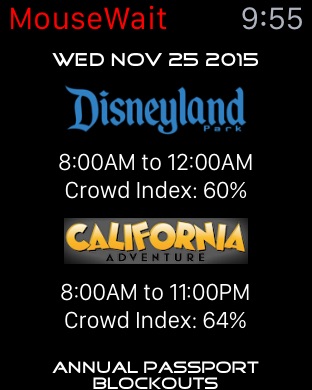 Customer Reviews
MouseWait is awesome!!!!!
This is a must have app for anyone who goes to the parks, whether once a week or once a year. there is also one for Disney World. The developer is great, constantly updating and adding things at our requests. at the parks it will tell you where to find the closest restroom, restaurant, character, anything. and the wait times are user inputted which means that they are spot on accurate unlike any other apps as there are so many "mousewaiters"at the park each day. this saves your feet as you can find out what the wait times are for your favorite ride across the park or at California adventure, and now it gives the wait times for
the restaurants too. Then there is the lounge, where everyone talks to every other disney fan, and good friendships are made, with meetups of mousewaiters happening on a daily basis. the developer gives great faqs, and with any app, you should read them first, hang out and lurk and read the posts in the lounge for awhile until you post yourself. you can post your photos of visits, and see other amazing shots by other guests. just an awesome app for the Disneyland fan. but be careful, you can get completely addicted to the lounge and won't be able to put it down. have fun and see you at Disneyland!!!
Excellent Disney Parks App
MouseWait shows the up to date attraction and restaurant wait times in Disneyland, as posted by other app users who are in the parks. That would be reason enough to use the app during a park visit. But then there are the restaurant menus and reviews and park maps, which make a park visit easier.

The main reason I keep using MouseWait is because of the lounge, which is the fan forum of MW app users. I have learned so much about the parks, food, entertainment and merchandise that I would never have learned somewhere else. It has made it more fun to have an Annual Pass, and more cost effective. I can choose to get my favorite meals or try new things that I read about. I can find out about new merch and entertainment, or what is being discontinued.

MouseWait has info that is more current and thorough than any guide book I have ever read. I highly recommend it!
Completely unusable without location
I rarely take the time to review apps, but this one is a must.

Location-based features can be a nice convenience in some apps, but it's crucial that the app still function if you choose not to enable location services. This app DOES NOT.

I've attempted on multiple occasions to use this app without sharing my location, but it is nearly impossible. The app pops up error messages on almost every screen, as the app obnoxiously complains that it needs my location in order to function. It's annoying at first, but it doesn't take long before the app gets stuck in an endless loop of error messages and won't even allow you to clear them from the screen. Soon the app completely freezes and no longer recognizes screen input.

As a pass holder, I know my way around Disneyland just fine. I know what rides, shows or other attractions I want to visit. When I want to check a wait time, parade schedule, etc, I will open the app and look. I don't need this app tracking my location to make suggestions.

Plus, if I'm spending a few hours in the park, I want my phone battery lasting as long as possible. Eliminating unnecessary GPS usage helps accomplish that objective.

No app should require my location in order to function properly and be stable. This is a deal breaker and earns this app a 1-star rating.

(To the developer: Fix this huge bug and I will gladly update this review based on the other merits of your app.)
View in iTunes
This app is designed for both iPhone and iPad
Offers Apple Watch App for iPhone
Free

Category:

Travel

Updated:

Mar 09, 2016

Version:

9.1

Size:

100 MB

Apple Watch:

Yes

Language:

English

Seller:

ALLAuthentic Corporation
Compatibility: Requires iOS 8.0 or later. Compatible with iPhone, iPad, and iPod touch.
Apple TV:
Yes
Top In-App Purchases
Buy 100 Credits$4.99
Buy 250 Credits$9.99
Buy 1500 Credits$34.99
Buy 750 Credits$24.99
Buy 5000 Credits$99.99