Move - Daily activity to stay healthy
By Kevin Holesh
This app is only available on the App Store for iOS devices.
Description
### Previously ranked #1 in the App Store Health & Fitness. BOOM! ###

Daily activity reminder for a healthier you.

Move is the anti-workout app. Staying healthy doesn't have to mean waking up at 5:30am and sweating your tail off. You can spread it out throughout the day.

The new Move v2.0
• Get reminded every so often to stand up and do a tiny exercise
• Over 300 random workouts keep it exciting (more added every day)
• Create a healthy habit through occasional reminders
• Pick when you do workouts and how often
• Take a break (really busy today, skip it…)
• Choose your reminder sound
• Turn specific exercises on and off (I have burpees turned off :-)
• Create your own exercises to be absolutely anything you want


Exercise packs
• Office - 80+ coworker-friendly exercises you won't be embarassed to do at work. In fact, no one will know you're even doing them.
• Beginner - Never really exercised before? Not a problem. Use this pack to get into the swing of things. Start easy with these 70+ simple exercises.
• Yoga - Open up your body and your mind with 50+ simple poses. These poses help you focus, wake up, and warm up your muscles.
• Stretch - Use these 30+ stretches to warm up your muscles and keep them young. Great for people who sit in the same position day after day.


••••• Why I made Move •••••
I'm a computer programmer. I sit in a chair all day and stare at a glowing rectangle. That isn't what humans are designed to do. I created Move to solve my own problem and remind me to stretch or get my heart rate up throughout the day. This helps keep my body active and makes me feel better at the end of the day.

I created this app to encourage me to lead a healthier lifestyle. I hope it does the same for you.

~Kevin Holesh



Walking icon by Dmitriy Lagunov from The Noun Project
What's New in Version 2.2
Improves VoiceOver support
iPhone Screenshots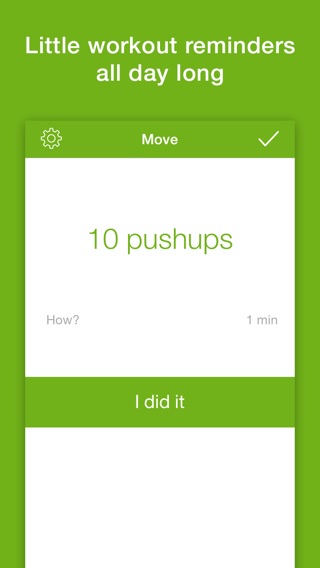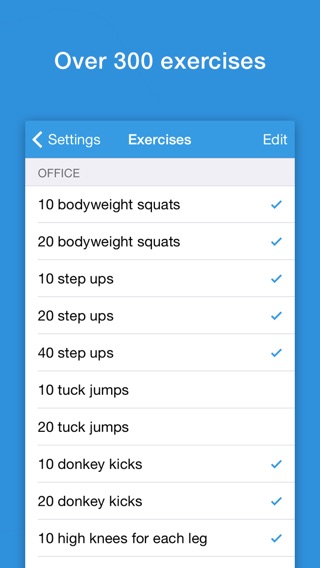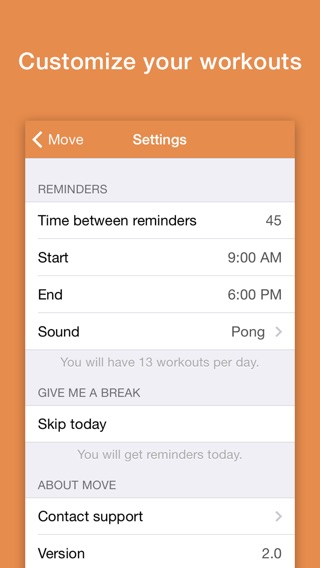 Customer Reviews
Perfect for getting me more active in the office and in life!
Recently I've been trying to live a healthier life in every aspect–nutrition, fitness/activity, emotionally, mentally, etc. I work full time at an office sitting behind a desk for 8 hours a day. I have become well aware of how detrimental this can be to my physical self, remaining so inactive on a constant basis. So I was curious about how to get more active and stand up & get moving more at work. I just needed a way to remember to do so! I got this app 2 days ago and am already LOVING it–so simple, and just what I need. Every 30 minutes (I got to select the time increment) I get a reminder to Move, so I stand up, walk a lap around the office, then go to a secluded hallway to complete the prompted exercise. These exercises are simple enough that I can do them at work quickly without expending too much energy (not like running a mile, just simple things like wall sits, crunches, push ups, and fun things like dancing and doing the Macarena!) Again, I cannot say how much I love this app and how much it is already helping me. I would highly recommend it!
Almost great, but has a fatal flaw...
I loved this app when I first bought it; I even bought all the addons and set up some exercises of my own. It worked great for several days and I was feeling good about my activity level and my purchase.
Then I had a few days where I was in meetings all day and couldn't follow the reminder schedule, so I asked it to skip a couple of days. I went back to it a several days later when I realized it hadn't started up again and discovered that it wasn't scheduled to resume for three weeks! (I know I didn't click the skip *that* many times...) Rather than ask it to skip a day, you need to be able to just turn it off and back on again. Or at the very least, be able to undo those skipped days so it will work again.
I waited the three weeks, and was eventually able to use it again, but it repeated the same issue and I am now in a four week skip period, which makes the app pretty useless. If I delete it and reload, I will loose all the customization I set up and it would probably just do the same thing again... Please fix!!!
Waste of time and money
I own another app from the same person (Moment) which has been really helpful, so I gave this one a shot. I looked through the list of exercises and realized some would be hard for me right now, and many were unfamiliar to me. All the list has is a number of reps and the name of the exercise. No explanations of what the exercises are or instructions how to do them. Because I trust the app maker, I bought the Beginner's Pack for 99 cents, thinking that at least they would be easier or more familiar. It's another list of reps and exercises, many of which are variations on the free list, or the exact same with less reps. Honestly, I felt ripped off. I saw there was a custom exercise option, and thought I could salvage the purchase that way - nope, you only get access to custom exercises if you buy the 4 pack of lists for $2.99.

I'm more disappointed than angry - I was hoping this app would live up to the quality of the other, but instead it's getting deleted and I'm out 99 cents.
View in iTunes
Free

Category:

Health & Fitness

Updated:

Aug 13, 2014

Version:

2.2

Size:

2.3 MB

Language:

English

Seller:

Kevin Holesh
Compatibility: Requires iOS 7.0 or later. Compatible with iPhone, iPad, and iPod touch.
Top In-App Purchases
Everything Pack$2.99
Office Exercise Pack$0.99
Beginner Exercise Pack$0.99
Stretch Exercise Pack$0.99
Yoga Exercise Pack$0.99
More iPhone Apps by Kevin Holesh