Moves
By ProtoGeo
This app is only available on the App Store for iOS devices.
Description
Moves automatically tracks your everyday life and exercise. Just carry your phone in your pocket or bag.


FEATURES
• Automatic Tracking: Records daily walking, cycling and running.
• Places: Recognizes places in your daily life.
• Storyline: Visualizes your day in an easy-to-read timeline.
• Routes on map: See the paths you took.
• Pedometer: Counts your steps, so you can set simple goals.
• Connected Apps catalog: Use your Moves data with other apps.


BENEFIT
Seeing your everyday exercise can help you think about your life in a new way. Start with small changes that can lead to a fitter lifestyle and healthier habits.

BATTERY USE
Continued use of GPS running in the background can dramatically decrease battery life. Moves has been designed to use GPS and other sensors sparingly. The app relies mostly on acceleration data, cell tower and Wi-Fi locations. The new Battery Saving Mode will further minimize battery consumption when stationary in a place.
What's New in Version 2.9.1
Stability improvements and bug fixes.
iPhone Screenshots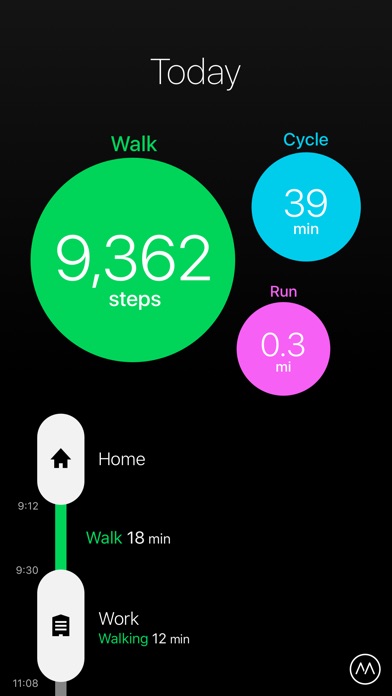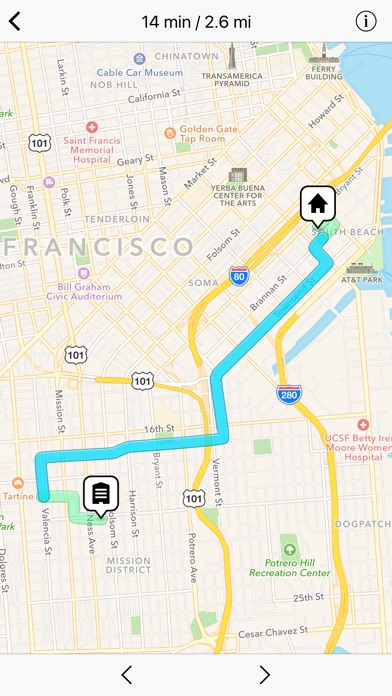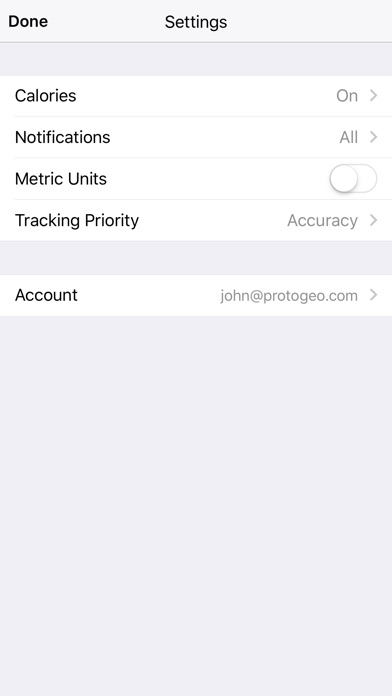 Customer Reviews
What Happened
I really liked the app. Couldn't understand why it didn't track ALL my steps especially inside a store and when I had my phone with me, but I got over it; still gave me an idea. It helped me see what I got accomplished in the day. When I first got the app, I had a 5s, didn't do a darn thing that it had for the 5s, but I got over that too. I keep the refresh on but still get that message about it not being on, so it can't do its job, got over that too.
NOW, I'm upset. Haven't been able to get into it. I swiped in in error when closing some apps. Went to open it and it kept going back to the app icon. So I uninstalled and reinstalled the app and EVERYTHING that was on it is gone like this is my first time using it.
I did what I did because that's how I've been instructed to do any of my apps that would do that. I would uninstall and reinstall and all was good to go. Everything just hunky dory.
I'm thinking about seriously trying to find another app that can replace this one, BUT I really like this one.
PLEASE DO SOMETHING!
Great until recently
Edit 2 years later (after 4 years of use):
Crashing upon open for weeks now. Don't update. Before that, the app had gotten slightly better since my last review, but not nearly as much as you would expect after 2 years. Clearly thrown on the back burner after being acquired by Facebook.

Been loving this app for a long time, but for the past few months it has been acting strange. It will be accurate with a place I've been when I check it, then I'll look again later and it has completely removed the place I was. Or, it will say I spent 30 minutes walking when I go from one destination to another, when in reality it was a 10 minute trip driving. It thinks I left the first location way before I ever did. Granted, I am on battery saving mode, but it certainly seems like things have gotten much worse than they used to be. Shouldn't they be getting better?
Extremely unreliable
This was one of two programs recommended in my health plan for tracking steps during a "step it up" challenge. After 5 weeks of use, this program has turned out to be the worst tracker ever for tracking steps. For example, today, I actually counted every step I took as I travelled to work - walking out to my car, going into a local store, entering my place of business - I totaled about 1000 steps. My "health" program on my phone counted about 990 steps - pretty close. The Moves app? At first it showed 240 steps, then as I looked it changed it to TEN steps. TEN! It has done this numerous times, every day of the whole 5 weeks. I figure I am short over 20,000 steps over the 5 weeks. I sent a complaint to the Moves people about this. I got NO answers from them. WORTHLESS PROGRAM. Don't waste your time.
View in iTunes
Free

Category:

Health & Fitness

Updated:

May 22, 2017

Version:

2.9.1

Size:

60.9 MB

Languages:

English, Czech, Danish, Dutch, Finnish, French, German, Greek, Indonesian, Italian, Japanese, Korean, Malay, Norwegian Bokmål, Polish, Portuguese, Russian, Simplified Chinese, Spanish, Swedish, Thai, Traditional Chinese, Turkish, Vietnamese

Seller:

ProtoGeo Oy
Compatibility: Requires iOS 9.0 or later. Compatible with iPhone, iPad 2 Wi-Fi + 3G, iPad Wi‑Fi + Cellular (3rd generation), iPad Wi-Fi + Cellular (4th generation), iPad mini Wi-Fi + Cellular, iPad Air Wi-Fi + Cellular, iPad mini 2 Wi-Fi + Cellular, iPad Air 2 Wi-Fi + Cellular, iPad mini 3 Wi-Fi + Cellular, iPad mini 4 Wi-Fi + Cellular, 12.9-inch iPad Pro Wi-Fi + Cellular, 9.7-inch iPad Pro Wi-Fi + Cellular, iPad Wi-Fi + Cellular (5th generation), 12.9-inch iPad Pro Wi‑Fi + Cellular (2nd generation), and 10.5-inch iPad Pro Wi‑Fi + Cellular.