Můj stav
By Ceska sporitelna, a.s.
Open iTunes to buy and download apps.
Description
S aplikací Můj stav máte stav svých financí snadno pod kontrolou! Rychle, jednoduše a bezpečně.
Chcete se podívat na zůstatek Vašich účtů? Zajímá Vás, jestli už dorazila výplata nebo platba od kamaráda? Nejen k tomu Vám dobře poslouží tato aplikace od České spořitelny, a. s.

Hlavní přednosti aplikace:
• rychlost — rychlé přihlášení do aplikace, možnost zobrazení zůstatků bez nutnosti spouštět aplikaci
• jednoduchost — vše přehledné, intuitivní
• dostupnost — aplikaci ve svém zařízení máte stále při ruce
• bezpečnost — aplikace slouží k nahlížení (aktivní operace nejdou provádět, žádné obavy ze zneužití)

Co Vám aplikace umožní?
• kontrolovat všechny své produkty (osobní účet, kartový účet, půjčky, hypotéky, stavební spoření, penzijní připojištění, životní pojištění, investiční účet, majetkový účet); aplikace je určena pro občany, podnikatelské účty se zde nezobrazují
• nahlížet do historie transakcí účtů, jednotlivé transakce filtrovat (příchozí/odchozí/vše)
• zobrazit detail transakce (číslo účtu protistrany, poznámky pro příjemce/sebe, variabilní aj. symboly) a sdílet ho pomocí SMS, e-mailu, messaging aplikací atd.
• vidět zůstatek účtů bez nutnosti spouštění aplikace (souhrn DNES)
• možnost přidat kursovní lístek cizích měn na hlavní obrazovku
• vybrat způsob zabezpečení vstupu do aplikace (PIN, gesto, otisk prstu, bez hesla)
• přepínání do jiných aplikací České spořitelny pomocí Centra aplikací
• zobrazit čísla účtů/smluv a sdílet je pomocí SMS, e-mailu, messaging aplikací atd.
• zobrazit užitečné kontakty banky (tel. čísla, e-mailové adresy)

Co je potřeba k využívání aplikace?
• mobilní telefon (pozn. aplikace vyvinuta pro mobilní telefony; lze ji používat na tabletu, ale zobrazení není optimalizováno pro větší obrazovky)
• operační systém přístroje iOS 7 a vyšší
• mít aktivovanou službu SERVIS 24 Internetbanking

=================================================
Finally you have your bank products under control quickly, simply and securely!
Do you want check your current account balance? Do you need to know if you have already received your salary or payment from your friend? This application from Česká spořitelna, a. s. helps you with that and much more!

Main features:
• quickness — quick login, a possibility to show account balances without launching the application
• simplicity — everything is clear, intuitive
• availability — you have your bank in your pocket all the time
• security — this app has passive role only — no active transactions, no abuse, no worries

Main functions:
• checking your bank products — current accounts, loans (credit cards, loans, housing loans), investment accounts, building & pension savings, life insurance; the app is targeted for retail customers only, business accounts are not displayed
• browse transaction history of your accounts, filter it (incoming/outgoing/all)
• see the transaction detail (counterparty account number, note for the recipient / for me, variable symbol etc.) and share it via SMS, e-mail and other messaging applications
• see your balance account directly without launching the application on the Today screen
• add a widget with exchange rates to the main overview screen
• choose your preferred security login type (PIN, gesture, ID touch, no password)
• easily run other bank applications from the Application centre
• check numbers of your accounts/contracts and share them via SMS, e-mail and other messaging applications
• find useful contacts of your bank (tel. numbers, e-mail addresses)

Requirements
• a mobile phone (the application is designated for mobile phones; it is possible to use it on tablets, but displaying is not optimized for bigger screens of tablets)
• the operating system must be iOS 7 or later
• the SERVIS 24 Internetbanking service must be active for your client ID
What's New in Version 1.6.2
Aktualizace Vám přináší vylepšený náhled na Vaše investice. Majetkový účet nově obsahuje:

• Moje portfolio — základní informace k majetkovému účtu
• Přehled portfolia — rozdělení portfolia do produktových skupin
• TOP 3 produkty
• Všechny produkty
iPhone Screenshots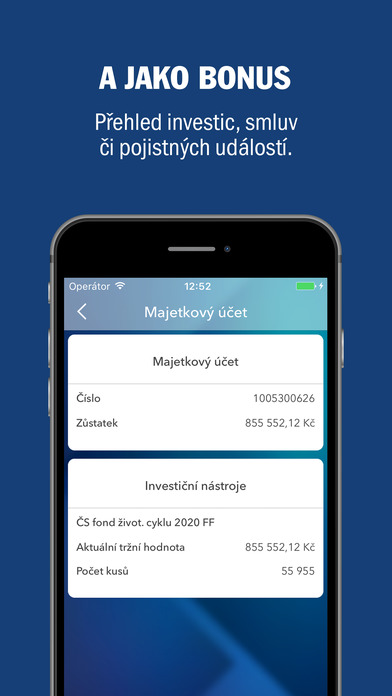 View in iTunes
Free

Category:

Finance

Updated:

Jul 17, 2017

Version:

1.6.2

Size:

12.8 MB

Languages:

English, Czech

Seller:

Ceska sporitelna, a.s.
Compatibility: Requires iOS 9.0 or later. Compatible with iPhone, iPad, and iPod touch.
More iPhone Apps by Ceska sporitelna, a.s.