Muscle & Bone Anatomy 3D
By Real Bodywork
Open iTunes to buy and download apps.
Description
An amazing reference for anyone interested in the human musculo-skeletal system. Featuring five different ways to learn about the body: The VIEWER, ACTIONS, 3-D MODELS, six types of QUIZZES, and MEDIA.

VIEWER: The viewer allows you to control a 3D view of the body, with labels that lead to full screen images of 145 muscles each with the name, action, origin, insertion, nerve supply and comments for each muscle. The viewer also includes all the bones with detailed landmarks.

ACTIONS: The best way to learn about muscles is to group them into their actions. In this section, choose from over 37 body actions, and see an animation of the action, with a visual list of muscles that perform that action, plus comments in each section.

3D MODELS: There are seven 3D models, each model allows you to control a body area in 3-D space, with multiple stops along the way that identifying the structures and give comments on each area. Models cover the ankle, knee, pelvis, shoulder, face, hand, and a detailed look at the vertebrae.

QUIZZES: 6 types of quizzes! 18 pages of label matching quizzes where you have to match a name to the correct location. Multiple choice quiz builder that allows you to test the name, action, origin or insertion for each muscle. Skeletal quiz tests your knowledge of each bone name. These two quizzes feature adaptive quizzing which adds your missed answers to the Favorites, allowing you to test yourself on only what you have missed (or create your own quiz on just what you want to learn). The Action quiz tests your knowledge of every joint action in the body. The Spelling quiz tests spelling of muscle and bone names. The general quiz tests your knowledge of general muscle and bone anatomy subjects. You can also email your scores to an instructor or friend.

MEDIA: Thirty beautiful pages of basic muscle and bone info along with common musculo-skeletal conditions. Five imbedded videos (16 minutes) that give the basics of the muscular and skeletal system. These videos cover the arm, torso, face, leg, and fascia.

If you want to experience the future of digital education, this app is a great example of combining beautiful imagery, knowledge and interactivity, utilizing the full power of the iPad.

This app is used at multiple anatomy programs across the country.
What's New in Version 4.1
- Now includes a quiz on Bone Landmarks.
- Simplified design of the Quiz Maker.
- All lists now include a thumbnail of the muscle or bone.

iPad Screenshots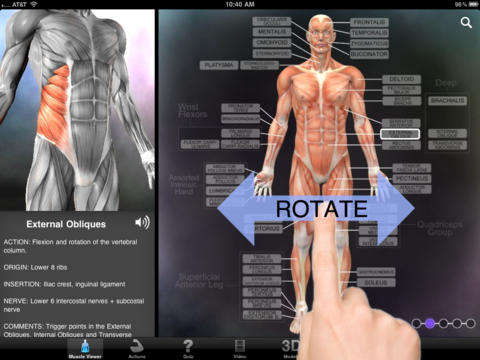 Customer Reviews
Distance Runners Love This
As long-time distance runners, we've had our share of major and minor injuries. We're very curious about the exact location of muscles and tendons and how and where they're connected. This app is so clear and graphic and really gives us the full picture of what could be going on. One feature we love is being able to see the joints in motion. What a revelation that was. It's such good information. Perhaps one could go online and find much of this at separate sites, but having it all together in one location is much more useful because it gives you better context. So far, I think this was worth every penny.

We'd love to see this expanded so that everything that's labeled is a link with further explanation. I have seen a few misspellings, but I am a stickler for spelling, so I always notice. My guess is that this app will continue to improve even further over time. I'm willing to pay for good information like this. This was quite a find for us.
Great Help for Workouts
I use this app frequently to inform stretches and workouts for my older body. Though never an athlete, I was once in pretty decent shape with regular cardio and strength workouts and appropriate stretching. An overly long hiatus from that routine has sent me back to the starting block with a need for patience and body knowledge that presents an all new challenge. I find that I am better able to address recalcitrant muscles, new aches and pains, stiffness, etc. if I can visually identify the relevant joints, muscles and connective tissue involved. This app is great for finding, viewing and learning about all those "moving parts' that don't quite move the way they used to. I am better able to discuss progress with my trainers, docs, etc. if I correctly refer to a body part by name, rather than saying that "it's that bump thingy just at the tip of the 'wing' on my shoulder blade." And there's something to be said -- as a lay person -- for 'knowing oneself' inside and out.
Best studying tool by far!!!!!
I've spent a lot of money on text books and probably just as much on anatomy and physiology apps. I believe I spent $40 on one and it was a huge waste of money. It was extremely hard to navigate and even harder to comprehend the information. This is by far the best study tool I've ever had. It's worth every penny and then some. It's extremely user friendly and very comprehensive. The simple layout and stunning graphics make studying much more exciting. I also highly recommend their sister app for organs. The simple layout and condensed text is both easy to understand and very informative! The only thing I would request is more videos. The videos are very helpful and explain things so that novices have no trouble following along. Thank you for the wonderful app!
View in iTunes
$4.99

Category:

Medical

Updated:

Oct 14, 2012

Version:

4.1

Size:

246 MB

Language:

English

Seller:

Real Bodywork
Compatibility: Requires iOS 5.1 or later. Compatible with iPad.
More iPad Apps by Real Bodywork