Essential Muscle + Skeleton Anatomy
By 3D4Medical.com, LLC
This app is only available on the App Store for iOS devices.
Description
UNLIKE COMPETITORS, COMBINES BOTH MUSCLE AND SKELETAL SYSTEMS INTO ONE APP AT A GREAT PRICE:
3D4MEDICAL'S AWARD WINNING APP FOR ESSENTIAL UNDERSTANDING OF THE MUSCLE AND SKELETAL SYSTEMS. This app replaces our legacy apps the "Muscle System Pro" and the "Skeleton System Pro" with more detail, content, ease of use and 3D technology.

An in depth training tool for learning the Muscle System and the Skeletal System.
The Essential Muscle + Skeleton Anatomy app incorporates the groundbreaking 3D technology, the interface features and the innovative design of the 3D4Medical Essential Anatomy apps to deliver the definitive reference tool for the musculoskeletal system.

CONTENT FEATURES
- All of the muscles labeled
- All of the bones labeled
-1,473 labeled points of origin and insertion
-2,159 labeled bone parts and bone surfaces
-Visually represents the innervation of each muscle
-Visually represents the arterial supply of each muscle
-All articulations can be highlighted
-Animations of every movement of each articulation (flexion, extension, etc.)
-Correct audio pronunciation for every label
-Latin nomenclature for every label

TECHNICAL FEATURES
-Proprietary 3D display technology
-Hide/Fade/Isolate individual or multiple structures
-Multiple search options
-Preset and customizable bookmarks
-User friendly and intuitive interface


This app represents a unique approach to achieving an in-depth look at the muscular and skeletal systems combined. The graphics are unparalleled and make learning through the use of informative content and innovative features, a rich and engaging experience.

NEW 3D TECHNOLOGY
The Musculoskeletal Anatomy app is responsive, visually stunning and effortless. The app is fully 3D, meaning that you can view any anatomical structure in isolation as well as from any angle.

EFFORTLESS NAVIGATION & FUNCTIONALITY
Useful functionality within the app allows users to strip away several layers of muscle and connective tissue. At the same time painted on maps highlighting bone parts, bone structures and insertion / origin points can be turned on and off. Users can also isolate an individual bone or muscle to study that part in more detail.

PREMIUM INTERFACE DESIGN
The Musculoskeletal Anatomy app was designed with the user in mind – the body itself becomes the interface. The app does not rely on predefined anatomic arrangements and regional dissections but rather allows the user to interact with the whole body.


MORE FROM 3D4MEDICAL:

**Essential Anatomy 3
**Radiology Head
**Spine Pro
**Brain & Nervous Pro
**The Heart Pro III
What's New in Version 1.0.4
iOS8 compatibility has been improved.
Minor content changes.
iPad Screenshots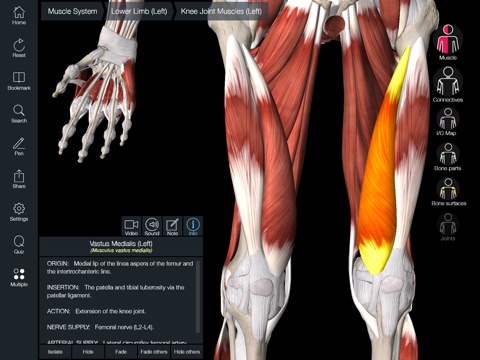 Customer Reviews
Medical Advancements and Patient Participation
As a senior intel analyst for the last 35 years I have been talking about this APP for about two months now and how integration into the Veterans Administration process would be so beneficial to both the DR's and the Patients.
I was so glad to see this accomplished by the APP maker for the new iOS we will see with the new iPad Pro this November. Now it is a matter of marketing - Get on the phones - Get the names of those who make policy and drive innovation and let's get this moving faster than a bullet train folks - Long Over due - I deeply appreciate your efforts and out of the brain thinking on this one.. most say out of the box - I have been saying out of the brain for the last two years in how I want my clients and my Government to work with commercial programs and off the shelf technology to provide quicker innovation.... Good Job 5 Stars (Been using your APP since it launched for my own daily medical journal work - it will pay off with dividends.
Excellent for learning anatomy
I am taking Anatomy and Physiology 1 this semester and this app has been so helpful for learning the bones, bone parts and landmarks, muscles, and ligaments and tendons. It is also helpful that for specific muscles you can click to see the nerve and artery supply as well as the origin and insertion points. You have to pay a fair amount for this app, but it is worth it. It offers a wealth of information, and the ability to interact, rotate, isolate or remove various muscles and bones makes this in some ways far more useful than the models we have in the lab and also more helpful than textbook alone. I also have been using the app to learn how to pronounce names and terms.
Great on the iPad...
I started with their muscle system pro app on my iPhone 3GS, and have been a fan of their apps ever since. As a bodyworker, I find the apps very helpful for me and my clients, yes I have a few of their apps now, some paid, some free and I love them all.

The app I am reviewing now, the combo muscle/skeleton app, is fantastic on the iPad. The UI is intuitive and easy to navigate. It's very easy to show a client just which muscle, joint or bone I am talking about. This app has made all my wall charts obsolete.

And as much as I wish they made an iPhone version of this app, I can understand why they don't, just not enuf real estate on the iPhone screen (maybe the new 6+?) for all the good stuff they put in there. Any app needs a support system and in that department 3D4 Medical is great. I've never had a problem getting a quick response from their online support staff.

This app is highly recommended for anyone who works with the body systems and needs a easy to use, yet thorough way of exploring them.
View in iTunes
$19.99

Category:

Medical

Updated:

Oct 23, 2014

Version:

1.0.4

Size:

794 MB

Language:

English

Seller:

3D4Medical.com
Compatibility: Requires iOS 6.0 or later. Compatible with iPad.
More iPad Apps by 3D4Medical.com, LLC