Mushroom Age
By Nevosoft LLC
Open the Mac App Store to buy and download apps.
Description
Tom, young scientist who works in a super secret laboratory, suddenly went missing just before his wedding. When Vera, his fiancee, starts to search for him, it never occurs to her that she's about to embark on a trip through the ages! Her journey will take her to the Jurassic period, the Stone Age, ancient Greece, and the distant future where the world is ruled by gigantic intelligent mushrooms.

Mushroom Age is a gripping hidden object puzzle adventure game with an original and humorous story line, sharp bright graphics, and unimaginable characters. You'll help a dinosaur with a bad tooth, find an absolute truth with Socrates, teach a cave man how to make fire, have Nostradamus predict your future and save the world from total destruction.

Features:
- Breathtaking story line with spectacular characters
- Unbelievable locations from the Jurassic period to the year 100,000,000 A.D.!
- Puzzles and mini-games from Socrates, Nostradamus, and the Omniscient One.

This game will change your impression of hidden object puzzle adventure games forever! Get ready to embark on an amazing time travel adventure to save your true love!
----------------------------------------------------------
LIKE GAMES BY NEVOSOFT?
WHY NOT TRY SOME OF OUR OTHER Mac OS GAMES!

Paradise Beach: design, build and manage some of the world's leading beach resorts in an addictive, tycoon-style, click management game.

Paradise Beach 2: Around the World is an improved sequel of the reknown tycoon-style click management game where you build and manage of the world's leading beach resorts.

Laura Jones and the Gates of Good and Evil: Meet amusing characters and hunt for hidden objects as you try to save the world.

Laura Jones and the Secret Legacy of Nikola Tesla: Test your Hidden Object skills as you race against time and the other people chasing down Tesla's invention!
----------------------------------------------------------
Get the inside scoop on Nevosoft Games:
Join us on Facebook: www.facebook.com/Nevosoft
Follow us on Twitter: http://twitter.com/NevosoftGames
Watch us on YouTube: http://www.youtube.com/NevosoftCOM
Visit our site: http://mac.nevosoft.com
Screenshots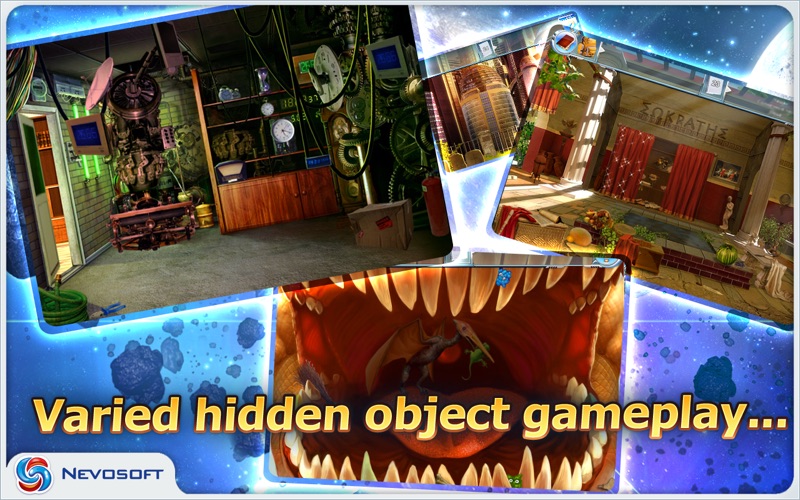 Customer Reviews
Somewhat cute, somewhat "meh"
Mildly humorous, mildly fun. Graphics and overall feel of the game are very primitive, but that's OK. The corny or campy presentation issues were almost a "so bad that it's good" thing. I did find that some of the challenges got a little repetitive and my interest started to wane about halfway through. I haven't finished the game (yet) but am a bit more than halfway through. But sometimes you want an easy game and this fits the bill. There is a significant bug. Using Mac OS-X v10.7.5, I found that if I chose the option "Maybe Later" when asked to rate the game, the game locked up my computer, requiring a hard reboot. This bug occurred 4 times so far, or 100% of the times that I chose not to leave the game to rate it. The bug may be a good way to encourage reviews, but perhaps not such a good way to encourage favorable reviews.
Yes And No
I downloaded Mushroom Age Lite and enjoyed it. I thought I'd let my four grandsons try it before buying, but realized they couldn't. So, I bought the full game. Each grandson will be able to sign in seperately (they haven't tried it yet), great!!!
I tried it. Here's the problem. In Jurassic period, after receiving the elixer, I was prompted to 'review the game'. I didn't and the game didn't allow me to continue. I quit the game, restarted and was back to the original Jurassic beginning. It took a while to get to that point only realizing to do it all over isn't worth it at that time. I know if that would happen to my grandsons, the game wouldn't be tried again. Why are you prompting to write a review. I'll decide that, not you! I hope your other games I try don't have that flaw.
Don't waste your time on this game!!!
The voice acting is HORRIBLE!!! The plot line is even worse!! Not worth tha money at all!! It's a crummy game that I can only compare to terribly made point and and click game…defnitely don't buy especially if you're over 13 years old…even then, a 13 year old would not even be impressed…voice acting is terrible and the plot is just horrendous!!! Trust me, DO NOT wate your money…There are sooooo many other games out there that I consdier MUUUUUCH better. It's agonizing trying to get throuhg the plot lol. Definitely not worth the $7 price tag…you're better off finding a much beter point and click game with minigames that actaually chalenege the mind!!! Trust me, don't waste your time buying this unless you want to buy it for your child…even then, a child playing it would be just as bored!!!
View in Mac App Store
$6.99

Category:

Games

Released:

Aug 16, 2012

Version:

1.1

Size:

131 MB

Languages:

English, Dutch, French, German, Italian, Japanese, Korean, Portuguese, Russian, Spanish, Swedish

Seller:

Nevosoft LLC
Compatibility: OS X 10.6.6 or later
Top In-App Purchases
Pack of 25 hints$0.99
hintsboost$0.99